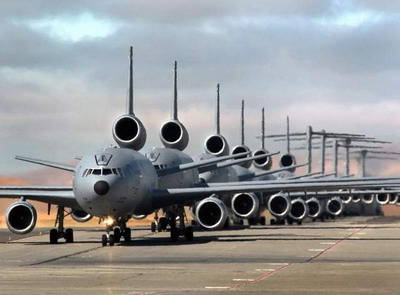 In terms of funding cuts, on the one hand, and the need to preserve current contracts, on the other, the United States Air Force plans to write off the entire fleet of KC-10 tankers and A-10 attack aircraft, sources close to the US Air Force report.
F-15 fighters may also be charged. In addition, the United States Air Force may refuse to purchase new combat search and rescue helicopters worth 6,8 billions of dollars.
These options are still being discussed, but now we can estimate the scale of the decisions that the Air Force commanders will have to take in anticipation of the planned funding cut over the next ten years.
"Only by disbanding the entire fleet, can you achieve any tangible savings," commented the situation in the Air Force Times, Chief of Staff of the Air Force, General Mark Welsh. "You can write off the plane, but you can save a lot more if you abolish the entire infrastructure that runs on the Air Force."
Congress will undoubtedly scrutinize the proposals to reduce
fleet
, especially in the part of the cancellation of 340 A-10 attack aircraft, more than half of which are registered with the US Air Force National Guard. Last year, the Air Force's proposal to eliminate five A-10 squadrons met stiff resistance from Congress and state governors.
As for tankers KS-10, designed on the basis of the passenger airliner McDonell Douglas DS-10, according to the USAF, their number now totals 59 pieces.
On the agenda is also a possible reduction of the fleet of Eagle F-15 fighters. The Air Force is armed with about 250 of these aircraft, which, together with the F-22 Raptor, form the basis of an arsenal for air combat.
"The Pentagon has repeatedly stated that it wants to get rid of weapons intended for combat only in airspace. Now strange and dangerous things are happening with the budget, so the Air Force can finally get what they want, "said Richard Aboulafia, an analyst from the consulting company Teal Group, which is engaged in the analysis of the aerospace industry. He notes that A-10 is not particularly effective both for fighting rebel units and for fighting in the framework of the "Turning Point - Asia" tactic, which leaves these aircraft out of work. " .
"To wage a land war is not very good
news
. But it seems, judging by the budget, the Pentagon has moved away from this strategy. This is a convenient opportunity for the Air Force to save money and declare victory in this confrontation, "continues Aboulafia.
Writing off the F-15 will reduce the cost of repairs and upgrades. The released funds can be used to force the supply of the F-35 fighter-bomber.
Rebecca Grant, a former Air Force officer, president of IRIS Research, commented: "This is a desperate step, but risks are present in any of the scenarios. It is possible that it is better to write off the F-15 now than to get the weapons we need with a delay of several years. "