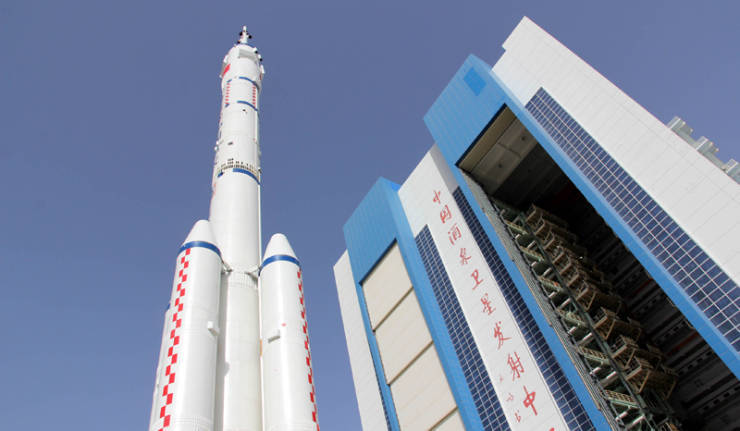 In 2014, China will launch the first Turkmen artificial Earth satellite into space. The new telecommunications satellite, which the country will share with the dwarf state of Monaco, is designed to broadcast on three continents.
Turkmenistan continues to choose partners for its space program. In 2011, the Ministry of Communications of the country concluded an agreement on the construction of its first satellite with the French-Italian company Thales Alenia Space. Now, Trend.az reports with reference to the Neutral Turkmenistan newspaper, it was decided that the device will be delivered to orbit by a Chinese rocket.
The new satellite will be launched in 2014 from the Xichang Cosmodrome using the Changzheng-3B rocket (Long March-3B). It is alleged that Turkmenistan will become the first country in the region to acquire its own satellite, which will provide television broadcasting, telephone, distance services, education and medicine, and Internet access, although at present, among the countries of Central Asia, Kazakhstan already has a satellite (KazSat-1).
The first Turkmen satellite will broadcast to Europe, Asia and Africa - a wide coverage is due to the fact that the new project Turkmenistan is implementing together with Monaco and will receive two thirds of transmitting devices (transporder) on the new device. They will be controlled from the Turkmen territory. Presumably it will be called MonacoSat-TurkmenSat.
According to satlaunch.net, the satellite will be built on the Spacebus-4000C2 platform, will weigh 1839 kilograms and should last at least 16 years.
According to Trend.az, the satellite will be used to monitor agricultural areas in Turkmenistan, conduct research in the interests of the oil and gas complex and carry out environmental observations.
It is noteworthy that in June 2013 the corporation SpaceX reported in an official press release that the first Turkmen satellite would be launched into geostationary orbit with the Falcon 9 launch vehicle, however, for some reason, the Turkmen side and Thales Alenia Space decided to change their partner.
Currently, 58 countries have satellites. The first country to receive its own spacecraft in orbit became the USSR in 1957. In 2013, the space powers were Azerbaijan, Estonia, Jersey, Ecuador and Austria. At the same time, they can completely independently launch objects into the orbit of only 10 states.
According to foreign media.