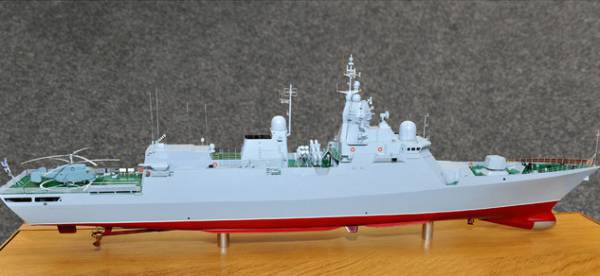 The military claim that the Ukrainian corvette will be almost the equivalent of a frigate, but cheaper. The first such ship can be on duty in 2015 year.
GC "Ukrspetsexport" for the first time will demonstrate the declassified layout of the project 58250 (Corvette) at the international exhibition "
Weapon
and security - 2013 "25-29 September. This is reported by the press service of the Civil Code.
"Until recently, the appearance of the ship was under the" secret "stamp," the press service noted.
The Ukrainian corvette is a promising type of ships for the Ukrainian Navy, developed by the experimental design center of shipbuilding (Nikolaev).
Ukrspetsexport told that the competitive advantage of the corvette is the concentration of weapons and fire systems, which makes the Ukrainian corvette almost equivalent to a frigate, but cheaper. "In many ways, there are practically no analogues of the Ukrainian corvette in the world. The corvette provides for the possibility of integrating weapons, intelligence, communications systems," the Civil Code noted.
Recall, the ship structure of the Ukrainian Navy was mainly formed from ships completed at shipyards or obtained as a result of the division of the USSR. Due to the lack of funds for maintenance, immediately after independence, most of the vessels were either sawn into scrap metal or sold to other states.
To date, the Ukrainian Navy has more than 70 warships, vessels and support boats, led by the flagship frigate Getman Sagaidachny. In addition, the Ukrainian Navy has about 30 aircraft and helicopters, about 40
tanks
, more than 90 infantry fighting vehicles, about 190 armored personnel carriers and more than 60 artillery systems and mortars. The number of employees of the Navy is approximately 15 thousand people.