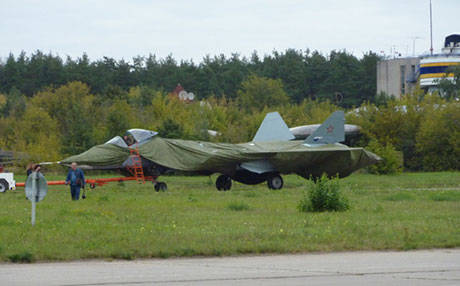 There is no shortage of doubts about the future of the program to create a fifth-generation Russian fighter T-50 PAKFA, writes AINonline 20 September. These problems are related to the readiness of the main subsystems of the aircraft, delays in the transfer of the aircraft into service, and plans to cover part of the R & D at the expense of the program's partner, India.
The design bureau NIIP has traditionally been a supplier of radars for Su fighters and has developed a radar with active phased H050. "The results of the flight tests of the radar on board one of the four T-50 prototypes are very impressive," says an analyst who is familiar with the program. However, the radar is a product of a boxed assembly. "At present, there is no production base for serial production of the H050 radar. Transmit-receive modules (APMs) are produced at the Istok military enterprise in a limited size, which makes the cost of the radar prohibitive, "he says.
Also produced manually composite aircraft panel. Composites were developed for the Sukhoi aerobatic aircraft.
The engine of the fifth generation, which will be equipped with later versions of the T-50, still exist mainly on paper, experts say the engine industry in Russia. The prototypes are equipped with Saturn 117C engines, which are equipped with Su-35 fighters. The first production batches of the T-50 will be equipped with these engines.
It is highly doubtful that without making changes T-50 will have low unmasking signs. American experts who spoke with AINonline believe that in its current form, the aircraft in some aspects has an "exorbitantly high radar and infrared signature".
Another factor is that the T-50 program will be cost-effective if India acquires at least 250 aircraft and also participates in R & D. But India plans to purchase only half of this amount. Sources in the Indian Ministry of Defense believe that India cannot afford to purchase T-50 and French Rafale fighter jets. If the situation becomes "either - or", participation in the T-50 program can be canceled in favor of Rafale, since India seeks to avoid laying "all the eggs in one Russian basket".