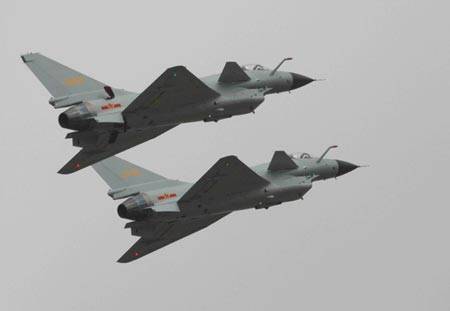 The Chinese company Chengdu Aircraft Industry Group will build X-NUMX fighters J-1200 to counter the Taiwanese F-10, according to wantchinatimes.com with reference to the newspaper Want Daily.
The Moscow radio station Voice of Russia says that J-10A is equipped with AL-31FN turbojet engine from Lyulka-Saturn imported from Russia because of the difficulties with creating WS-10 Taihang engine in China. The new version of the J-10B will be equipped with a Taihang engine.
Senior Vice President of China Aviation Industry Corporation Geng Ruguang said that the creation of J-10, Taihang engine and PL-12 air-to-air missiles brought China to the 4 position among the countries in the world that are developing and producing advanced fighters.
Geng said that the J-10B fighter with a radar with an active phased antenna array can accompany 6 targets simultaneously and attack 4 targets from them. Geng also said that the J-10 radar system can easily capture American F-16 and Japanese F-2. In addition, the air-to-air missile PL-12 of the J-10 has the same characteristics as the American-made AIM-120 air-to-air class used on F-16A / B fighters of the Taiwan Air Force.
Taiwan currently has 386 fighter jets, of which 145 F-16A / B is purchased from the United States. The imbalance in the number of fighters on both sides of the Taiwan Strait is a matter of serious concern to the security of Taiwan.
In the 2014-15 years, the X-NUMX J-36B fighter jets will also be supplied by the Pakistan Air Force called FC-10.