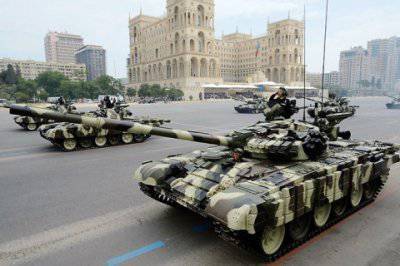 In recent years, Azerbaijan has suddenly become one of the leading countries for the import of arms and military equipment from Russia. It all started with the delivery in 2006 of 62 used
tanks
T-72 from the presence of the Armed Forces of the Russian Federation. And since 2009, massive deliveries of the latest weapons manufactured specifically for Azerbaijan have begun. Among these deliveries (some are not yet completed) - 94 T-90S tanks, 100 BMP-3, 24 BTR-80A, 18 self-propelled guns 2S19 "Msta", 18 MLRS "Smerch", 6 flamethrower MLRS TOS-1A, 2 divisions SAM S-300P, 24 attack helicopters Mi-35M, 60 multi-purpose helicopters Mi-17.
The list is quite impressive. Such an exclusive as TOC-1A is especially impressive. However, T-90С, Smerch, Mi-35П also greatly increase the impact potential of the Azerbaijani army. This list is doubly impressive because
weapon
purchased not for parades and exercises, but for war. Opponent of Azerbaijan in this war will be Armenia. The resumption of the war over Nagorno-Karabakh is absolutely inevitable, since this unrecognized republic will never voluntarily return to Azerbaijan in any form, which, in turn, will not forever tolerate the current situation. It is precisely for this reason that Baku conducts mass purchases of armaments all over the world, as well as expands its own production. The question is not whether this country will start a war for the return of the Nagorno-Karabakh Republic to its composition, but when it will happen.
PROFITS ABOVE ALL
Previously, Ukraine was the main supplier of weapons to Azerbaijan. Baku acquired a total of 200 tanks from her, more than 150 BMP and BTR, to 300 artillery systems (including 12 MLRS Smerch), 16 MiG-29, 12 attack helicopters Mi-24. However, absolutely all this equipment was supplied from the presence of the Armed Forces of Ukraine, that is, it was made back in the USSR. From a certain moment, such equipment ceased to be of interest to Azerbaijan, since it did not ensure qualitative superiority over Armenia. Kiev is simply not capable of supplying new equipment. In Thailand, apparently, they still believe that they will receive fifty of the already paid Ukrainian tanks "Oplot". But Azerbaijan is geographically and mentally much closer to Ukraine. Therefore, Baku already understands that the "Stronghold" may be a very good tank, but Ukraine is not capable of organizing its mass production (more precisely, it is capable, but at such slow rates that it loses its meaning). And Azerbaijan bought the new Ukrainian BTR-3 even in the heat of the moment, but after receiving the 3 units, it changed its mind and stopped buying.
But the "Uralvagonzavod" has no problems with serial production of T-90С. The pace, though not Soviet, but quite acceptable. And "Smerch" is better to get a new one from "Motovilikha plants" than a 25-year-old from Ukrainian warehouses. So Azerbaijan made a choice.
This
stories
one could only be glad if it were not for one small nuance: Armenia is a member of the CSTO, that is, we are bound by its obligations in mutual defense. We are not connected with Azerbaijan by anything.
In this regard, let us imagine that Belarus or Kazakhstan suddenly began mass deliveries of weapons to Georgia. I wonder what would be the reaction of Moscow about the similar behavior of the CSTO allies? There are suspicions that the matter would not be limited to sudden "insights" of the chief sanitary doctor regarding the quality of Belarusian or Kazakhstan products and equally sudden repairs of oil and gas pipelines. But this is impossible for them, but for us it is possible.
Moreover, it turns out that we can expose even our own military personnel from the 102-th military base of the Armed Forces of the Russian Federation deployed in Armenia. After all, she personifies in practice the military alliance of Moscow and Yerevan. Accordingly, this base should first of all join the battle for Armenia. Theoretically, it may happen that our soldiers and officers will have to meet in battle with our latest weapons. Not Soviet, namely Russian.
At the same time, there is no fundamental change in Moscow's geopolitical attitudes in such massive supplies of equipment to Azerbaijan in the complete absence of those to Armenia, as evidenced by the story of the Gabala radar station. Baku wanted for its rent too much. Moscow, if it considered it necessary to have Azerbaijan as its new ally, could even agree. But she did very well - left Azerbaijan with a radar that was completely unnecessary to him, but without money at all. Interestingly, in this country it is still not fully aware of what happened and still believe that Russia will change its mind. Although the radar equipment has already been taken out, and it now represents only an architectural structure.
Therefore, it is not necessary to look for a geopolitical background in the actions of Moscow. The background is purely commercial. We did not want to overpay for Azerbaijan for the old radar station, but we wanted to get a lot of money from it for a new weapon. But Armenia has no money for new equipment.
By the way, something very similar happened recently with respect to Syria: we stopped supplying her with new equipment under existing contracts. At the same time, other actions of Moscow indicate that there is no talk of any "surrender" of Syria to the West and the Arab monarchies. The version that we are not sure about the victory of Assad and do not want the newest weapon to fall into the wrong hands, of course, has the right to exist. But most likely the official version is correct: Syria has stopped payments (which is not surprising in its position). Well, Russia has stopped deliveries. Nothing personal, only business.
The arms trade is a somewhat amoral thing by definition. But everyone who is capable of it is engaged in it, including the most important world moralists (as a rule, they sell weapons most of all). Moreover, the ability to export weapons significantly improves the status of the state on the world stage. Nevertheless, it is impossible not to understand that a weapon is intended for the destruction of people, therefore it cannot be considered an ordinary commodity. This is a very political product.
TWO CONVENIENT POSITIONS
However, many countries believe that weapons are still ordinary goods that can be sold to anyone who is not under official sanctions. And get paid. However, if a country enters into military-political alliances (even more so if it is their actual leader) and claims to have a sphere of influence outside its own territory, it must realize that it partly loses its freedom in the arms trade. In particular, it is advisable not to supply weapons to the opponents of their allies. And the Allies, on the contrary, to provide benefits and preferences. Sphere of influence is a luxury item to pay for. A union relationship gives rise to obligations, both legal and moral.
The first of these two positions can be called the "Chinese", since its main personification is China. He traditionally sells weapons to anyone who buys. In particular - direct opponents. For example, Iran and Iraq during the war between them in 1980 – 1988. By the way, Beijing has already sold the RS-RS-WM-80 to Armenia, and now it is negotiating with Azerbaijan to sell JF-17 fighter jets to it. China has always earned money on it, and did not really claim to the sphere of influence. Recently, this sphere has appeared in his de facto, it covers, in particular, practically the whole of Africa. Beijing sees in it a supplier of cheap raw materials and a consumer of Chinese consumer goods, including weapons. He is satisfied with any regime in any African country, as long as he ensures the supply of raw materials. In this sense, allies are allies of China, although Beijing does not legally form such unions with anyone. Therefore, the weapon also sells to everyone. If the allies begin to apply it against each other, then it is their problem, not the Chinese. Here is pure commerce, heavily involved in corruption.
The "Chinese" position is exactly followed by Ukraine, all the more so since this sphere of influence is definitely not threatened by this country. Therefore, it sells weapons to everyone who buys, including the two warring parties of the same war (Ethiopia and Eritrea, Sudan and South Sudan).
The second position can be called "American". The United States pays for the sphere of influence, and often it is very expensive. In particular, they try to guard the interests of the most important allies. For example, the supply of weapons to Egypt began only after he signed a peace treaty with Israel. If two American allies suddenly grappled, Washington will not help both at the same time, he will make a choice (as, for example, in favor of Britain during the Falkland war of the 1982 of the year).
The USSR at one time unequivocally adhered to the "American" position, it paid dearly for the presence of a sphere of influence. And the choice between the two allies, he also had to do. So, in 1977, Moscow made a choice in favor of Ethiopia during its war with Somalia. As far as this choice was correct, it is now completely senseless to discuss, especially since there are no clear criteria for this "correctness". The fact is that the country had such a thing as "allied obligations".
In fact, it does not mean that the "Chinese" position is "bad" and "immoral", and the "American" position is "good" and "moral". About morality, as mentioned above, in relation to this area can only speak with great caution. And, most importantly, you can ask: why should we directly or indirectly pay for Armenians and Syrians, when we ourselves are full of social problems, and the military-industrial complex, of course, is in need of money? Why do we have to repeat the experience of the USSR, which, in part, overwhelmed precisely the content of the global sphere of influence? Isn't it better to just get good money for a weapon if it is in demand? And all these questions are absolutely legitimate. To the overwhelming majority of Russian citizens in everyday terms, the sphere of influence in the form of Syria or Armenia gives absolutely nothing. And the fact that, for example, Syrian soldiers and officers, destroying the lives of Islamic militants by the thousands, thus, perhaps, save the lives of tens of thousands of Russians, doesn't seriously bother anyone here.
Accordingly, which of the positions to choose Russia, "Chinese" or "American", is an absolutely open question. It is necessary to understand only that these positions are incompatible. You need to choose one thing. But Moscow seems to be trying to combine. Thus, it automatically chooses the "Chinese" position. Just because all the allies of Moscow will soon lose any illusions about it. And we will have allies, as expected, two - the army and navy.