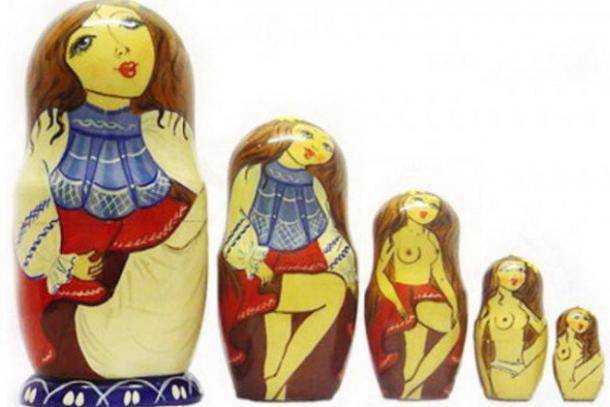 The school year begins. Maybe not this year, but very soon our kindergartens and school will offer new training programs. About one of them I would like to warn parents.
It was very difficult for me to make this article, I tried to make it as short as possible. For some links, especially impressionable parents should not go.
In the fall of 2012, a scandal occurred in Latvia. A year ago, the Ministry of Welfare introduced books "The Day when Karlis was Karlina" and "The Day when Ruta was Richard" to the curriculums in Latvian kindergartens, and methodological materials for teachers "Kindergartens with PeppiPrinza and PiratPrincess" were also released.
Then the parent community opposed the imposition of a new understanding of sexual differences and roles for their children. Parents won? Not yet. Welfare Minister Ilze Winkele
called critics
such a progressive approach "obscurantists". I have no doubt that there will be new attempts to make boys out of boys and girls. Our government voted for this program, and formally it is in force. Its practical introduction will definitely be.
Until the 20th century, education was predominantly ecclesiastical, and issues of sex education were considered from the point of view of the prevailing religious dogmas. The main thing was to convey to the child moral attitudes, moral norms, traditional family values, in the immediate sex life the priority of chastity was postulated.
In modern secular education, on the territory of the USSR, sex education was studied and introduced by pedagogical science. The main principle was "do no harm." This upbringing was carried out as an integral part of the general complex of educational activities in the family, pre-school institutions, schools, youth organizations, etc., on the basis of a unified approach on the part of parents, teachers and educators, medical workers. Had a differentiated - in accordance with the sex, age and degree of preparedness of the child (parents) - and phased (successive) character, meant a combination with a favorable moral atmosphere and hygienic conditions. Sex education methods were introduced into sex education from the upper grades of school, that is, sex education did not concern only physiological features, and sex education was introduced as a continuation of the child's already grafted moral foundations at a more mature age.
Of course, in such a delicate matter, not everything went smoothly, pedagogical science improved, but the main ideas of morality, health, and family relations were always at its core. The teaching materials carried feelings of love and respect for the opposite sex. All school education
Was built
on moral examples, moral standards, collectivism and partnership.
The current new times brought new standards of education. Standards - the adopted conventions and agreements - strictly defined what the child needs and what is not needed. Sex education has become a continuous sexual enlightenment.
Since the 60 in the West, there has been a rapid departure from moral education towards a purely physiological sexual issue. And when Latvia joined Western Europe, it fell into the maelstrom of sexual freedom not only for adults, established individuals, but also for children, educated and easily manipulated by sexually liberated adults.
New standards of sexuality education are based on the development of 50-ies by Alfred Kinsey. He empirically determined that children of any age react to sexual stimuli and reach orgasm. I repeat once again - "determined by experience", "children of any age." This "gave" him the right to call the child sexual at any stage of his life. Himself
Kinsey counted
that pedophiles are misunderstood and their punishment is unfair, every child has an erotic potential that can be revealed through early sexualization, by letting the child know himself, give him sexual freedom - and the sooner the better.
Kinsey's antiscientific conclusions were repeatedly subjected to harsh criticism of specialists, but it was these conclusions that formed the basis of the standards of sex education in European and American schools. Sexualization programs are introduced by international organizations.
kinsey followers
. The American Council on Sexual Information and Education (SIECUS) is creating sex programs for UNICEF, the UN Children's Fund (UNICEF).
Known to the older generation UNICEF is not the same world fighter for the rights of children. Recently, this international institution has become a mainstay of international birth control and depopulation. Together with the World Health Organization (WHO) and the United Nations Population Fund (UNFPA), UNICEF promotes sex education programs, protecting children from parental violence, and creates a network of social services that terrorize families and select children on far-fetched pretexts. UNICEF is controlled and financially dependent on private foundations, on concerns about the large population of billionaires. Human rights defenders and the Catholic Church have long and conclusively
accuse UNICEF
in the campaigns of sterilization of the population under the guise of vaccination in Latin America, Thailand, the Philippines.
Directly one of our "regulators" is, for example,
"Council of Europe Convention on the Protection of Children from Sexual Exploitation and Sexual Abuse"
adopted in 2007 year. In its articles, the Convention enshrines the right of children to sexual orientation, obliges to introduce sexual education in primary and secondary schools, and encourages the participation of children in the development of sex education programs. Next, the creation of non-governmental organizations with funding from various foundations is established, which through their specialists will solve the sexual problems of children and, if necessary, protect them together with social services.
In our case, in Latvia, sexual education is based on the programs of specialists from Scandinavia, books about Karl and Karlin are from a Danish project. In our case, social services are represented by orphan courts, which are not legal organizations and courts, despite the names.
These are the usual administrative structures.
in which people who do not have the status of judges, fixed by the Diet and having many conditions for obtaining it, have appropriated the right to seize children from families on far-fetched pretexts. In Latvia, such cases are no longer rare, but they are silenced, and parents and children are intimidated. Also
is
in neighboring countries.
The Convention offers everything possible for the use of interventions against parents, bringing to the level of chemical castration "for bruises". For the same time, children are being taken away from their parents when they begin to apply interventions - it is not yet known. At the same time, voluntary sexual use is not stopped. Children among themselves are completely free to engage in activities of a sexual nature, and adults by agreement may well use children, for example, in the theater, in scenes of a sexual nature.
Children have the right to keep and use pornography from the age of "consent", which is different in different countries and is gradually reduced under the pressure of such a sexual approach.
Age of consent to sex
in Spain - 13 years; Germany, Austria, Bulgaria, Italy, Portugal, Serbia, Macedonia, Croatia, Montenegro, Bosnia and Herzegovina, Albania, Hungary, Estonia - 14 years; in the rest of Europe - 15-16 years. These thresholds, according to the followers of Alfred Kinsey, still have much to reduce, and some for their complete abolition.
The meaning of a number of articles comes down to the lifting of bans on porn, sex, seduction of children by means of information. With the consent of the child, his sexual use is almost unlimited. In Convent, the rights of parents - as parents - are in fact of no interest to anyone and are not mentioned in the context of sexual prohibitions.
Now our legislators are gradually adjusting the laws of Latvia to the provisions of the Convention.
We will be reassured that sexual education is the same as sex education. But as you heard it is not. There is no talk of moral education here, but of course the immoral sexualization of children is unconditional. Until recently, "gender" was designated synonymous with "gender" and "sex." Kinsey's pedophile experiences helped his supporters divide the "sex" into a "biological" (gender) and acquired "social" (sex).
This was done with the aim of manipulating public opinion to create social gender, which can be determined at will. It helps to recognize homosexuality, bisexuality, transvestites as social sex, that is, as a norm, and now the American Psychiatric Association suggests tolerating pedophilia as a sexually normal orientation.
The trend of decreasing the age of child consent to sex at the legislative level is supported by experts from the private foundations who are heirs to the "Kinsey teaching", because children, in their opinion, have the right to pleasure and sexual freedom,
which they will be taught
in kindergarten and school through textbooks with pornographic pictures and changing gender roles (10). The term Gender Mainstream is used as a general name for the sexual "Perestroika".
Let's go to today's Europe and what awaits us
In Britain, high school students discuss conditional porn videos, learn to distinguish between a circumcised penis and an uncircumcised, some boys consider themselves gay, and some girls - lesbians. The problem of early pregnancy and abortion has worsened. After the legalization of same-sex marriages, homosexuals are given all the rights to adapt children and be educated in their spirit. Urgent
etymological concepts are expanding
"Family" terms.
In the British Journal of Medical Ethics
give arguments
that parents have the right to kill their small children (up to two years). As to two years, the person has not yet originated, and this is not a murder, but a "postpartum abortion".
History
in the US when two lesbians
do from adopted son through hormones girl
, briefly outraged readers
News
, and the state did not outrage at all. At age 14, he will have the right to determine gender. Other parents
do without hormones
- how long? Lesbian kisses on the lessons of sex clearance and more.
In Germany, starting with aids for kids,
convince adults
that their babies have sexuality, even babies are not sexually innocent. In elementary school, they talk about masturbation, orgasm, and a wonderful sense of attraction in homo relations. Some children are still shocked by naturalistic pictures from textbooks, but the filters taken on porn on the Internet on computers in classrooms will eventually improve the situation. Children boldly choose sexual orientation, and who did not, can be determined later - the third sex is introduced into November from 1 November - "indefinite", it is an opportunity to choose gender at will before the onset of 18. In fact,
invited to try
"So" and "that way" and decide whether it is better for children to become a man or a woman in the future.
The laws in Germany are
that you cannot refuse schooling and sex education lessons in particular. For their non-attendance by your child, you will be given a fine first, and then they can quite quite put them in jail. Local social services may remove a child from your traditional view of learning policies. Parents find themselves between the "hammer and the anvil" of a society of liberal freedom.
Required
clarification in pictures
about the process of the birth of children, especially impressionable younger girls, this leads to a state of shock. It is not unlikely that such a way instils aversion from thoughts of heterosexual relationships in general and from the desire to have children and family in the future.
In Belgium, school regulations indicate where you can not have sex. A belgian health care system
already experiencing child euthanasia procedures
, because "children better understand the importance of euthanasia than adults." Children's freedom from parents becomes infinite - all are decided by some "experts", manipulating children.
In France, Corsica was chosen as a pilot region for the implementation of the "ABCGD Equality" program, which intends to combat discriminatory stereotypes of boys and girls. The program will be introduced in the senior groups of kindergartens and in the first grades of primary school. This experiment will be the subject of consideration and an example for the introduction of the program since 2014 year in all schools of France.
Как
said the French education minister
, "The goal of morality and the state is to tear the student out of all certainties," and the Minister of Justice's point of view is "to teach our values ​​in order to tear children away from social and religious determinism and turn them into free citizens!" We see where Mrs. Vinkele takes inspiration from.
В
swiss kindergartens
- plush imitations of the genitals and erotic stimulation.
The same ideology in the "half-night"
kindergarten in Austria
.
In Scandinavia
in some kindergartens
- dolls with no signs of gender, and younger students are taught how to handle condoms and understanding what "incest" is. The question arises: 9-year-olds need condoms in the fight against AIDS? Allegedly rumors about the traditions of incest are thereby confirmed?
Armenia too
recently "rendered"
in a European way.
In the Netherlands, the Marten Society promotes public approval of pedophilia and the legalization of sexual relations between adults and children. They tried to ban the organization many times, but in 2013
the court confirmed her right to exist
. Hence, pedophilia as such is no longer prohibited.
"Chepek" -
pedophile society in the Czech Republic and Slovakia
, helps its members adapt and accept their sexual inclinations. Not surprisingly, the Czech Republic is remembered as one of the "brothels of Europe".
Single European Minor Politicians
advocating the legalization of incest and pedophilia also support the legalization of drugs. Almost all of them are sexual minorities.
And so it spreads throughout Europe, with each passing day more and more such news. Is this kind of "education" that our government offers us?
Good question - where is the church looking? Traditional conservative Christian denominations in several countries
allow to carry out laws
, resolving homobics, are silent when discussing the moral problems of children. I suppose there are some
interest
. When religious institutions that are obliged to stand in moral positions surrender them without a fight, only their parents are the last defenders.
And parents are forced to resist.
We all saw hundreds of thousands of demonstrators in France. They
lost the first political battle
. But people understood what this would lead to, which means that the desire to win from them cannot be taken away.
In Croatia, the constitutional court in May 2013
banned "sex education" in school
. Thanks to the protests of the parents' community and the support of the Catholic and Orthodox churches, the constitutional court secured for parents the right to raise their children.
Under pressure from international organizations that advocate for the early sexualization of children, the Croatian Prime Minister launched programs under the pretext of "increasing preoccupation with sexual health." Under this program, adopted bypassing parents, children from 9 to 18 years should have been taught sexual health. The country's constitutional court restored the right of parents to control the upbringing of their children and prohibited such actions to bypass them. The court forced the government to consult with parent organizations before making such decisions.
Under the guise of concern about the level of teenage pregnancy, international and private organizations, in fact, deprived Croatian parents of the right to determine the value system that traditionally exists in society, and placed under the control of the moral education of children. At the same time, as a rule, the introduction of "sexual intercourse" and contraception among adolescents leads to the aggravation of the situation with both premarital pregnancy and sexually transmitted diseases and abortions.
Constantly
put pressure on Russia
but parent committees and community organizations
hard to protect children
from sexual interrogation and the empowerment of social services with broad powers for the removal of children - they still face a difficult struggle.
We have someone to follow, we have something to fight for.
In conclusion
Children do not know what to defend in moral terms. The only condition for the proposed sexual life of adolescents is the presence of a condom and consent to sex. Where an adult can afford to reflect on the consequences, children after such training act without thinking. Pop culture and television contribute to the child's copying of sexual adult behavior, children's TV channels offer the only way for uncertain teenagers to exploit their sexuality. Girls are taught to think about their purpose in seducing men, to derive benefits from this. Children's beauty contests are already routine. After such educational work only rows of prostitutes will expand. Why do they need a family?
The family is systematically excluded from the nearest circle of children's authorities. Children are taught to question the moral values ​​of their families, to ignore or fear their parents. The society of sexual freedoms is not going to engage in the protection of moral norms and morals. Upbringing replaced by physiology. Early premarital relations, change of orientations carries out the transition of society from marriage and family to sexual promiscuity and temporary partnership. Immoral relationships involved in sex can only be temporary. The destruction of a family will make a flock of selfish individuals out of society.
Our government will certainly carry out programs for the early sexualization of children - and then the time will come to take to the streets. And then we will see who supports the corruption of our children. All this nastiness is gradually creeping into Eastern Europe, we are still too traditional for "Westerners," but the breaking of children has begun. Society a year ago showed that it is not yet ready to accept educational sex European standards. And this is good. I hope our "obscurantism" will never be defeated.