When the October 6 day began for Lieutenant Colonel David Flynn, the Taliban militants fired their bombs in underground factories located in three southern Afghan villages. When the next day was over, the villages of Tarok Kollache, Khosrov Sofla and Lower Babur were completely destroyed.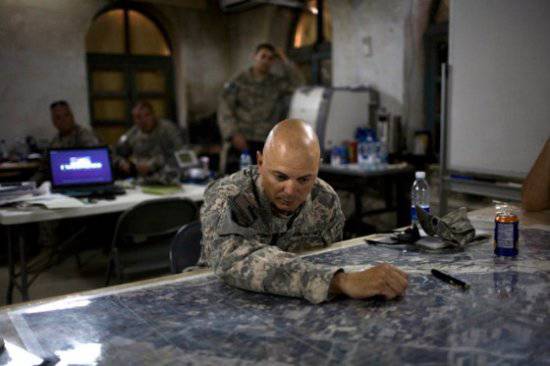 Flynn ordered tens of thousands of pounds of bombs to be dropped on villages. Tolok Kolach was compared to the ground, not much was left of the other two settlements.
Flynn says he had little choice to take such an extreme measure. The Taliban bombed villages everywhere and hid tons of explosives in the green fields nearby.
Efforts to clean up villages from building improvised bombs over the previous three months have failed. Preparing to increase the number of American troops, the militants drove the villagers from their land, saying: "This year you will not go to the fields." Few of the residents still retain the hope that they will ever return home.
"We never thought that we would have to level the villages to the ground," Flynn told Danger Room. "I now have friends in this community." The last thing I want to do is destroy the lives of my friends. "
"We did not show them the plan and did not say:" We are going to destroy everything in the village, do you agree with that? "" But he really razed the villages to the ground - a solution that has generated heated debate, since analyst close to General David Petraeus, Paula Broadwell, reported earlier this month about destroying Taroc Kolach using 49200 pounds of missiles and bombs in his blog. .
Flynn discloses that the blow was dealt not only with Tórok Kalache; Khosrov Sofla and Lover Babur, located nearby, in the valley of the Argandab river, were destroyed almost as much. Flynn says that several buildings in Khosrov Sofla are still standing, but Lover Babur is "closer to Tarak Kolace, though not completely destroyed".
Now the villages are being restored, this process has just begun and probably will not be completed by the time the Flynn battalion finishes its business trip in the spring. It remains to be seen whether Afghans will remember Flynn because they were able to get their villages back from the Taliban, or simply finish the process of their destruction.

This is not the first Flynn business trip to southern Afghanistan. A native of Massachusetts, the last time he served at the nearby Kandahar airfield in 2004 and 2005 years, when there was not yet intense fighting or a significant American presence. He read a well-known book by Lester Gro about the Soviet war in Afghanistan, in part, in order to learn what not to do.
He remembers his thoughts of that time, when driving through Argandab and seeing its dense vegetation — great places to hide bombs, he thought - "Holy shit! That's what the Russians went through .... I thought then how good it was that we didn't get into such a fight. And now, seven years later, I'm here. "
It occupied his thoughts for most of the year's 2010, when he studied his battalion and its Afghan partners, known collectively as the Joint Task Force 1-320, which was one of the first to be deployed in Kandahar to clean it up. But one thing is to mentally represent the insurgent bombing tactics, and a completely different thing is to try it out for yourself.
"I didn't expect the density of the VCA (IED is an improvised explosive device, a translator's note, perevodika.ru) that we saw," he says. From July to October, the 1-320 team made their way through an area approximately the size of 2 by 6 kilometers - and discovered 200 improvised explosive devices. Later, his soldiers found hiding places with two hundred more bombs. "IEDs were every 60 meters [200 feet] of the way," he says, "in gardens, on roads, in walls, in villages, in buildings." And it felt.
Flynn's plan was to advance south and east to the Argandab River through villages that had been under Taliban control for three years. During this time, the militants collected a godless number of bombs.
The baptism of the 1-320 group took place on July 30, at the intersection of the channel that was necessary to control in order to gain access to those villages. The battle, which the unit dubbed the "Battle of Bakersfield," lasted four days. "On the first day, we lost three people killed and eight wounded," Flynn says, "and 12 was injured during the next days of the battle."
What he did NOT see would also remain with him, and he did not see people. "The rural population has disappeared. It just ran on all four sides, "says Flynn. The Taliban drove people out of the villages, from pomegranate trees, which gave them a livelihood. Someone went to Kabul, others to Kandahar, believing that if the Taliban had come to an area that had never been under foreign rule before, it would be a long time. Still others — including the "fad" or the informal leader of the village of Tarok Kolache — went to a village called Jelavar located near the Flynn base.
"In October, when we destroyed the Taliban bases, not a single person knocked on my door with a complaint." That summer, residents driven out of their seats became a valuable source of information for Flynn. Without them, he would never have known how home-made bombs were tightly installed.
Before the planned attack by special forces and Afghan commandos on Lover Babur, "people approached us and said," we cannot return there. " Our partners in the operation were [Afghan] police, people approached the police and said, "Don't go around the gardens, there are a lot of bombs. If you have to go, then go through wet places, not dry. "
Using "drones" and what he calls a "multiple sensors", Flynn confirmed that the Taliban had turned devastated villages into bomb factories. The analysis of the "way of life" showed incoming and leaving militants and the absence of any civic activities. Sometimes Flynn could see improvised explosives drying on rooftops. In such cases, he called
Aviation
to strike from a plane or helicopter to destroy a building.
But the months went by, and the production of bombs was not reduced. In general, the 1-320 group lost seven people killed and 83 - injured, almost 70% of losses were from improvised explosive devices (IEDs).
To clarify something in Paula Broadwell's article: Flynn sent his guys to the villages to try to clear them - but there were too many bombs. The July raid on Khosrov Sofla failed due to the huge density of IEDs. A special forces sergeant told Flynn that it was "the most complex network of IEDs he has ever seen."
The task forces for the stripping were forced to go back, after it became clear that the number of bombs exceeded the amount of explosives they had for a safe explosion of the VCA.
This forced Flynn to look for an alternative. "It was comforting to know" that civilians fled, therefore "we [could] use our full range of systems
weapons
"- from grenades and large-caliber machine guns to combat helicopters and powerful air strikes -" without worrying about the deaths of civilians. "
There was a tough choice before him: he could destroy buildings. Or capture them, losing a lot of your guys wounded and killed. And if he cleared the villages without destroying the houses, it is unknown if Afghans could safely return to them, since the Taliban stuffed them with bombs.
Therefore, at the end of September, Flynn called the "malek" of Tarok Kolace and other residents to inform them that he was planning, in essence, large-scale destruction. "We didn't show them our plan and didn't say," We're going to destroy everything in the village, do you all agree with this? ", He says.
"But they were informed that the village would suffer significant damage. People did not say - "Yes, blow up the village", but they kind of understood - after all, the war has been going on for 30 years. It was the longest war in the area. "
A reporter from the Daily Mail, who, Flynn says, was not present at the meeting, reported that Flynn threatened them: "Either hand over homemade bombs, or he will blow them up at home."
Flynn claims that he didn't say anything like that: he told them that if the residents couldn't tell him where the bombs had been laid, he would have no other way to get rid of them as soon as the buildings were blown up. Malek Khosrov Sofla was the only one who expressed concern: "He wanted the soldiers to use a bulldozer to get rid of the bombs, so the pomegranate trees would not be harmed."
October 6, as soon as Flynn received reliable intelligence data that there were explosives in the buildings and no civilians in the area, an air strike was struck. On Tarok Kolach, 49200 pounds of bombs were dropped, mostly (25 units) - thousand-pound bombs to destroy "more than 45 ″ buildings.
Flynn says that he doesn't know exactly how much was dropped on Khosrow Sofla and Lover Babur, but he thinks it is a comparable amount.
He reported on his plan to the brigade headquarters, from there it went to the regional command. Flynn believes that the large headquarters that manages daily military operations from Kabul, known as the Joint Security Forces Command in Afghanistan (ISAF Joint Command), also knew about this.
During the bombing, Flynn intensely looked out for civilians, but did not see one. "We had drones that watched the blow, we had" sensor systems "that watched the blow, he says. "We probably even made a video somewhere, because we were expecting the Taliban to come out and speak out on this."
After the previous operations, the "long line of elders" complained if a civilian was killed. "In October, when we destroyed the Taliban bases, not a single person knocked on my door to complain," says Flynn.
But it is possible that not everyone is happy. Some local residents expressed dissatisfaction with the operation: even an Afghan policeman told an NPR reporter in Tark Kolache on Monday that he was "very disappointed and very angry" that the village no longer exists.
Flynn says that his strategy will prove his point when the battalion stays in the valley - he has set up 17 small strongholds for those 38 villages he patrols - and is restoring what has been destroyed. "I told them -" We can restore your home. I can't give you back your leg, I can't give you your old life back "- due to the fact that the Afghans were returning to the mined houses -" but I promise - I will restore the houses ".
Building restoration and construction, including the foundation of the new Tarok Kolache mosque, is just beginning. But problems still remain in Arghandab. While the Taliban seem to have largely left the area (Flynn estimates, there are still a dozen active militants left), having moved to the neighboring areas after the October clean-up operations, the battalion is still "dozens" neutralized [by homemade bombs] .
And just last week, the Taliban killed the fry Khosrow Sofla. Some Afghans say Flynn that they are afraid to return to the surviving houses. There is a USAID assistance program to re-plant 4000 pomegranate trees, but this is not suitable for people, because "it will take another five years before the tree begins to bear fruit."
If he had to solve everything again, says Flynn, he would have destroyed the villages again, because he sees no alternative to this. But he would not give Broadwell the "before" and "after" photos, because they seemed to imply that he was satisfied with the destruction of the villages. "On the other hand," he says, "the photographs show the truth. This is to say that I am not trying to hide anything or to deceive someone. "
Flynn is now at Fort Campbell, on vacation before ending his trip. He says that he can already "read" Gros "with satisfaction" and compare his actions with the actions of the Russians.
"We are not here to terrorize the population," he says. "People talk about Russians who bombed their villages and say that Russians never did anything for us. They say: "This is the difference between you and the Russians."