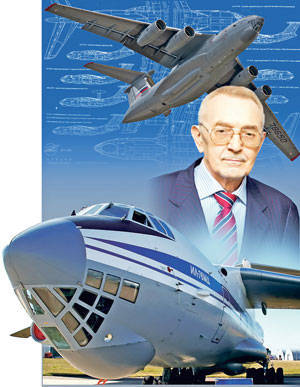 With Viktor Livanov, General Director - General Designer of OJSC "
Aviation
complex named after S. V. Ilyushin "(OJSC" IL "), we met on the eve of his anniversary - September 17, Viktor Vladimirovich turned 70 years old. And on January 13, a team led by Livanov celebrated 80 years since the founding of Russia's leading enterprise in the development of aviation technology - OJSC Il, previously called the KB named after S. V. Ilyushin. "
"MIC": Viktor Vladimirovich, we communicate with you between two anniversaries - the 80 anniversary of Il and your 70 anniversary. How do you feel these dates? What did you manage to do, what not? How has the KB changed over the years?
- When I accepted KB, thousands of employees worked for us at 7,5 - the result of hidden unemployment that was in the Soviet Union. Forced to keep even unnecessary people. I now have 2,5 thousands of people. Sometimes designers are not enough. But is it necessary to hire new ones? When we work on several projects, it is possible to involve other design offices of the UAC (JSC United Aircraft Building Corporation) - that was the point of its creation. It is necessary to divide projects by time, to distribute financial and human resources.
Without strategic thinking in our work is impossible. When I worked as the deputy minister of the defense industry in aviation, it was right after the collapse of the USSR in 1996, I was given the budget of 100 million dollars for the whole industry. Aviation bush then was more than 400 enterprises on state subsidies. I gathered all their leaders in the assembly hall and said: "There is no money and there will not be. Hope for our department is useless. Only one way out - integration. "
Let me remind you that UAC itself was initially not a joint-stock company, but a non-profit partnership.
"MIC": You came to work in the OKB in 1967 right after the institute. Did you personally know Ilyushin, Tupolev?
- Not. When I came to the plant, Ilyushin was listed as general, but he was already seriously ill, he saw him only three times. His business was adequately continued by the comrades-in-arms of the old guard. I consider my teachers Valery Borog and Heinrich Novozhilov. I came to the plant as an ordinary technologist and it was almost impossible to get into the design bureau, there was only "blue blood" here. Having taken the place of the head in 1988, I began to break down these barriers, they interfered. Among those who are working on one goal, there can be no people better or better; there are those who are seeking and who are not.
For my teachers, aviation was their life. They are absolute professionals who, to the touch, with their eyes closed, could guess the location of parts and assemblies. At the same time they cared about the future and led the young people. Each young specialist was taught everything that they could, they were 100% committed to their work. And the one who managed to adopt this ability, to learn it, of course, became a class specialist.
"MIC": In the aircraft you came consciously?
- Yes, I came to aviation consciously. He entered MAI, did not pass by sight and went to MATI. Place of work, however, I chose on a territorial basis - I was looking for a company closer to home. He lived on Mayakovka. In February, 1967, I already had a son. It is now he is the Minister of Education, but then ... Dimka was sleeping very poorly, and I also worked by translations - I knew English well, I had to live for something. So practically did not sleep. Il-62 was tested in Zhukovsky: in 6.15, an electric train from Kazansky railway station, and at night - transfers for children's crying. You stand in the subway and sleep, in the train to the window you lean against and sleep, in the bus to the checkpoint you also disconnect for a few minutes.
"MIC": IL has a great experience in the civil sector. When you were appointed director in 1988, the IL-96-300 was launched into mass production. How much you are interested in civil aviation industry today?
- We support the airworthiness of the IL-96 and other civil aircraft are not engaged. We have a huge load already: by 76, by IL-112, MTA. Priority - military vehicles. Well, An-124 is also entrusted to us to deal with.
"MIC": This is the intellectual property of the state enterprise "Antonov"?
- According to the accepted amendment of the AP-21, the Russian design bureaus can receive the developer's right to import aircraft. It looks like this: the Russian authorities request permission for modernization and maintenance, if they cannot agree with the owner of the intellectual rights of the aircraft. In fact, we can begin to refine An-124, there are only minor nuances left that need to be resolved with the Ministry of Defense. I think the competition for An-124 we win.
"MIC": What are the needs of the Ministry of Defense in these machines?
- Mr. Serdyukov once said: "I will buy more 20 machines". Now the Russian Defense Ministry has decided to go in stages. First, it is necessary to modernize the existing fleet so that the plane can fly not only in Russia, but also along international lines, and then the army will make decisions on whether to build new ones or not.
"MIC": You say that the civil aviation industry you are not very interested, but there is
история
with long-haul wide-body aircraft. The president in Beijing signs an agreement with the Chinese to jointly develop such an aircraft. You also have serious developments on long-haul technology. Is there a chance that you will be connected to this process?
- Connect.
"MIC": Cooperation with China will not reduce the already lame quality products of the Russian aviation industry?
- This is before the Chinese produced bad goods and equipment. For example, when KB had to urgently change the bus fleet, I was offered to buy licensed Toyota from the Chinese. The difference in price with the original three times. We go to them for the third year - they do not fall apart. The same is true in high technology, in aviation. China has passed the bad copy stage. He began to do, as in Europe, - well. Another question: does Russia need a long-haul aircraft? If the state says it is necessary in order to have a line of SSJ, MC-21 and further - we will complete it with wide-body equipment.
Either the aircraft is needed only by China for domestic consumption, and then the maximum flight range will be 3500 – 4000 kilometers. This is not a long-haul technique. It was proposed to transfer to China the right to localize the IL-96-400. If we are required, we will pass the object, but we will not climb there.
"MIC": You have another item of income - after-sales service aircraft. What is its share in total revenue?
- 50 percent is OCD, 50 percent is after sales. Although a few years ago, everyone was against it: how is it - the design bureau will deal with after-sales service? Well, I said that we will do what I decide, otherwise there will be nothing to eat. As a result, today we have a turnover of six billion rubles: three billion from OCD and three billion from after-sales. We trampled under this whole market, took the entire export market - China, India, Algeria, Iran. I emphasize that we only serve our cars.
"MIC": And what about the transfer of UAC enterprises in Zhukovsky?
- The story stretches from 2008. The question of withdrawing Mikoyan and Sukhov plants from this site is not worth it. To keep production today, which we still have here, is wild, unreal money. City center, production, and dirty. We will take him to Zhukovsky. Engineering will remain in Moscow. If we all leave, the city will lose taxes.
"MIC": What fate awaits Aviaremont?
- "Air repair" will not be. It is simply eliminated. Aviation repair plants are moving to the KLA. True, incomprehensible moments remain. Well, for example, the closing by Mr. Serdyukov of all technical brigades in the units. And we still wonder how airplanes fly at all. Nobody prepares them for flight. Now these parts are trying to recover. The industry is ready to take on medium-sized, overhaul repairs, but not on operational forms of service. And what is the operational form? The plane was handed over, it is necessary to prepare it for the flight and after its departure, check its condition. This is not our business, this is the army's business. Also do it themselves and civilian airlines. Two years ago we started to deal with service contracts: I send my specialists to inspect airplanes, but they cannot do this - there is not a single ladder, only a bare field. Not that it is impossible to examine it. How to check - remove the chassis, when in no part there are no lifts.
"MIC": There is an opinion that the UAC line of military transport aircraft is understaffed - there is no light military transport aircraft (LVTS), the final agreements on the An-124 have not been reached. Is it so?
- Not really. IL-76MD-90А has been launched, the contract with the Ministry of Defense has been signed. We successfully conducted his factory test, now the plane is on state tests. About 60 percent work on it in this part has already been completed. Ulyanovsk, in cooperation with VASO and KAPO, launched mass production.
"MIC": When did you realize that in a relationship with Tashkent you still have to put an end, and the 76 machine should be transferred to Russia? For a long time after trying to establish cooperation.
- We even signed an agreement on the entry of the Tashkent plant in the KLA. Our Duma certified it, but they are not. We offered to upgrade the plant. But Tashkent said that the plant will produce cars. Then it was decided to implement the project launch 476-th in Ulyanovsk with 2006 year.
IL-76MD-90A - a fundamentally new car. Next is the Russian-Indian MTA project. A technical project has been made; its translation is underway; in September there will be protection. By the end of the year, we expect to sign a contract for the entire cycle of OCD. At the end of December last year, Sergei Shoigu set a task for us: to submit a proposal for choosing LVTS by July 15. The choice was between the An-140, which is produced in Samara on Aviakor, and IL-112. It was decided to recommend as an LVTS IL, using the reserves of IL-112В.
"MIC": Why?
- Unlike An-140 IL-112, it completely corresponded to the task already specified in the 2003 technical task. In addition, the An-140 Ukrainian assembly. There is a danger that Ukraine will behave unpredictably.
In addition, there are problems with intellectual property rights. Aviacor today produces mostly fuselages. The wing and plumage receives from Ukraine, from Kharkov. Given the plight of the plant, you need to understand that the supply may be disrupted. When Aviakor announced an increase in the diameter of the fuselage in order to perform the TTZ, the choice became obvious. Indeed, after this it is necessary to introduce serious constructive improvements. That is, we get a new Ukrainian aircraft, for which Russia will pay.
"MIC": What is the project IL-106?
- At one time we considered a promising military transport aircraft IL-106. We are trying to look not in tomorrow, but in the day after tomorrow. Therefore, we are considering the possibility of entering a project fundamentally different from the point of view of the design of a military transport aircraft somewhere in the region of 30. Americans are considering several design schemes - a flying wing carrying the fuselage. And we are exploring such options ... Therefore, I think, as such, IL-106 will not appear again. But the prospect of further development of the military transport sector is.
MIC: A new scheme is not everything, new materials are also needed ...
- I am not a supporter of "baking" completely composite machines. We must first conduct research, understand how the composite-metal combination will behave, how this construction works. What are the possibilities of repair in the field. The plane lands on an unprepared airfield, on the ground, so the military does not want composites. This is just a pragmatic approach.
"MIC": They say our planes do not buy precisely because we are technically lagging behind.
- Nothing like this. We are inferior in the price of money. Boeing offers customers not just a product, but also a financing scheme. And what will we offer?
"MIC": But we also have "Ilyushin Finance" - the first leasing company in the domestic aviation industry.
- And the only one that sells Russian aircraft. They need a monument for this. We opened this company together with Alexander Rubtsov - 50 on 50. Then it was about the need to engage in leasing 96 th. Now we have one percent left. This is not our company with a capitalization of several billion dollars. So our one percent is worth much more than we invested.
"MIC": IL-476 - a new aircraft or deeply modernized?
- Judge for yourself. We changed all systems to 70 percent and kept only the aerodynamic geometric shape. She has proven herself well over 40 years of operation. But we reduced the weight of the structure, only two tons were removed from the wing. When IL-76 was created, there was no such technology. The wing consisted of three parts, we have a single panel - 24 meter. No joints, improved strength, redid the entire fuel system, power supply system, including lighting, power supply. Replaced the engine. Increased take-off weight to 210 tons, made a "glass cabin".
"MIC": From the point of view of the commercial component, is it interesting?
- While I do not see interest, although we are negotiating. Already received applications Rosoboronexport, there are quite serious. For a commercial customer an aircraft must be certified.
"MIC": They say you are very friendly with Rogozin. How much does this friendship help you?
- We have not just a good relationship. My wife is Dmitry O.'s sister. I rarely turn to him for help. This is a slightly different relationship, understand? On the contrary, I feel even greater responsibility to him in terms of the implementation of the program. We are brought up differently. My father in law was a military pilot. And he raised the children as officers so as not to sully the honor of the uniform. My dad is also a military man. I have no right to call Rogozin and ask me to cover. I would rather advise my son to postpone some kind of reform ... to which I will receive an answer: "Dad, I'm 46 years old."
"MIC": On your anniversary, probably, the whole family will gather. How will you celebrate? Is something special planned?
"Our family is very large, consists of three clans: the Livanovs, the Rogozins, now my daughter is married (now they have three children) to Kozhanov. If you take all the relatives - it's about 50 people. Apart from children, we have seven grandchildren. Dmitry has four children, and Darya has three. I also have three sisters, each with two children. We have been celebrating all the birthdays together for 30 for years, but this time I had a thought to go somewhere on September 17, and then invite relatives, but they told me that no one would understand this - everyone is waiting and preparing.