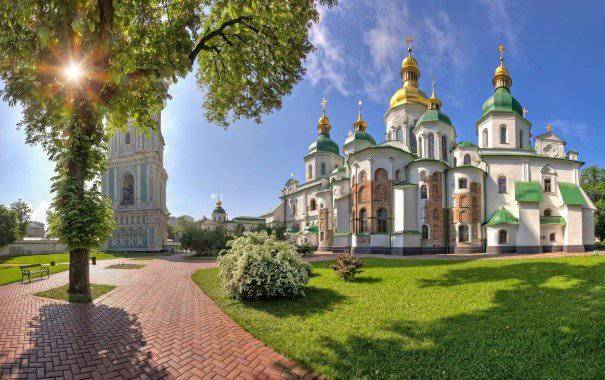 1. Speaking about Russia to foreigners, every faithful Russian patriot should explain to them that Russia is not an accidental heap of territories and tribes and not an artificially harmonious "mechanism" of "regions", but a living, historically grown and culturally justified organism that cannot be arbitrarily divided. This organism is a geographical unity, parts of which are connected by economic mutual food; this organism is a spiritual, linguistic, and cultural unity, which historically connected the Russian people with their younger national brothers — spiritual mutual nourishment; he is a state and strategic unity, which has proved to the world its will and its ability to self-defense; it is a real stronghold of the European-Asian, and therefore universal, peace and balance. His dismemberment would have been unprecedented even in
stories
political adventure, the disastrous consequences of which mankind would have suffered for long times.
The dismemberment of the organism into its components has not given anywhere and will never give either a healing, or creative balance, or peace. On the contrary, it has always been and will be a painful decay, a process of decomposition, fermentation, decay and general infection. And in our era, the whole universe will be drawn into this process. The territory of Russia is boiling with endless strife, clashes and civil wars, which will constantly grow into global clashes. This development will be absolutely inevitable due to the fact that the powers of the whole world (European, Asian and American) will invest their money, their trade interests and their strategic calculations in the newly emerging small states; they will compete with each other, achieve dominance and "strong points"; moreover, the imperialist neighbors will perform, who will attempt to directly or hiddenly "annex" unsettled and unprotected neoplasms (Germany will move to Ukraine and the Baltic States, England will encroach on the Caucasus and Central Asia, Japan on the Far Eastern shores, etc.). Russia will turn into giant "Balkans", into an eternal source of wars, into a great breeding ground of unrest. It will become a world wanderer, into which social and moral scum of all countries will be infused ("infiltrators", "invaders", "agitators", "scouts", revolutionary speculators and "missionaries"), all criminal, political and confessional adventurers of the universe. A dismembered Russia will become an incurable ulcer of the world.
2. Let us establish right away that the dismemberment of Russia being prepared by the international backstage does not have the slightest basis, no spiritual or real political considerations, apart from revolutionary demagogy, absurd fear of a united Russia and old hostility to the Russian monarchy and to Eastern Orthodoxy. We know that Western nations do not understand and do not tolerate Russian originality. They experience a single Russian state, like a dam for their commercial, linguistic, and aggressive distribution. They are going to divide the all-inclusive Russian "broom" into twigs, break these twigs one by one and kindle the dying fire of their civilization. They need to dismember Russia in order to carry it through the western equation and unleash and thereby destroy it: a plan of hatred and lust for power.
3. In vain they refer in this case to the great principle of "freedom": "national freedom" requires de "political independence". Never and nowhere did the tribal division of nations coincide with the state. The whole story gives vivid and convincing evidence. There have always been small nations and tribes, incapable of statehood. Trace the thousand-year history of the Armenians, a temperamental and culturally original people, but not a state one; and then ask: where are the independent states of the Flemish (4,2 million in Belgium, 1 million in the Netherlands), or Walloons (4 million), why are the Welsh Kimry and Scottish Gels (0,6 million) not sovereign, where the states are croats (3 million .), Slovenes (1,26 million), Slovaks (2,4 million), Vendians (65 thousand), French Basques (170 thousand), Spanish Basques (450 thousand), Gypsies (up to 5 million), Swiss Lodins (45 thousand), Spanish Catalans (6 million), Spanish gallegos (2,2 million), Kurds (over 2 million) and many other Asian, African, Australian and American lehmen?
So, the tribal "seams" of Europe and other continents do not at all coincide with state borders. Many small tribes were saved only in those stories that belonged to more large nations, state and tolerant: to separate these small tribes would mean either to transfer them to new conquerors and thereby permanently damage their original cultural life, or destroy them altogether, spiritually destructive, economically ruinous and stately absurd. Let us recall the history of the ancient Roman empire - this is a multitude of peoples, "included", who received the rights of Roman citizenship, original and protected from barbarians. And the modern British empire? And this is precisely the same cultural reference mission of united Russia.
Neither history nor modern legal consciousness knows such a rule: "how many tribes, so many states". This is a newly invented, ridiculous and disastrous doctrine; and now it is being advanced precisely in order to dismember United Russia and destroy its original spiritual culture.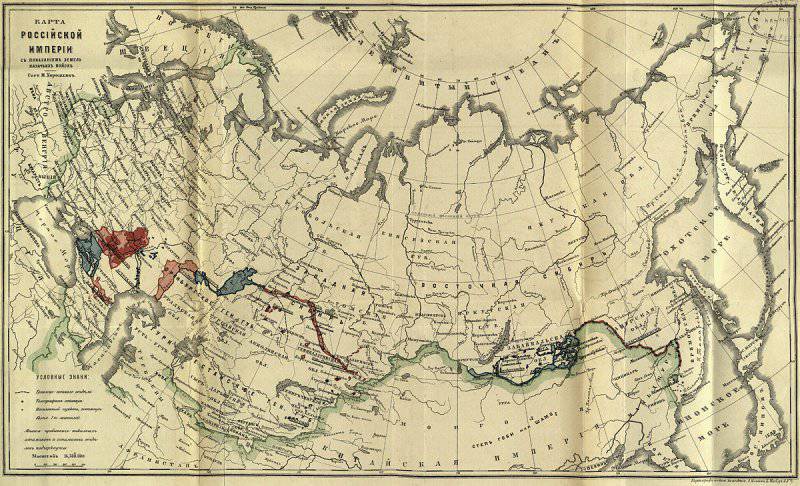 Map of the Russian Empire
* * *
4. Further, let them not tell us that the "national minorities" of Russia stood under the yoke of the Russian majority and its sovereigns. This is a foolish and false fantasy. Imperial Russia never denationalized its small peoples, unlike at least the Germans in Western Europe.
Give yourself the trouble to look into the historical map of Europe of the era of Charlemagne and the first Carolingians (768 — 843 in R. X.). You will see that almost from Denmark itself, along the Elbe and beyond the Elbe (the Slavic "Laba"), through Erfurt to Regensburg and along the Danube there were Slavic tribes: Abodrites, Lutichi, Linons, Gevely, Redaria, Ukry, Pomorians, Sorbs and many others . Where are they all? What is left of them? They were conquered, eradicated, or completely denationalized by the Germans. The conqueror's tactics were as follows: after the military victory, the leading stratum of the defeated people was called into the German camp; this aristocracy was cut on the spot; then the beheaded people were subject to compulsory baptism into Catholicism, the dissenters were killed by thousands; the rest were forcibly and meekly Germanized. The "beheading" of the conquered people is the old all-German reception, which was later applied to the Czechs, and nowadays again to the Czechs, Poles and Russians (for which the Bolsheviks were introduced into Russia with their terror).
Have you seen anything similar in the history of Russia? Never anywhere else! How many small tribes Russia received in history, how much it has honored. She singled out, however, the upper layers of the affiliated tribes, but only to include them in her imperial upper layer. Neither by compulsory baptism, nor by extirpation, nor by all-leveling Russification, has she ever engaged. Forced denationalization and communist equalization appeared only under the Bolsheviks.
And here is the proof: the population of Germany, which had swallowed up so many tribes, was brought to the German homogeneity by means of merciless denationalization, and in Russia the general censuses were first established over one hundred, and then up to one hundred and sixty different language tribes; and up to thirty different confessions. And gentlemen dissenters forget that it was Imperial Russia that complied with the tribal composition for the political dismemberment they were embarking upon.
Let us recall at least the history of the German colonists in Russia. Have they been subject to 150 years of denationalization? They moved to the Volga and southern Russia in the second half of the 18th century and later (1765 — 1809) —in the number of 40 — 50 thousands. By the beginning of the 20th century, it was the richest stratum of the Russian peasantry, numbering about 1,2 million. Everyone kept their language, their confessions, their customs. And when, driven by the expropriation of the Bolsheviks to despair, they rushed back to Germany, the Germans heard with amazement in their mouths the primordial - Holstein, Württemberg and other dialects. All reports of forced Russification were refuted and confounded by this.
But political propaganda does not stop in front of a clear lie.
5. Further, it is necessary to establish that the very dismemberment of Russia represents a territorially insoluble task. Imperial Russia did not look at its tribes as firewood to be moved from place to place; she never drove them around the country arbitrarily. Their resettlement in Russia was a matter of history and free settling: it was an irrational process, not reducible to any geographic disengagement; it was a process of colonization, withdrawal, relocation, dispersion, mixing, assimilation, reproduction and extinction. Open the pre-revolutionary ethnographic map of Russia (1900 — 1910), and you will see an extraordinary diversity: our entire territory was dotted with small national "islands", "branches", "surroundings", tribal "bays", "straits", "channels" and " lakes. " Peer at this tribal mix and keep in mind the following reservations: 1) all these color designations are conditional, because no one prevented Georgians from living in Kiev or St. Petersburg, Armenians in Bessarabia or Vladivostok, Latvians in Arkhangelsk or in the Caucasus, Circassians in Estonia, the Great Russians everywhere and td; 2) therefore all these colors on the map do not mean "exceptional", but only "predominant" tribal population; 3) all these tribes over the past one hundred or two hundred years have entered into blood mixing with each other, and children from mixed marriages have entered into new and new tribal mixing; 4) consider also the gift of the Russian spirit and Russian nature to forcelessly and imperceptibly Russianize people of other blood, which is transmitted in the South Russian saying "father is Turkish, mother is Greek, and I am Russian"; 5) extend this process to the whole of Russian territory - from Araks to Varanger Bay and from St. Petersburg to Yakutsk - and you will understand why the Bolshevik attempt failed in a demonstrative way to divide Russia into "national".
The Bolsheviks did not succeed in withdrawing each tribe its special territory because all the tribes of Russia are scattered and scattered, mixed in the blood and geographically intermingled with each other.
Politically, each tribe claims, of course, for "its" rivers and canals, for fertile soil, for underground wealth, for convenient pastures, for profitable trade routes and for strategic defensive borders, not to mention the main "array" of its tribe no matter how small this "array" is. And if we digress from small and scattered tribes, such as: Votyaks, Permyaks, Zyrians, Vorguls, Ostyaks, Cheremis, Mordva, Chuvash, Izhora, Talyshins, Kryzians, Dolgans, Chuvans, Aleuts, Varnishes, Tabasarians, Udins, and Others , - and take a look only at the national thick of the Caucasus and Central Asia, then we will see the following.
The resettlement of larger and more significant tribes in Russia is such that every single "state" should give its "minority" to its neighbors and include abundant foreign "minorities" in its membership. This was the case at the beginning of the revolution in Central Asia with Uzbeks, Tajiks, Kirghiz-Kaisaks and Turkmen: here, attempts at political disengagement caused only fierce rivalry, hatred and disobedience. It was the same in the Caucasus. The long-standing national enmity between the Azerbaijani Tatars and Armenians demanded a strict territorial division, and this section turned out to be completely unrealizable: large territorial centers with a mixed population were discovered, and only the presence of Soviet troops prevented mutual slaughter. Similar sick sites were formed during the disengagement of Georgia and Armenia due to the fact that in Tiflis, the main city of Georgia, Armenians made up almost half of the population, and moreover the most prosperous half.
It is clear that the Bolsheviks, who wished to isolate, denationalize and internationalize the Russian tribes under the guise of "national independence," resolved all these tasks with dictatorial arbitrariness, behind which party-Marxist considerations were hidden, and by the power of the Red Army
weapons
.
Thus, the national-territorial demarcation of nations was a matter of timeless hopelessness.
6. To all this, it must be added that a whole number of Russian tribes still live in a state of spiritual and state-political low culture: among them there are those who are religiously in the most primitive shamanism; the whole "culture" is reduced by many to artisanal crafts; nomadism is far from obsolete; having neither the natural borders of their territory, nor the main cities, nor their written signs, nor their secondary and higher education, nor their national intelligentsia, nor national self-awareness, nor state justice, they (as it was known to the Russian imperial government and how it was confirmed under the Bolsheviks, they are incapable of the most elementary political life, not to mention resolving the complex tasks of legal proceedings, popular representation, technology, diplomacy and strategy. In the hands of the Bolsheviks, they turned out to be political "puppets", put on the "fingers" of the Bolshevik dictatorship: these fingers moved, and the unfortunate "puppets" moved, bowed, obediently shrugged their shoulders and babbling party-Marxist vulgarities. Demagoguery and deception, expropriation and terror, the destruction of religion and life were given for the "national flourishing" of Russian minorities, while in the west there were fools and corrupt reporters who sang about this "liberation of nations."
The inevitable question is: after the separation of these tribes from Russia, who will take possession of them? What foreign power will play them and pull life juices out of them? ..
7. Since then, decades of Bolshevik arbitrariness, hunger and terror have passed. Since then, the hurricane of the Second World War has swept through and the post-war "national cleansing" has been carried out. It's already the 33 of the year that the Bolsheviks are killing or starving the disobedient segments of the population and throwing people of all Russian tribes and nations into concentration camps, new cities and factories. The Second World War moved the entire western half of European Russia from its place, leading some ("Ukrainians", German colonists, Jews) east to the Urals and beyond the Urals, and others west as prisoners of "Ostarbeiters" or refugees (including voluntarily in Germany, a whole mass of Kalmyks). The Germans then occupied Russian territory with a population of about 85 millions of people, shot hostages with masses and exterminated about one and a half million Jews. This regime of executions and movements then continued under the Bolsheviks after they regained the territories they had conquered from them. Then massacres began with national minorities: German colonists, Crimean Tatars, Karachais, Chechens and Ingushes must be considered almost ruined, and the massacre continues in Estonia, Latvia and Lithuania. Representatives of the UNRA calculated the number of dead residents of Belarus in 2,2 million, and in Ukraine - in 7 — 9 million. In addition, we reliably know that the retiring population of Ukraine, Belarus and the Baltic states is replenished by people from the central provinces, with other national traditions and burdens.
All this means that the process of extinction, national shuffling and tribal mixing has reached unprecedented proportions in Russia during the revolution. Entire tribes disappeared completely or reduced to nothing; whole provinces and regions will wake up after the revolution with a new composition of the population; whole counties will be desolate. All previous plans and calculations of misters-disagreements will be groundless and untenable. If the Soviet revolution ends with the Third World War, then the tribal and territorial composition of the Russian population will undergo such changes, after which the very idea of ​​national-political dismemberment of Russia may turn out to be a completely non-life chimera, a plan not only traitorous, but simply stupid and impracticable.
8. Nevertheless, we must be prepared for the fact that Russian dissenters will try to conduct their hostile and ridiculous experience even in the post-Bolshevik chaos, fraudulently presenting it as the ultimate triumph of "freedom", "democracy" and "federalism": Russian peoples and tribes death, adventurers, thirsty for a political career, the "prosperity", the enemies of Russia for the triumph. We must be prepared for this, firstly, because German propaganda has invested too much money and effort in Ukrainian (and perhaps not only in Ukrainian) separatism; secondly, because the psychosis of imaginary "democracy" and imaginary "federalism" has engulfed a wide circle of post-revolutionary ambitious and careerists; thirdly, because the world backstage, which has decided to dismember Russia, will backtrack from its decision only when its plans fail completely.
* * *
9. And when, after the fall of the Bolsheviks, the world propaganda threw a slogan into All-Russian chaos: "Peoples of the former Russia, dismember!" - two possibilities will open up: or the Russian national dictatorship will arise within Russia, which will take over the reins of government, this the disastrous slogan will lead Russia to unity, cutting off all separatist movements in the country; or such a dictatorship will not work out, and the country will begin an unimaginable chaos of movements, returns, revenge, pogroms, the collapse of transport, unemployment, hunger, cold and powerlessness.
Then Russia will be gripped by anarchy and will present itself with its head to its national, military, political and religious enemies. It will form that whirlpool of pogroms and distemper, that "Malstrom of evil", which we indicated in paragraph 1; then parts of it will begin to seek salvation in "being about themselves," that is, in dismemberment.
It goes without saying that all our "good people" will want to take advantage of this state of anarchy; all sorts of military interventions will begin under the pretext of "self-defencing", "reconciliation", "establishing order", etc. Let us recall the 1917 — 1919 years when only the lazy did not take a badly lying Russian good; when England sank the Allied-Russian ships under the pretext that they had become "revolutionary dangerous", and Germany seized Ukraine and reached the Don and Volga. And the "good neighbors" will again start up all types of intervention: diplomatic threat, military occupation, seizure of raw materials, appropriation of "concessions", plundering of military stocks, single, party and mass bribes, organization of hired separatist gangs (called "national-federal armies "), the creation of puppet governments, the incitement and deepening of civil wars on the Chinese model. And the new League of Nations will try to establish a "new order" through absentee (Paris, Berlin or Geneva) resolutions aimed at suppressing and dismembering national Russia.
Let us assume for the moment that all these "freedom-loving and democratic" efforts will be temporarily crowned with success and Russia will be dismembered. What will this experience give Russian peoples and neighboring powers?
10. At the most modest calculation, up to twenty separate "states" that have neither indisputable territory, nor authoritative governments, nor laws, nor a court, nor armies, nor undoubtedly a national population. Up to twenty empty titles. But nature does not tolerate emptiness. And in these political pits formed, in these whirlpools of separatist anarchy, human depravity will rush: first, adventurers, trained by the revolution, under new surnames; secondly, the hirelings of the neighboring powers (from the Russian emigration); thirdly, foreign adventurers, condottieri, speculators, and "missionaries" (reread Pushkin's "Boris Godunov" and Shakespeare's historical chronicles). All this will be interested in tightening the chaos, in anti-Russian agitation and propaganda, in political and religious corruption.
Slowly, new, fallen or separated states will be formed for decades. Each will lead with each neighboring a long struggle for territory and for the population, which will be tantamount to endless civil wars within Russia.
All the new greedy, cruel and unscrupulous "pseudo-generators" will appear, they will get "subsidies" abroad and start a new massacre. Twenty states will contain 20 ministries (20ґ10, at least 200 ministers), twenty parliaments (20ґ200, at least 4000 parliamentarians), twenty armies, twenty headquarters, twenty military industries, twenty intelligence and counterintelligence, twenty police, twenty customs and restraining systems and twenty internationally scattered diplomatic and consular missions. Twenty frustrated budget and monetary units will require countless foreign currency loans; loans will be given by "powers" ​​under guarantees of a "democratic", "concessionary", "commercial and industrial" and "military" kind. In a few years, the new states will turn out to be satellites of the neighboring powers, foreign colonies or "protectorates." The federal inability of the Russian population, known to us from history, and its historically proven impulse to "self-figuring," will complete the task: no one will remember the federation, and the mutual hardening of Russian neighbors will make them prefer foreign slavery to all-Russian unity.
11. In order to visually imagine Russia in the state of this prolonged madness, it suffices to imagine the fate of the "independence of Ukraine".
This "state" will have, first of all, to create a new defensive line from Ovruch to Kursk and then through Kharkov to Bakhmut and Mariupol. Accordingly, both Great Russia and the Don Army will have to "bristle" with their front against Ukraine. Both neighboring states will know that Ukraine relies on Germany and is its satellite and that in the event of a new war between Germany and Russia, the German offensive will start from the very beginning from Kursk to Moscow, from Kharkov to Volga and from Bakhmut and Mariupol to the Caucasus. This will be a new strategic situation in which the points of the maximum movement of Germans up to now will be their starting points.
It is not difficult to imagine how Poland, France, England and the United States will react to this new strategic situation; they quickly figure out that recognizing a separatist Ukraine means giving it to the Germans (that is, recognizing the First and Second World Wars as lost!) and supplying them not only with South Russian bread, coal and iron, but also cede them to the Caucasus, the Volga and the Urals.
This may begin the sobering up of Western Europe from the "federal" stupor and from the all-Russian dismemberment.
12. From all this it appears that the plan for the dismemberment of Russia has its limits in the real interests of Russia and of all mankind.
While there are abstract conversations, until political doctrinalists put forward "seductive" slogans, rely on Russian traitors and forget the imperialistic lust of enterprising neighbors; until they consider Russia finished and buried, and therefore defenseless, the task of its dismemberment may seem resolved and easy. But once the great powers realize in their minds the inevitable consequences of this dismemberment, and one day Russia will wake up and speak; then the solution will prove problematic and easy difficult.
Russia, as a prey thrown into plunder, is a quantity that no one will master, at which everyone will quarrel, which will cause incredible and unacceptable dangers to life for all of humanity. The world economy, already unbalanced by the loss of healthy production in Russia, will see itself before fixing this infertility for decades. The world balance, which has already become shaky, more than ever, will prove doomed to new unseen trials. The dismemberment of Russia will not give anything to distant powers and will incredibly strengthen the closest neighbors of the imperialists. It is difficult to come up with a measure that is more profitable for Germany, exactly how the proclamation of the Russian "pseudo-federation": it would mean "write off" the First World War, the entire interwar period (1918 — 1939) and the entire World War II - and open the path to world hegemony for Germany . Separate Ukraine can only be a "springboard" leading the Germans to world leadership.
It was Germany, taking the old dream of Gustav Adolf, trying to push Russia back to the "Moscow era". At the same time, considering the Russian people as a historical "dung" intended for it, is completely unable to understand that Russia will not die from dismemberment, but will start reproducing the whole course of its history anew: it, as a great "organism," will again begin to collect its "members ", Move along the rivers to the seas, to the mountains, to coal, to bread, to oil, to uranium.
The enemies of Russia act frivolously and unwisely, "squirting" the politically insane idea of ​​dismemberment to the Russian tribes. This idea of ​​dismembering the European powers was once advanced at the Versailles Congress (1918). Then it was accepted and implemented. And what? In Europe, a number of small and self-defeating weak states appeared: Estonia, Latvia, and Lithuania; multi-earth, but unprotected Poland; strategically hopeless, for everywhere Czechoslovakia is conveniently handled and internally divided; small and disarmed Austria; cut down, offended and weakened Hungary; ridiculously bloated and strategically worthless Romania; and not still extensive, but in a new way offended, dreaming of revenge Germany. Thirty years have passed since then, and when we now look back on the course of events, we involuntarily ask ourselves: maybe Versailles's politicians wanted to prepare for the militant Germany plentiful and unprotected prey - from Narva to Varna and from Bregenz to Baranovich? After all, they turned the whole European region into a kind of "kindergarten" and left these defenseless "red hats" alone with the hungry and angry wolf ... Were they so naive that they hoped for a French "governess" that would "educate" wolf? Or did they underestimate the vital energy and the proud plans of the Germans? Or did they think that Russia would still save the European equilibrium, because they imagined and assured themselves that the Soviet state was Russia? Whatever the question, it is an absurdity ...
It is difficult now to say what exactly these gentlemen then thought about and did not think about. It is only clear that the dismemberment of Europe prepared by them, concluded between German and Soviet imperialism, was the greatest folly of the twentieth century. Unfortunately, this nonsense has not taught them anything and the recipe for dismemberment has again been extracted from diplomatic portfolios.
But it is instructive for us that European politicians started talking at the same time - about pan-European unification and about All-Russian dismemberment! We have long listened to these voices. As early as the 1920s in Prague, prominent social revolutionaries publicly spilled this idea, avoiding the word "Russia" and replacing it with the descriptive phrase "countries east of the Curzon line". We then noted this promising and, in essence, treacherous terminology and made the appropriate conclusion: the world behind the scenes buries the united national Russia ...
It is not clever. Not farsighted. Hastily in hatred and hopelessly for ages. Russia is not human dust and not chaos. She is first and foremost a great nation, not wasted its forces and not desperate in his vocation. These people are starving for a free order, for peaceful labor, for property and for national culture. Do not bury him prematurely!
The historic hour will come, it will rise from an imaginary coffin and demand its rights back!