How work is organized in the USA with children left without parental care, why a third of Russian children adopted by foreigners cannot take root in a foster family and what measures will help the Russian Federation to completely abandon children's homes, the Commissioner for Children's Rights told the Voice of Russia Pavel Astakhov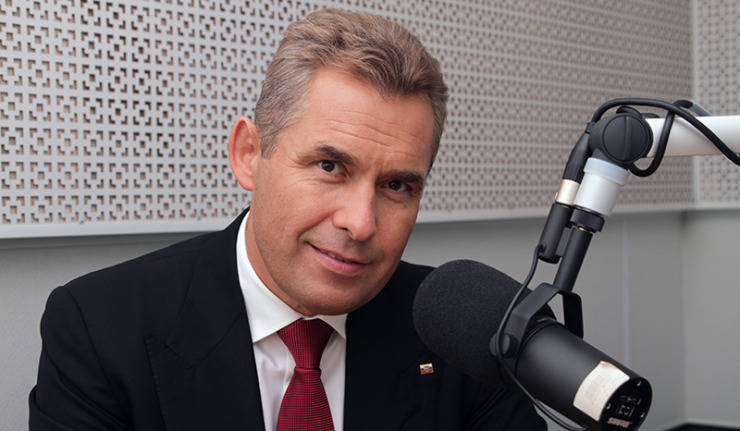 Guest in the studio "Voices of Russia" - Pavel Alekseevich Astakhov, authorized by the President of the Russian Federation on the rights of the child.
The interview is conducted by Andrei Ilyashenko.
Ilyaashenko
: Hello, dear listeners! In our studio, Pavel Alekseevich Astakhov, authorized by the President of Russia for the rights of the child. We would like to discuss with him the whole range of problems associated with this difficult work.
September 23 in Khanty-Mansiysk will begin its work the next, III Russian-American forum on the protection of childhood. Do we continue the dialogue with the Americans on adoption issues, even despite the rather harsh and tough situation that developed at the end of the past - the beginning of this year?
Astakhov
: On the eve of the III Russian-American Forum on Child Protection, which will be held in Khanty-Mansiysk, we just wanted to identify the topics that we will discuss: why it is needed, why this platform was created. This means that our cooperation is expanding, it has become qualitatively new in content.
Previously, all cooperation between Russia and the United States, as well as between the United States and China, Guatemala, and Ethiopia, in the light of the problems of childhood and child protection, was that we were "donors" and supplied children to the American adoption market.
Now our relationship has changed qualitatively. The last representative talks that were held at the US State Department 26-27 June (I led the delegation) proved the following. Previously, America said: they say, you are guilty of giving unruly, sick children, hiding a diagnosis or something else, our parents, they say, did not manage for that very reason.
Ilyaashenko
: So there were claims to us?
Astakhov
: Yes. And we initially had complaints when the children were returned to us on the plane, when the children died, and the investigations were not conducted properly. All the time we demanded an investigation, responsibility, presentation of evidence, materials. Now all these questions remain, but we have moved to a qualitatively new state.
Ilyaashenko
: What is it?
Astakhov
: The most important result of these negotiations, which were with all relevant departments, both from our side and from the US. We negotiated, and everyone acknowledges that there has never been such a representative level of negotiations. At the end of June, I headed the delegation at the talks; Foreign Ministry officials and embassy staff were present. On the American side were representatives of all departments of the United States, that is, of the entire government, of all ministries.
We agreed on one indisputable truth: there are no problems purely American and purely Russian with respect to adopted children, although they left Russia and live in America. These are common problems, and we need to solve them together. Not to exchange recriminations, not to demand any actions from each other, but to work together, realizing that they are our common children, they have dual citizenship - Russian and American.
For us, they are citizens of Russia until they come of age, and for Americans, crossing the border, they become citizens of America. We came to this understanding, but for this it was necessary to pass a very difficult path.
Was
история
Artyom S., when I actually accepted this boy and saw that he was sent here from America with a one-way ticket. Then the question arose about limiting American adoption, the moratorium. It was still 7 April 2010.
My colleague Susan Jacobs, a special adviser to the US State Department bureau on childhood issues, my American counterpart, said at the June talks: "In general, we offer in our consultations not only to be limited to questions of adopted children. Let's talk more broadly." This is exactly what I wanted to say then.
We have other topics: education, treatment, rehabilitation of children, student and cultural exchange, rest. This is a huge number of topics that do not develop due to the fact that we stumbled over the fact that there are problems of transparency, reports, mutual claims. Let's step over them and move on to a qualitatively new job.
For this we have done the following. First, we stopped talking about all possible exceptions to the "Dima Yakovlev law", they are not and can not be. Secondly, we made out the entire list that we were represented with, these were 259 children, whom they demanded to give, which they had allegedly already prepared.
Ilyaashenko
: A transition period?
Astakhov
: Yes. Of these children, more than half are already in families. I explained the absurdity of the demands by the fact that I cannot even for the sake of the best wishes, the feelings of American parents, respecting their desire to take a Russian child, come to the Russian family and say: you know, there are Americans to whom we, as an exception, give your baby This is absurd. And the Americans agreed. All listings are now considered invalid. Do not deceive their citizens, the law will not be changed. But we need to move on.
Understanding that we are expanding the field of cooperation on children's issues has led us to hold this forum in Khanty-Mansiysk. He is the third, last year he passed in Chicago - the Americans accepted us. The year before last was the first forum, it was held in Buryatia, in Ulan-Ude, on Baikal. The number of American and Russian specialists who participate in this forum is growing from year to year.
By the way, at the talks in June, it turned out that not one of the 30 people sitting in the hall was in any Russian orphanage.
Ilyaashenko
: Have you ever been to the American?
Astakhov
: I was in an American orphanage for mentally retarded children with disabilities when I was studying in America. I graduated from the University of Pittsburgh. At the end of my street was such a boarding house. I was in other countries. By the way, at the end of October we are going to Finland at the invitation of the Finnish side. This is also a confirmation of a qualitatively new level. After all, how many mutual claims we have with Finland!
Ilyaashenko
A: Yes, there were a lot of scandals.
Astakhov: Now we are going to the Finns, they invited me to talk on our topical issues, well-known, although we have won the last two decisions of the Finnish courts, we are returning the children. We will see how to care for disabled children in private Finnish shelters. This is our painful topic.
In June, I invited everyone to come to the Khanty-Mansiysk Autonomous Okrug and see our children's homes, and that's all. In the Khanty-Mansiysk Autonomous Okrug there are few, about six. We are not ashamed to show them, because they are not worse than American and European.
I myself was in 1087 orphanages in Russia for 3,5 of the year. I mean orphanages, boarding schools, orphanages, psycho-neurological boarding schools, boarding schools - all boarding schools. I have seen the best and worst. I know boarding schools who, after our inspection, closed down, fired the directors, punished the staff.
The problem is that the system itself requires profound reform. We do not need so many of these boarding schools, they are not necessary. The number of parents who are ready to take children is growing. Foster families grow.
We can show what we have achieved in the last four years. In the near future at the RIA site
News
we will make direct dialogues, video inclusion regions - both good, advanced, and not very good. They will report on how the family unit is going, whether orphanages are being reduced, how children are organized into families.
Representatives of the Ministry of Education and Science, who are directly involved in this issue, public figures will speak. We will represent trends.
Ilyaashenko
: Sound statistics, what is the trend?
Astakhov
: Every year we close orphanages around 100, even without any programs. We offered a cardinal program "Russia without orphans", according to which we would have abandoned orphanages by 2020. In fact, this will happen because there is an instruction from the president to cut them in half by the year of 2018.
If you look at the trend, each year the approximate increase in the number of adoptive parents, candidates for adoptive parents - 6-7 thousands of people who stand in line. Three years ago there was no lineup. And now at the beginning of the year - 18 thousands of people.
Ilyaashenko
: How did you manage to achieve this?
Astakhov: Due to measures taken by the state. We know about presidential decrees. For example, Decree No. 1688 of December 23 of 2012 on measures to
backed by
having many children, adopted children, orphans. February of this year 26 issued a decree on supporting families with disabled children. These are all measures of presidential (federal) scale. In every region we constantly check. There is a "children's special forces" - the authorized device. We do not give rest, we force to accept regional programs.
When they talk about the "average temperature in the hospital" - supposedly everything is bad in Russia - they forget to say that there is no single federal body that would deal with these issues. Powers from the beginning of the 2000-ies transferred to the level of the subjects of the Russian Federation. Accordingly, the money is transferred there.
It turns out that, for example, in the Moscow region there is an orphanage, in which the maintenance of one child costs 4,5 thousands of euros per month. This is 3 times higher than in Germany. In the poorest regions, for example in the Zabaykalsky Krai, the maintenance of one child in an orphanage costs 20-30 thousand rubles (about a thousand dollars). The question arises: why do we spend such money?
First, in my firm conviction, based on practice and analytics, it is necessary to leave specialized children's institutions, boarding schools. For example, a children's home for children with mental retardation or with damage to the central nervous system, brain, problems of the musculoskeletal system. Children need to be treated, and taught, and educated, they must have rehabilitation.
Secondly, in each region you need to do one or two - depending on the children's population - children's boarding schools, specialized in obtaining a particular profession. For example, the cadet institutions show themselves very well. There are institutions of a closed type where children are re-educated, for example, near Kazan. In fact, this is a cadet corps. Juvenile delinquents and criminals are being re-educated there. Can be made institutions of militarized and specialized types. For example, in Tatarstan, we agreed with Minnikhanov to make a boarding school for gifted children in IT technologies.
What is a boarding school or an orphanage specialized in terms of vocational guidance and future profession? This means that you hire specialists and teachers in this area. There is an additional educational program, out-of-class education on these topics, and a ready-made specialist grows through the 11 years.
There is a wonderful Soviet experience. Everything new is well forgotten old. There is an orphanage, which is now called the "Orphanage of musical art creativity and upbringing" in Yaroslavl, created in 1949 by the decree of Joseph Stalin. Orphans who had musical abilities were gathered from all over the country. A huge number of films have been made about this Soviet orphanage. These are children who attended all party events, performed concerts.
During my work I was there twice and saw how children are raised. What is music education? This is a discipline, harmonious development, organization of a child's life. Specialized boarding schools have the right to exist.
Of course, social shelters should remain. Where to put the child who was lost, ran away from somewhere, was subjected to ill-treatment, he was removed from the family? It is usually placed in a hospital if it requires treatment, or in such a shelter. Europe has long gone ahead in this matter. Last October, I traveled to Stockholm and studied the experience of local social shelters. In Stockholm shelters (their 3) for the year receives about 1,5 thousands of children - this is quite a lot.
Ilyaashenko
: Sweden has always been presented as a very prosperous country, nevertheless the same is there.
Astakhov
: Two or three children come to such shelters daily. Children keep a day, for more they are not eligible. In our social shelters, children can live on the 4 year, although by law a child can stay there for up to 6 months, in exceptional cases, up to a year. We have to build a system so that even if not a day, but a month, in two weeks, the child is identified.
The child can not live in a shelter, it destroys it. It grows every day, it needs to learn, develop, and there it "dries up". Yes, we have quite good shelters and there work rehabilitation and development specialists. But the child does not belong there.
In America, about the same number of orphans and those left without parental care, as in Russia. In Russia, the annual figure is 643 thousands, in the USA 560-570 thousands. Of these, 20 percent is in orphanages (we even have a little less). In the Russian Federation, about 103 thousand are located in orphanages, in America - 104-105.
In the US Department of Health and Human Welfare, I spent almost 4 hours studying this structure (she's in charge of childcare facilities), but I wasn't given the exact number of orphanages in America. She is very big. We have more than 3 thousands in various forms of children's institutions - from children's homes to boarding schools and orphanages. I think in the US about the same.
For example, only specialized institutions for the rehabilitation of children, which represent the parent organizations with which we hold the Khanty-Mansiysk Forum (this is the Association of professionals in the protection of affected children), in the US 743 such. This is the institution where the child is victims of violence, no matter where - in the family, on the street, somewhere else. This is a crime victim.
In the United States built this system. The child is placed there for rehabilitation. They have a single interrogation system. We will learn from the United States - for example, we were considered that the child, being a victim of a crime, should be interrogated 12 once during the investigation and trial.
Ilyaashenko
: It is very traumatic.
Astakhov
: Of course. This is a very serious injury after a crime has been committed. The child must be rehabilitated, and it is returned again and again to those events.
The Americans ensured that this was an interrogation at once - as soon as it turned out that a crime had been committed. Everything is fixed, and specialists work with the child for rehabilitation and recovery. We will study this experience.
On the other hand, we will share our experience, for example, on the creation of foster family schools and foster family escort services. Today, America is in a disadvantaged position. The last story, which was revealed by Reuters journalists and published data on the network of exchange and transfer of adopted foreign children from family to family for re-adoption (there is even an exchange, almost trade), is being studied and investigated.
We trust our American colleagues, because they themselves are outraged by this, are concerned. But such a system existed. A huge number of adoptive parents, who were unable or simply did not want to raise these children, were mistaken, thoughtlessly reacted, "fused" children through contacts in social networks.
Ilyaashenko
: Including those children who have been adopted from abroad?
Astakhov
: It is foreign, including Russian children. Reliably today revealed 26 children. This is only from the investigation of Reuters journalists.
About the fact that such a system can exist, I spoke at the end of 2010, when it turned out that unwanted children are sent to a famous ranch in Montana, where we still got into 2012, and where we were not allowed in this. Hearings are already under way in the Supreme Court of Montana.
Why did I conclude that there is such a scheme? The owner of this ranch said: "Parents and adoptive parents often turn to me because they cannot cope with adopted children, I help them, re-educate children." We looked at the documents, we have all the reports, starting with 2001, on the number of children, who they are, where they came from and where they left off.
When you look at the column "dropped out" and see that it says "another adoptive family", "psychiatric clinic", "juvenile prison" or "special program", you understand that some children do not return to the families from which they were sent, but they were handed over there in order to re-re-create them.
I met with the local sheriff and the prosecutor, who said: not only does the ranch exist - the so-called broker, a wholesaler who delivers children, brings the children here. These are people who know all adoptive parents. They come and say: "Do you have problems with foster children? Let me help you get rid of them, give them to another family. You will pay me a little bit for this."
Why does this system exist? America is a strict state in terms of the implementation of all laws, regulations and requirements for law-abiding. There everything is very clearly and strictly regulated.
According to statistics, about a third of children adopted abroad do not take root in American families for various reasons. Imagine, 20 of thousands of children in the United States now do not live in the families that took them from Russia. One third of the children are being rescheduled, included in other families.
You can refuse a child in the USA, as in Russia (this legal procedure). Of course, we must think that if the child is ill, let him go to another family.
But if the child was adopted, the former parents should pay him alimony. And if this is a disabled child or a child with serious illnesses, you will pay him for child support for life. And if these are states such as Texas or California, you will pay your adopted child a lot of money in the form of alimony - half of your earnings. Therefore, they are looking for other schemes.
There are "brokers". People solve a problem, they don't refuse a child - for example, they took a child to a ranch, pay 3-4 thousands of dollars a month for keeping a child at a ranch. But they do not pay child support, which will be much more. This is one story.
We explain to the Americans that they, having opened such a network, faced the fact that, even though there are child protection services, they are tightly controlled, they are at the level of municipalities and at the state level. There is no structure above. And in the US there is not a single system, no database, no methodological support, no unified control. State Department is trying to do it.
We understand that it is very difficult. We are grateful that the State Department, at least as a federal agency, took it upon itself, although this is not an inherent function. But while the United States can not solve this problem.
We are solving it, although we have a lot of problems and there was an extremely neglected situation. But over the past three years, we have achieved the fact that there was an order from the president and a government decree on the creation of foster parents training services. Today in every region there is a school of adoptive parents. There are regions where there is such a school at every children's institution. We have requirements for the training of adoptive parents, a mandatory course - 80 hours, which they should listen. There are tests, references, a set of documents that they must submit. Only after that parents are selected, and only then they will follow the child.
The second element of this system is the service of adoptive families. We are creating such a service on the basis of closing orphanages so as not to lose specialists who often protest against the closure of the orphanage - in the orphanage for one child there are more than two adults. It turns out that it is easier to arrange a child in a family than to employ these two adults.
We offer a vacated orphanage, when all children have been dismantled into families, to repurpose and transform into a family help center, a center for training and accompanying foster families. All these specialists are already working with foster families. There is an escort center in Moscow, 19 specialists work there, they lead 175 families. These 175 families bring up around 500 children.
This is an example of how to effectively spend public money and properly allocate resources, manpower and money. Specialists are in their place, they work with each foster family, there has not been a single refusal for this center over the past five years, there is no return of children.
Ilyaashenko
: You said that a third of children abroad do not survive. In this case, the question arises: how to approach the foreign adoption in the future? What state and legal policy will be carried out?
Astakhov
: If we talk about legal policy, let's rely on the laws that we have passed and are obliged to comply. Laws have been passed that limit international adoption, in particular, a withdrawal from the agreement with the United States. Until 1 January 2014, it is valid for reporting and monitoring. But with 1 January 2014, it completely loses its power.
Also, a number of changes were made to the Family Code; they were adopted by the State Duma at the last spring session and are associated with the prohibition of adoption by single citizens of countries that officially recognized same-sex marriages. In this regard, it required a special explanation to the courts, because the adoption is carried out by a court decision at the level of the cassation instance. That is, these are regional and republican courts, city courts in Moscow and St. Petersburg.
It took clarification. The President appealed to the Chief Justice of the Supreme Court, and an explanation was given, which was secured by the Presidium of the Supreme Court of the Russian Federation 29 August 2013. It comes down to what the courts explain and orients - how to correctly apply the laws that have been approved in the last six months.
The explanation is as follows. You can not give up children for adoption in the state, which recognize same-sex marriages, if a lonely unmarried citizen comes out with such a statement; if the state whose citizen is going to court for adoption has not provided guarantees that the child cannot be reinstated to the same-sex family; if this state does not submit an agreement with the Russian Federation.
Today, only one state falls under all these criteria - Italy. In fact, today the courts of the Russian Federation will satisfy only Italian citizens. Even France, with whom we have an agreement, did not provide guarantees that children could not be re-admitted to other families and that this would not be a same-sex family in France. This is a confirmation of what I said back in April 2010 of the year - we need to move away from international adoption.
This has never happened in Russia, even 20 years ago, but until recently it has become almost the norm. For example, a high-level regional official responsible for this sphere told me: they say, you canceled a foreign adoption, the Americans will not come to us, where to put orphans? I answered: you are signing in complete inability to take your place. I was with the inspectorate in the Jewish Autonomous Region, in reports for the past years, foreign adoption was five times higher than the domestic one in this region at the beginning of 2011.
As for the current reduction of orphanages, in Tyumen there were 30, now - 11, and another reduction. In Kaluga, there are two orphanages left. In the Nizhny Novgorod and Vladimir regions there are cities in which all orphanages have been closed. All children in families - the bet is placed on the foster, substitute, family.
Sergei Semyonovich Sobyanin decided to retransmit, reform the experience of Tyumen and apply it in Moscow. We had a serious test, for more than a month we checked all the children's institutions in Moscow. According to its results, we derived the following formula. For example, a standard orphanage on 100 children. It employs approximately 220-250 people attendants, educators, leaders. The bureaucratic structure has grown, which kills a child with an incomprehensible result before he turns 18.
The Mayor of Moscow suggested the following: on 100 children - not a children's home, where 200 with more than working adults, but the same building, only 20 apartments for 5 children. And in each apartment - professional adoptive parents, who are selected at the competition and pay a large salary.
For example, in the Khabarovsk Territory, the director of an orphanage receives an average of 70-100 thousand rubles. How to refuse such a place? Sobyanin said: let's make two similar orphanages, we will give five children to each family, we will pay a good salary. There must be children with disabilities. This is the most problematic category in terms of the device in the family. It is clear that these children do not want to take.
When we compare the foreign and Russian arrangement of children in a family, the myth is imposed on us that foreigners take only sick children. It is not true. Even in the peak years of American adoption, when thousands of Russian children were taken out to 15 per year, more than 5,6 percent of disabled children were not taken by Americans, that is, on average 5 percent. In some years, the percentage was 4,2-4,8.
When there was a dispute over "the law of Dima Yakovlev," there were all kinds of speculations. But if we study the figures of the Russian placement of children in foster families, we will see that they are not comparable. For 2011, the year was taken for foreign adoption of 176 disabled children. Of these, 89 is to America. In Russia in the same year 1175 disabled children were arranged in families. Feel the difference? In Russia, 9 was adopted in times more children with disabilities.
Adoptive parents on a professional basis take a disabled child and up to five children. They are paid a monthly salary until the youngest child reaches the age of majority, after which parents have the right to get an apartment to own. There is an incentive - both are financially secured, and employed, and the experience goes. I think this system will take root and work.
There is another interesting economic effect. When they sat down and counted, it turned out that this system was three times cheaper (even taking into account the transfer of the apartment) than to maintain an orphanage for 100 children. This is the question of "poor" regions. They usually say there: they say our parents cannot take children. It is necessary to reform the system, and when professional parents take care of the children, you will select them at the competition, you will have a queue of adults.
More than 30 years ago, SOS children's villages appeared (this is a German invention). They settled down in Russia. Today they are in Vologda, Pskov, Moscow region (Tomilino). There are family houses, a cottage for a family. Professional parents who are selected at the competition, a large salary. From the leadership in Tomilino, if I am not mistaken, there are only 5-6 people on 100 with more than children who live in the village.
There is a private charity foundation "Klyuch" in the Leningrad Region, headed by Gennady Timchenko. The foundation contains 20 of such houses. This is exactly the same village as SOS-village. Now 19 families live there, one vacant house, from 5 to 11 children in each family. The effect is several times higher. Now this experience is adopted by the Moscow region. In July, with Andrei Yurevich Vorobyov, we founded a social village. Money was given by the LUKOIL fund, more precisely, Leonid Fedun personally.
Such projects can close several orphanages, free up funds and even save money. If this were done purposefully throughout Russia, there would be a completely different picture with orphans.
Ilyaashenko
: The State Duma ratified the Council of Europe Convention on the Protection of Children against Sexual Exploitation and Sexual Abuse. The topic is also heard, it is relevant and relevant. What is this convention and what are the consequences of the fact that Russia joined it?
Astakhov
: There were debates on the subject of ratification of this convention, both professional and public. The public was agitated by the fact that the convention saw a threat to the family, morality of children. Allegedly, one of the articles prescribed, in their opinion, the compulsory sex education of children from a very young age, the introduction of such subjects in school. I want to reassure parents: there is no such requirement.
This article says that it is necessary to prepare adults to observe (first of all, professionals working in the field of education, training, education, health care, recreation for children, children's sports) the rights of the child and in no way impinge on the sexual integrity of the child. . Unfortunately, we have this problem.
In addition, people previously convicted, found guilty of committing such acts against children are not allowed to work with children. We have already done this. It is just about first of all preparing people who work with children, to educate them, and not children.
But many hot heads are beginning to interpret this convention as a necessity and our international obligations on the so-called sexual education of children. We have a negative experience with this kind of enlightenment. This issue was first raised in 1994 after the International Conference on Population and Development in Cairo, hosted by the United Nations Population Fund.
At that time, part of the international community believed that Russia was a third world country in terms of population. It was believed that poor countries that cannot feed their population need an international instrument to be restricted in their birth, in reproduction of the population.
Russia fell under these criteria, because at that time our population was not very rich, the standard of living was low. Then there were a lot of street children. In 1997, under pressure from the UN, the foundation, all these associations, federations, the Ministry of Education adopted a program called the "Sex Education Concept for Russian Schoolchildren". Huge money was allocated for this program. With a small budget and external debt, 240 million rubles were allocated. And the United Nations Population Fund gave 745 thousands of dollars to this program, that is, about 10 times less.
Schools began to introduce sex education. But the purpose of this program is to limit reproduction. Then for the first time lessons appeared when children were almost taught to use contraceptives. It was absolutely a flawed program, and in 1999, it was minimized.
The Prosecutor General's Office of the Russian Federation then sent a presentation to the Minister of General Professional Education of the Russian Federation. It was noted that these programs of sexual education destroy, corrupt the child. Then mass violations were revealed.
We hear echoes of similar programs now. At the beginning of the 2000-ies in Udmurtia, Krasnodar Territory, Arkhangelsk, Yaroslavl regions such programs were conducted at the level of public human rights non-governmental organizations, usually with foreign capital. Even over the past year, a huge amount of literature with no age limit has been seized in the Sverdlovsk region.
I repeat once again that the essence of the new convention is to counteract sexual depravity, the sexual exploitation of children, and not to teach children from an early age to have sex.
I immediately addressed all the governors with the appropriate letters in order not to repeat the 1990's experience. We forget that the law of the Russian Federation on the fundamental rights and guarantees of a child, the Family Code says that only a parent determines how to raise a child and no such program can be presented to children without parental permission.
This is a legal restriction. But there is also a warning that the convention is not misinterpreted. The Ministry of Education and Science acknowledged that the draft program of sex education for schoolchildren did not meet the needs and requirements of Russian society in the field of improving the health of children, adolescents and moral education of the younger generation, therefore such programs have been completely curtailed.
In Western countries, there is the concept of "education abstinence." Since 1998, America has spent 50 million dollars annually on such a federal program. This program, which fosters chastity, morality, commitment to family values, respect for the other sex, abstinence until the age of majority, explains why it should be done: to create a strong family so that the family is happy so that children are born. Early sex life will inevitably lead to diseases, impaired reproductive health, early abortions, orphanhood.
In America, if a child is born from minors, it is automatically taken by the state. Today, the United States and Western Europe are raising the younger generation in the spirit of abstinence to adulthood.
Ilyashenko:
What would be your ideal result? What should strive for?
Astakhov:
I do not separate my activities from the activities of our state and society. Many questions about which I spoke are in the sphere of competence of the government, the ministry of education, some part in the sphere of public activity. In many ways, society is responsible for problems in the field of child and family distress.
It is clear that you can draw an ideal goal and result, when there will not be a single suffering child, when all children will be in families with loving parents, that these will be happy families, but this is utopia. Although, if I had not set such a goal, probably my optimism would have dried up long ago. I see a lot of children's misfortunes, grief, trouble.
I believe that the intermediate result of activities should be considered that we have broken the main negative trends. This is obvious even to skeptics. My friends are increasingly turning to me because they want to adopt a child. They are from Bryansk, went to the Bryansk region. Up to three years there were no children for adoption, it is necessary to stand in a queue. Let's go to the Kaluga region - no children under three years old, also need to stand in a queue.
And 10 years ago it was impossible to imagine that there would be no children for adoption, would there be a queue of parents? I think that this is already quite a serious result of our activity, and not only mine. But in the future, we still need to strive to ensure that no child suffers, that all families are happy, complete and prosperous.