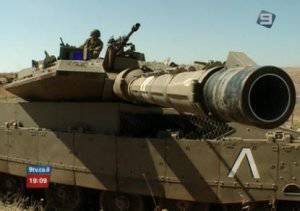 The Israeli Ministry of Defense has decided not to develop the fifth-model Merkava tank, but to continue the production of the Merkava 4, according to Israel Defense website.
About a year ago, the Ministry of Defense decided to form a group led by brigade reserve general Didi Ben-Joash, who was supposed to be responsible for the development of "
tank
future "for the Israel Defense Forces. The leaders of the defense industry and the command of the ground forces were invited to express their views on how this tank should look.
However, it has now become known that in the framework of the new IDF multi-year plan, it was decided to consider possible alternatives, rather than develop the Merkava 5 project. Thus, the tank "Merkava 4" will be the most advanced model in service with the Israel Defense Forces.
In this regard, it is suggested that the rejection of the Merkava 5 model is associated with a change in the concept of the "tank of the future" for the IDF. It will be lighter, smaller, with automatic charging and a crew of two people and have at its disposal a modular system
weapons
, including its various types, including rockets.