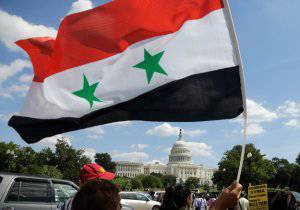 No, no, do not rush to fix me! I understand everything - the risk should always be commensurate with the possible benefit. And provoking a war with the United States, even for the sake of the most useful ally, would be, to put it mildly, not entirely rational ...
But, nevertheless, I am very interested in one question, and what could we do in the current situation if our leadership would venture to counter the "empire of good" not only with the main caliber of our diplomacy, but also with a certain amount of conditional gunboats? Are there any opportunities to annoy the foe and help an ally with some practical military or paramilitary measures, or is it so impossible that you should not even discuss it?
Well, let's talk ...
To begin with - a small geographical and geopolitical retreat.
I think the regular visitors of this resource know perfectly well where Syria is. Its direct environment, including the political environment, is well known - all of the US satellites are ready, if necessary, to provide the American peacemaker with a table, shelter, and a list of targets on the territory of the Syrian neighbor. And the possibilities of direct military opposition to American peacemaking are limited, if not to take extremes, unless a small stretch of the Syrian coast, to which a squadron of our ships could approach.
Someone will surely say: "The squadron came up, so what? We will fight with the sixth
fleet
USA? We'll hit the adversary with anti-ship missiles, and ourselves to the bottom under a retaliatory strike. " And then he still advises me to fix me, away from sin, as they say, away ...
However, my scenario is a little less bloodthirsty. I just think that large-scale bilateral exercises with the Syrian Navy could be arranged on this stretch of the Mediterranean Sea. Thus, we and the legitimate government of Syria would support and complicate the implementation of his plans to the probable aggressor by transferring a considerable "piece" of air and sea space adjacent to Syria from the category "comfortable" to the category "problematic". The maximum possible control of airspace on the approach to the Syrian ter. waters, timely warning of Syrian air defense systems of approaching air targets, self-targeting of targets that are confidently identified as unmanned - I am sure that this would be a great help for the Syrian army. Moreover, the Americans, having received some kind of preliminary signal about the possibility of such a development of events, would have thought about it ten times, and should they even use this sector of air and sea space at all, or is it more prudent to bypass it somehow?
To a reasonable observation that this sector is too small to drastically change the situation, I will answer simply - of course, you should not limit yourself to just that. Some methods of counteraction will be discussed below, but for now there are a few nuances.
Having blocked the Syrian coast, we will put the American command before a choice - either to refuse altogether from using the forces and means of the sixth US fleet, or to act mainly through the territory of Israel. Here we are unlikely to be able to interfere so well with quality, but ... First, the Israeli direction has been the highest priority for Syrian air defense systems over the past decades. If this defense is at least something worth, then it is there. And if one of the main attacks will be directed across the borders of Israel, it will at least slightly, but facilitate the task facing the Syrians in the event of a possible strike on their country.
But that's not all. In my humble opinion, for Russia, for its future policy in the region, it is extremely important to fix the role of Israel as one of the accomplices of the aggression. Along with others, namely our main well-wishers in the region - Saudi Arabia, Qatar, etc. It is necessary not only to seat them in the same boat - they already have been sitting in it for decades - but also to demonstrate this most clearly and unequivocally. Here, America is bombing Arabs with Saudi money, using Israeli airspace. The picture needs to be drawn, made volumetric and fixed, so that the role and efforts of each could be read without the prompters even by not very politically literate spectators.
Why do we need it? No, not for shitty Israel. It is necessary, in fact, with only one purpose - then, when the American "Arab Spring" exhales and the time comes to the Russian, it will be easier for us to recruit international brigades to overthrow Saudi autocracies. One way or another, these bad regimes violate the rights of women and gays, and we cannot look at it any other way except through the slot of the Kalashnikov assault rifle ...
Although, of course, you can and bargain, that's someone like more. But bargaining will be more successful, the darker the sky over Riyadh. And a little ink of Israeli ferment in the clouds hanging over it will not prevent us ...
Having made this small lyrical digression, let us return to the current situation. Are our capabilities limited to blocking only one direction of a possible strike? Or even more extensively - what else can we do, playing on the verge of a foul, in order to make it difficult for the Americans to conduct "peacekeeping bombardment" of Syria and, accordingly, make it easier for Syrian air defense to protect the airspace of their country?
Of course, I have often heard that our troops should be sent directly to Syria. I think I heard it not only me - the Internet is overflowing with such sentences of varying degrees of responsibility and argumentation. Send, they say, a couple of regiments MiG-29 and a couple of C-300 complexes, but with our staff, and under the banners unfolded and with greased drums - everyone will be scared right away and ask for peace. However, this option seems to me the most problematic at once for several reasons. Besides the fact that this is purely logistical problematic, there is one more nuance ...
In my opinion, with this scenario, the stakes will increase very much. Excessive involvement in the conflict threatens the leadership of Russia with too large reputational losses in case of defeat. And it is no longer so important that this defeat will be from the rebels, who in this case will simply be overwhelmed with any weapons, finances and other resources they need for an endless war of attrition, or defeat in direct confrontation with the Americans. In any case, it will foul on both political instability in Russia itself and a sharp decline in its prestige in the international arena. And if so, then the temptation of Americans will be extremely high. And this, as practice shows, will certainly lead to a sharp escalation of the conflict in any of the scenarios that are unfavorable for us.
I think, playing on the verge of a foul, it is extremely important to see this edge. To clearly separate the political game, even the most risky, from a bluff that threatens us with military defeat. And the option of sending troops to Syria, in my humble opinion, is just a bluff. Moreover, the bluff is just one in which no one will believe - there is not enough to have a stony face, you also need to hope for the impassable stupidity of the enemy.
I see a completely different situation with a possible "workaround", the essence of which is to conduct joint exercises of the Russian and Iranian Air Forces. The air corridor over Iranian territory for our DRLO planes and their methodical patrol of the Persian Gulf, as well as the adjacent waters of the Indian Ocean - this is "what the doctor prescribed", and it fits in with the definition of "cheap and angry". The maximum benefit at the lowest cost, the collection of the most up-to-date information about the actions of the American army in the Gulf region, its timely transfer to the Syrian army — this is very tangible assistance to Syria, and demonstration of the possibility of rapprochement with Iran in the event that Americans ignore our interests in the Middle East.
The only weak point in this "maneuver" seems to me to be some unpredictability of Iran itself. It may well be that his leadership, inspired by the roar of our aircraft, will start to inflame passions above the degree prescribed by Russian doctors. And this, again, is fraught for us with too burdensome involvement in the conflict, which we, let's not forget about it, still want to avoid ...
However, by acting in this way, we pinch the Americans into peculiar ticks. Yes, more often than not, they will be purely "informational", aimed more at complicating the actions of Texas "peacekeepers" than at direct opposition to them. Yes, they will have a north-western and southern direction at their disposal, from where they can act without looking back at us. But even this will be a great help for Syria's air defense, which can both more intelligently maneuver and meet the enemy in a sighted way, and concentrate its forces on those directions that, alas, we cannot cover with our radar fields yet. Will this help be effective? Probably a little less than we would like. But, I am sure, much more than our overseas partners in the geopolitical corps de balde would like ..
And, in conclusion, such an important aspect as the possible reaction of the Americans. That is, more specifically - can they, outraged by our arrogance, "take it and shy away"?
Certainly, technically, they can. In any case, our ships off the coast of Syria will be quite vulnerable, and in the event of a massive strike, they are unlikely to resist for any long time. However, it will not be easy for Americans who have lost their shores to decide on this. Because we will, as they say, "in their own right." That is, in international law. Openly ignoring international law is one thing. Disregarding it with
weapons
Yes, in relation to who can and answer - the case is quite another. And, having received in response a pair of anti-ship missiles in the board of any Nimitz, it will be very difficult to justify their next steps in front of the allies. Anyway, it will be difficult to make some steps. For a nuclear exchange with Russia, the Americans, I am sure, do not want even now. A full-scale non-nuclear war with the Russian Federation also seems problematic and of little interest. What to do? Shelling another Russian ship? Get back a couple more rockets? Is this with the complete unpreparedness of the United States for its own losses, with their obvious unwillingness to dispel the myth of their own invulnerability and omnipotence? Oh, come on, because ...
Here I wanted to write - "and after all not fools are sitting", but thought it over. They sit there all sorts, Bush or Biden will not let lie. But smart, I think, still more. And if not smart, then at least cautious. And this is the best guarantee that a well-calculated boldness in the Syrian direction offers us much more advantages than disadvantages. The only thing we should avoid is attacks of manned aerial targets that could lead to the loss of US Air Force personnel. At least, you should not start first ...
Well, quite, very "in conclusion". Of course, I am very pleased with the obvious success of our diplomacy. So gracefully break the basket, in which the naglo Saxons put all their information nervously-paralytic "eggs" - it's just bravo! I really hope that the fervor of the "peacekeepers" will actually subside, and direct external aggression will stop threatening the Syrian people. However, it is hard to believe in it, and it is clear that, just in case, we must prepare for the next round of the information war. Personally, I put on provocation with an air strike on one of the neighboring countries of Syria as an occasion to push the resolution on the unmanned zone. Although I do not rule out that the CIA will wise up and come up, finally, something original ...