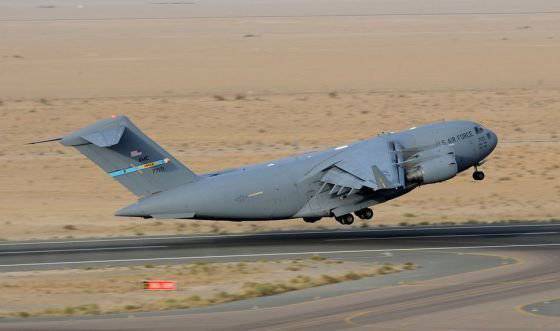 Our clients around the world are facing very tight budgetary constraints. While demand for the C-17 Globemaster III is quite high, the financial volume of transactions does not allow production to continue, said Dennis Muilenburg, President and CEO of Boeing Defense Space & Security. Muilenburg also added. "Moreover, here in the United States, the current environment is creating significant planning challenges for our customers and the entire aerospace industry. This uncertainty is causing us to make the tough decision to close the C-17 production line." And he also said that they plan to assemble 2015 aircraft by 22 according to existing orders.
Today, almost 3000 employees support the C-17 production program in enterprises in Long Beach, Macon, (Georgia), Mesa, (Arizona) and St. Louis. Staff reductions will begin at the beginning of 2014 and continue until the program closes.
In addition, C-17 production cooperation is a whole industry group that includes more than 650 suppliers in 44 US states. In general, Boeing and its suppliers provide 20000 jobs in the production of Globesmaster.
Boeing will provide assistance to employees, including job search resources, financial counseling, retirement seminars, and assistance in finding potential jobs, both inside and outside the corporation.
The company assesses potential losses from a single application for closing the program in the 100 area of ​​USD million, which will be written off this quarter. However, according to Boeing, this should not affect the annual financial performance.
C-17 Globemaster III
First flight: 15 September 1991 of the year
Start of operation: 14 July 1993
Status: produced, operated (for now)
Main Air Force Operators
Royal Air Force
Air Force of Australia
Canadian Air Force
Units produced: 256 (as of September 2013 of the year)
Unit cost $ 316 million (2012 year)
Recall that today only three models of heavy military transport aircraft are mass-produced in the world: IL-76 (Russia), C-17 (USA), A400 (EU).
12 September 2013, the United States Air Force was handed over the last contract aircraft.
In June, the 2011 of the year with India signed a contract for the supply of 10 C-17 (with an option for another 6 aircraft) until July of the 2014 year. September 2 2013, the first C-17 was adopted.
The first C-17 aircraft rolled off the production line in the 1991 year. As expected, the assembly of the last aircraft ordered by the US Air Force 223 will be completed shortly.
After the transfer of the third 20 aircraft ordered by the Indian Air Force to 10 in August, the total number of C-17 "Globmaster-3" delivered to customers reached 256 units, including 222 units. - USAF, 6 units. - Australian Air Force, 4 units. - Air Force Canada, 3 units. - Indian Air Force, 4 units. - Qatar Air Force, 6 units. - Air Force UAE, 8 units. - Royal Air Force and 3 units. - NATO consortium.