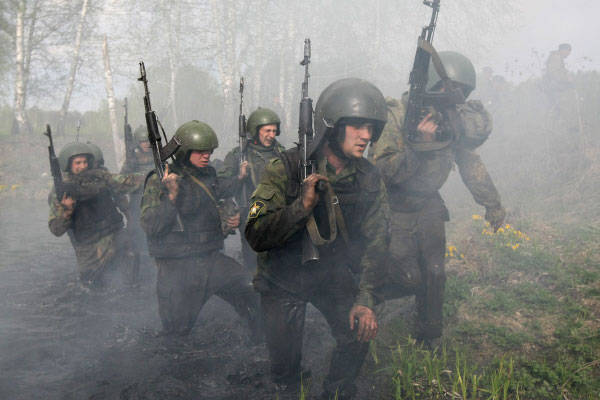 From 10 on the morning of September 17, the Internal Troops of the Ministry of the Interior of Russia began to live according to a new routine - they were brought to full alert. It is known that a sudden check of the combat readiness of this structure was carried out by order of the Supreme Commander Vladimir Putin. But the announcement of full combat readiness is associated with large-scale combined-arms exercises.
The press service of the Interior Troops of the Ministry of Internal Affairs of Russia announced that the troops would take part in special exercises "West - 2013". At a time when units and formations of the Ministry of Defense will fight with a conditional enemy, the Internal Troops are entrusted with the tasks of territorial defense. This is a fight against sabotage and reconnaissance groups, terrorist formations and enemy landing forces, taking highly important objects under enhanced protection. Within a day, the organization of interaction with the bodies of military administration, the executive power of the subjects and local self-government should be worked out.
In the Internal Troops - about 180 thousand "bayonets". This is one of the most prepared and combat-ready components of the Armed Forces of Russia. Together with the internal affairs agencies, they participate in the protection of public order, ensuring public safety and a state of emergency, in the fight against terrorism and in ensuring the legal regime of a counterterrorist operation. The troops guard important state facilities and special cargoes, participate in territorial defense, assist the FSB border guards in protecting the State Border.
The structure of the troops includes military units for operational purposes, special motorized military units for the protection of important state facilities and special cargoes,
aviation
, marine, reconnaissance and special purposes.
The troops are almost professional - on average, military units are staffed by contract servicemen by half, and there are quite a few where over 80 percent. In general, the staffing of the Internal Troops with soldiers and sergeants is 98 percent.
Several years ago, here they passed on to colleagues from the Ministry of Defense their
Tanks
and large caliber artillery. Such weapons do not meet the challenges facing the Internal Troops today. Now in service mainly light armored vehicles are used - BTR, BMP, BRDM. But they are gradually being replaced by Tigers and armored Urals - there, of course, where it is required. The fact is that BB units often have to operate in settlements and move along busy roads. Army armored vehicles - armored personnel carriers and infantry fighting vehicles - are not road users, they must be accompanied by traffic police vehicles. But "Tigers" and "Urals" such support is not required.