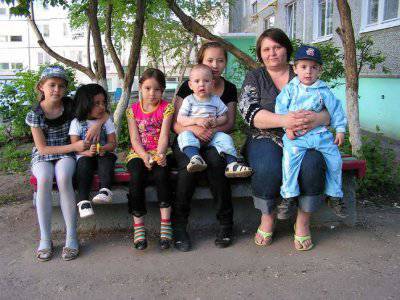 Good liberals constantly teach us that we have to give birth to children less in order to get more of our tasty and good things to their children, who will come to the place of our unborn ...
For a long time, almost in all media outlets propaganda has been advocated that it is necessary to strive for a "high standard of living" and "not to produce poverty". It is better to have one child, but to give it everything and to ensure a "high standard of living" than to "produce poverty" (as liberal figures like to put it). That is, under the sign of good intentions, the subtext is dragged: give birth to as few children as possible.
Of course, this conclusion is masked by the wishes of a "high standard of living", but it follows inexorably. I will try to show below why this justification is not a justification, but an ideological diversion aimed at the destruction of a people.
At first glance, everything is quite logical: the more children there are in a family, the less material benefits each person has. But let's think about it. To determine the average family income, you need to divide the total income by the number of family members. But it immediately follows from here that there are two ways to improve the material situation of the family:
• increase total revenue;
• do not increase the composition of the family (or even reduce, killing your own child in the womb).
So why do we only slip the second way? Because of the concern that we do not fall into poverty? But for this you can simply increase the family income. No, the first way is deliberately "forgotten", the emphasis is on the second way - on reducing the birth rate. And this already leads to quite definite conclusions:
• First, if between the "standard of living" and the children we are offered to choose the "standard of living", then money is more important than children.
• Secondly, if we are offered not to earn more, but to give birth less, then it is clear about whose "standard of living" they are urged to worry. About your own skin!
• Thirdly, if instead of the difficult way to increase earnings, the "easy" way of not giving birth to children is being promoted, this means that they are trying to disintegrate us from the inside. All these conclusions directly flow from the installation "no need to produce poverty."
Of course, in the present conditions it is much easier to say "earn more" than to do. The difficult financial situation of the family is in no way reprehensible, because our wages still often leave much to be desired. But the conscious unwillingness of parents (first of all, the head of the family) and lift a finger to increase earnings, already worthy of at least bewilderment, especially in the presence of young children.
But here, too, do not condemn anyone. Cases are different. Even if the family's income is small, there is such a way as reducing the parents' expenses on themselves, in order to give the children what they need. And it is here that the essence of the egoistic liberal worldview is manifested. I don't remember something that the liberals urged parents to cut expenses on themselves in order to increase them on children. Save on yourself? Never! They call for one thing - "not to produce misery." Like, if the parents are poor, then the children will be very poor. However, it is known that in poor families there are more children (on average) than in rich ones.
Moreover, it is enough to look around to be sure: many of those who complain about their poverty are not at all so poor not to have children. It is sometimes impossible to get to the houses because of the cars that drive all the yards. The shopping and entertainment centers are full of people. On entertainment shows - crush. And while many complain about the "difficult life"!
Perhaps it is not difficulties, but the fact that you do not want to think about anyone but yourself? Those who do not deny themselves the "small joys of life", but at the same time justify their lack of childlessness by their unwillingness to "produce misery", only sign for one thing: their reluctance to deprive themselves, their beloved. This is selfishness. Hence, the reason is not in the potential poverty of their children, but in their own egoism.
Were our great-grandmothers and great-grandfathers financially richer than us? Did they think, first of all, about their comfort, assuming its condition for the birth of children? No, they were just spiritually healthier. That is why we have mastered the sixth part of the land, having intermarried with all indigenous peoples. Our ancestors gave birth to children not out of some conditions, but for love! Because they could not otherwise. Their life was filled with a higher meaning, and not the consumption of goods, services and entertainment.
After all, 100 years ago in our families there were 5-7 children. Yes, today there is an acute problem of housing, which limits the birth rate. But do two or three children need a mansion? After all, there are still less than two children per woman (1,7 in 2012). Of course, there is growth, and this is good. But it should be even faster.
The roots lie in the spiritual dimension. After all, the most important reason for the installation of little or childlessness is the unwillingness to part with life "for oneself" and to take responsibility for raising children. After all, it is much easier to lead a carefree life, getting maximum pleasure from life with a minimum of obligations. But such an approach dishonors even marriage, turning it into legalized fornication. It is not for nothing that the Foundations of the Social Concept of the Russian Orthodox Church explicitly states that "deliberately refusing to give birth to children for egoistic reasons devalues ​​marriage and is an undoubted sin" (n. XII.3).
Russian proverb "love to skate - love and sleigh to carry" contains great wisdom. Do not deny yourself the pleasures - take on yourself and obligations. Enjoying a marriage - where are your children?
But what do the apologists of "modern values" call for? They only want to "ride". "Sanochki carry" them reluctance. But let's think: if we just ride all the time, and we do not carry sleighs, then this means only one thing: we are rolling down! Of course, all the fake "human rights activists" will take up this conclusion. However, you can give another example.
When we eat food, our goal is to satiate the body, i.e. satisfy the feeling of hunger. The pleasure that we get while enjoying the taste of food is optional and not at all obligatory, because you can eat very simple food. Imagine now that we only want to enjoy the taste, going to chips, chocolate and the most exquisite wines. What will happen to us? We wither and die. Our body will not survive. But why then the same can be done in marriage, enjoying the pleasures, but not joining the family? As in the case of food, the body declines, so in the case of marital relations, the soul declines. Is there a way out? It is very simple: you love to ride - love and sleigh to carry.
Our main wealth is people. What is the point of "living standards" if the number of its owners decreases? What is the use of all temporary acquisitions, if they are followed by rapid losses? Why do we need all this if, in decades, someone else speaks in our land?
Realizing all this, we must be strengthened in our own responsibility. Our great mission is not only to save Russia, but also to transfer it to our descendants. And for this, they must first be. This is our duty to the Fatherland!