September 19, Russia celebrates the professional holiday of the employee
armory
Industries - Armsman Day. The holiday is celebrated only for the fourth time, it was officially approved in 2010, owing its appearance to the outstanding designer, the generally recognized genius of weapons of thought, the inventor of the legendary assault rifle - Mikhail Timofeevich Kalashnikov, whose name day falls on this date: September 19, the Russian Orthodox Church glorifies the leader angelic army of the archangel Michael.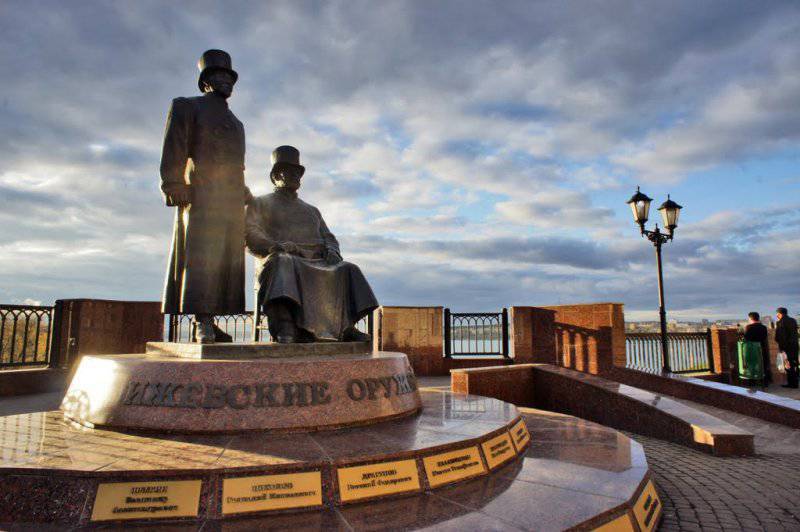 Monument to Izhevsk gunsmiths
For obvious reasons, the new holiday gained popularity among the residents of the cities where the leading enterprises of the military-industrial complex are located: in Izhevsk, Votkinsk, Tula and others, where a number of important events are timed to coincide with this holiday.
Izhevsk will celebrate the holiday with the presentation of the new Kalashnikov concern, which will unite all the largest domestic enterprises involved in the production of small arms, writes
AIF-Udmurtia
. More than 200 high-ranking guests from Russia and from abroad were invited to the presentation.
Tula will meet Gunsmith's Day in commemoration of the developers of weapons, and a bust of legendary weapon designer Alexander Ganichev will be solemnly opened on the city's Walk of Fame, reports
Interfax
.
We sincerely congratulate all Russian gunsmiths on their professional holiday, we wish them new achievements and success in their work, prosperity, peace and well-being in their families!