Since 8 September, Yunus-Bek Yevkurov officially took office as head of the Republic of Ingushetia. This is the second presidential term for Yevkurov. During the first term, the head of Ingushetia was subjected to large-scale criticism not only in terms of the administration of economic policy in the region entrusted to him to govern, but also in terms of countering extremist activity. At the same time, the critics of the economic direction of the Ingush President's work perfectly understood that it is almost impossible to raise production, raise the standard of living and develop small and medium-sized businesses in the republic given the numerous foci of cultivating the extremist underground. On it also did, as they say, a discount.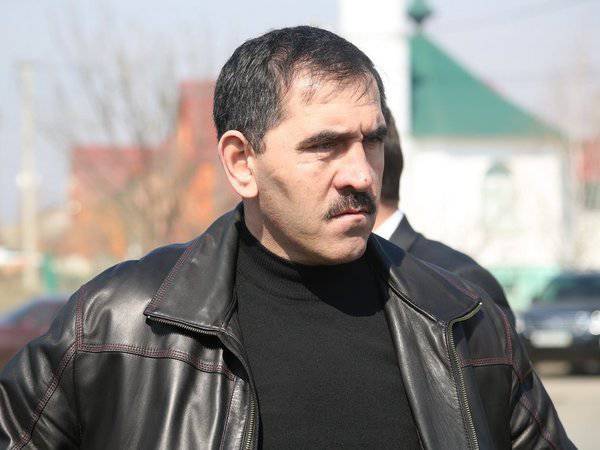 In a recent article on the Military Review
"Terrorist activity in Ingushetia does not decrease"
Lists numerous terrorist acts that were carried out by representatives of gangs on Ingush territory in recent months. The number of terrorist attacks in Ingushetia made it possible to say that Yunus-Bek Yevkurov did not control the situation and did not have that effective plan that could lead to the defeat of the terrorist underground, which had long roots in the republic. The criticism of the relative anti-terrorist softness of the Ingush president, by the way, came from his colleagues.
One of these critics was and, apparently, continues to be a "big friend" of Yevkurov, Ramzan Kadyrov. In various interviews, Kadyrov often claimed that bandits come to Chechnya from Ingushetia, and that Yevkurov needs to be tougher with representatives of terrorist groups. Yevkurov himself did not always respond to such attacks of Kadyrov. However, to leave them without any attention at all, clearly could not. Inside Evkurov, obviously, everything was floundering, - Kadyrov's criticism clearly hurt the President of Ingushetia.
It is not known whether Yevkurov was exclusively influenced by Kadyrov's speeches, or whether the general negative background of his work in the sector of ensuring republican security simply began. However, it was after his re-election-appointment to the post of head of Ingushetia Yevkurov decided to respond to all his critics with a tough security innovation. After another terrorist act on the territory of the republic (undermining a suicide bomber in a car stuffed with explosives), as a result of which law enforcement officials Yunus-Bek Yevkurov went on a real path of war with a bandit underground. His innovation concerns, first of all, those who somehow sympathize with the militants, provide them with housing, shelter, and supply food and medicine. For such "sympathizers", in other words, accomplices of terrorists, the Ingush security officials will now firmly take on. Yevkurov promised to demolish houses and take land from those who support gangs.
Yevkurov:
For the edification of people who sympathize and help criminals, the homes of families who sheltered the bandits will be torn down and land plots taken away.
Similar actions will be applied not only to, say so, outside supporters, but also to their own families and to themselves as well.
Yevkurov:
The house in which the gangster lived will be demolished and the land withdrawn. At this place we will build an apartment building for the village specialists. In addition, all those who will provide shelter, food and other assistance to gangsters will become defendants in criminal cases of aiding the militants. It should be clear to everyone: if you let a person into a house, you are responsible for him.
But the decision, frankly, non-standard. It is tough and unequivocally forcing those very "sympathizers" to think ten times before giving the basement of their house for a caches.
weapons
or to treat the militants with fresh lamb ... Such a solution in the conditions of the most difficult situation in Ingushetia in terms of security looks like one of the possible effective moves. Yevkurov is a military officer, and he shows that he is ready to begin governing the republic with genuine military methods, since the situation in the region itself is literally obligating to that.
Naturally, our hyperliberal "colleagues" immediately broke out with materials dedicated to the fact that Yevkurov, with his statements, literally spits on the Criminal Code. Like, in the Criminal Code of the Russian Federation, no article prescribes such a punishment as the destruction of dwellings and the selection of land property of criminals, members of their families and other persons who, one way or another, knew about criminal persons. With his threats, Yevkurov allegedly plunges Ingushetia into the Middle Ages, implants something from the field of fascism. In general, the hyperliberals in their repertoire ... It is only terrorists, in their opinion, everything is allowed to be razed to the ground. And all the rest should obedient sheep to contemplate what they do these nonhumans. You can't touch - the law, you know ... Twenty people were broken by shrapnel, fifteen of them - deadly, damage to property - a hundred million, dozens of children left orphans, and the court, you see, thinks: give life or find it insane and "treat a little" ... However, we have a humane law against those who create lawlessness, and what a severe law we sometimes have for those who try to live by the law ...
Yes, Yevkurov, with its innovation, of course, steps over certain legislative norms. But if, for more than five years now, extremists have been trying to step over him, what is his way out: to continue to threaten with a finger and say that our courts will punish you? Obviously, for the head of Ingushetia, that very hour X came, after which either HE or HIS ...
By the way, the idea of ​​demolishing the houses of terrorists and their accomplices, by and large, does not even belong to Evkurov. This practice was actively used by Israel during the so-called retaliation against the terrorists associated with Hamas and other extremist organizations. Huge bulldozers demolished houses that belonged to the militants and their accomplices. True, today this practice had to be at least suspended, since after these actions, the situation in the region was heating up with a new force - persons left homeless opened into the ranks of terrorist organizations. Even the glorification of those whose housing was destroyed by Israeli special equipment was being discussed in the Gaza Strip.
This Israeli experience cannot be ignored by Yevkurov. Of course, the Israel-Hamas relationship is not at all the same as the Ingushetia-motley militant relationship. Israel is trying to defend and strengthen the borders of its state, fighting, mainly, with the enemy outside. And Yevkurov perfectly understands that he needs to fight, first of all, with the internal enemy. In such a struggle, you will have to be tough and, at the same time, extremely attentive, in order to avoid mistakes that can lead to an even greater tension of the situation.
Frankly, I would like to hope that Yunus-Bek Yevkurov will restore order in his republic, after which it is already possible to talk about the possibility of an economic boom. In the meantime, masked people armed and tied up with explosives under the banner of radicalism are hosted in Ingushetia, you can talk for a long time about the rule of law and strict observance of his letter ...