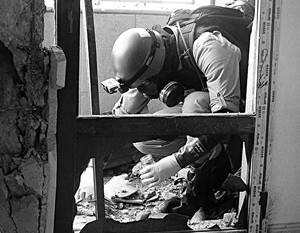 "Chemical
weapon
well guarded, and now, perhaps, it is under satellite surveillance, I also think that it is "taken care of" by the US and Israeli secret services, "military expert Vadim Kozyulin told the newspaper VIEW. He recalled that no one has ever conducted chemical disarmament in a civil war.
"Environmental samples, chemical and medical samples that we collected provide clear convincing evidence that ground-to-surface missiles with a nerve agent sarin were used in the Guty area in Damascus," the report's first page says. on Monday, experts to UN Secretary-General Ban Ki-moon, reports RIA "
News
».
Earlier on Tuesday, it was announced that UN experts found conclusive evidence of the use of chemical weapons in Syria. But the mandate of the commission does not imply the identification of those responsible for himatak.
On Monday, it became known that the UN Commission to investigate possible human rights violations in Syria verifies data not only about Guta, but in general about 14 cases of use of chemical weapons in the country.
Vadim Kozyulin, Professor of the Academy of Military Sciences, Director of the Project on Conventional Armaments and the PIR Center ATT, explained in an interview to VIEW, what could be the course of events after the United States and Russia last Saturday concluded an agreement on the chemical disarmament of a third country - Syria .
VIEW:
Vadim Borisovich, having signed the agreement in Geneva, Lavrov and Kerry launched a new public correspondence dispute - now about whether the UN Security Council resolution should contain the threat of a strike on Syria if Damascus violates the already new agreement. Are you not afraid that the United States and the allies will at the very last moment achieve concessions from Russia and make such a direct threat to the Security Council resolution?
Vadim Kozyulin:
I think that Russia has defended its position even before that in a weaker situation. And today the situation is quite stable. I suppose the resolution will be the same as suggested by Russia.
LOOK
: How can UN security be ensured near chemical weapons stores? After all, the warring parties can choose them as a target for the sake of a new provocation?
VC.
: Specialists will work there, including Russian specialists. Provocations are quite possible. Moreover, they were expected earlier, half a year ago, before the use of chemical weapons in Guta and even earlier. There were many reports of possible "chemical" provocations, correspondence regarding this topic was posted on the Internet. Closed and allegedly intercepted. In short, the question hung in the air. It was expected and natural for someone to use this trump card.
Chemical weapons are well guarded, and now, perhaps, they are under satellite surveillance, and I also think that they are being "taken care of" by the special services of the United States and Israel. Everything connected with its movement is monitored and monitored, I am sure, it is quite possible for inspectors to create comfortable conditions.
LOOK
: Let's say in six months there will be a new chemical attack. What is the probability that the United States will strike in defiance of Russia, bypassing the UN Security Council?
VC.
: Renounce that there will be no events tomorrow that could give the United States a chance to deliver such a blow would be too rash. The disarmament process is long and complicated, each specialist emphasizes that it is very difficult to perform purely technical,
история
long, the plots in it are different. Today the main topic is chemical weapons. And the topic of the civil war has faded into shadow, but it has not disappeared, tomorrow Bashar Assad will be able to blame again, maybe even some "evidence of genocide" will be found, and so on.
LOOK
: Kirovsky Governor Nikita Belykh has already predicted that Russia will not destroy Syria's chemical weapons. Recall that it is in the Kirov region is the corresponding company. Does the governor's opinion coincide with the position of Moscow? Is it possible to neutralize these weapons in neighboring countries: in Turkey, Jordan? Or is it necessary to build plants for this from scratch? What is the current combat situation along the borders of Turkey and Jordan? Is it really there to carry shells with sarin now?
VC.
: It is known who disposes of chemical weapons today: first of all, it is Russia. Technologies are used not only Russian, but also foreign. The experience is quite large, technology and specialists are available. This is a rather expensive operation. Now the question will arise who will be ready to pay for it and who will be engaged in it, since there is a war going on in the country, which increases the danger to personnel. Syria has accumulated quite a lot of chemical weapons, given the factor of civil war and the unpredictability of military fortune — anything is possible.
I think that it is very difficult to destroy these weapons on our territory. Chemical weapons are pretty old. It is best to dispose of it on the spot, because, given the factor of terror, you will need to ensure the protection of the entire railway. As for the neighboring states, I think they are not ready to take such a risk, or they will demand gigantic compensation for their help. But again, no one has ever done this in a civil war.
LOOK
: According to the statutes of the OPCW, Damascus rely some kind of punishment? After all, he already many years ago signed the Convention on the Prohibition of Chemical Weapons, a week ago he refused to confirm officially his presence, and now he has suddenly changed his position by 180 degrees?
VC.
: Formally, yes. But today the task is not to blame, but to solve the problem. Damascus has already filed a number of charges that outweigh the concealment of information - information that relates to issues of national security of the frontline state.
VIEW: Kerry said that not all of the 45 chemical weapons facilities in Syria are located in the territory controlled by Bashar Asad. Does this indirectly mean acknowledging the fact that ammunition with sarin can also be in the hands of insurgents?
VC.
: Yes.
LOOK
: On Tuesday, UN inspectors said that sarin, which was used in Guta, delivered a ground-to-ground missile. Does this prove the guilt of government troops?
VC.
: Since there is war there, terrorists could use weapons. Most likely, we are talking about Scud missiles, chemical weapons were originally intended for Israel, and for this purpose a large number of Skadas of various models, from ancient to the most modern, were deployed.
It is possible that one of these installations was captured and used by the opposition. In principle, there are portable systems that use Qassam rockets, to the extent that the MLRS systems such as the Katyusha could be used. They do not require a serious launcher, some of them can be run literally from a sheet of slate. It is necessary to understand what they are talking about, according to the type of the fragments, specialists can precisely mount a weapon.