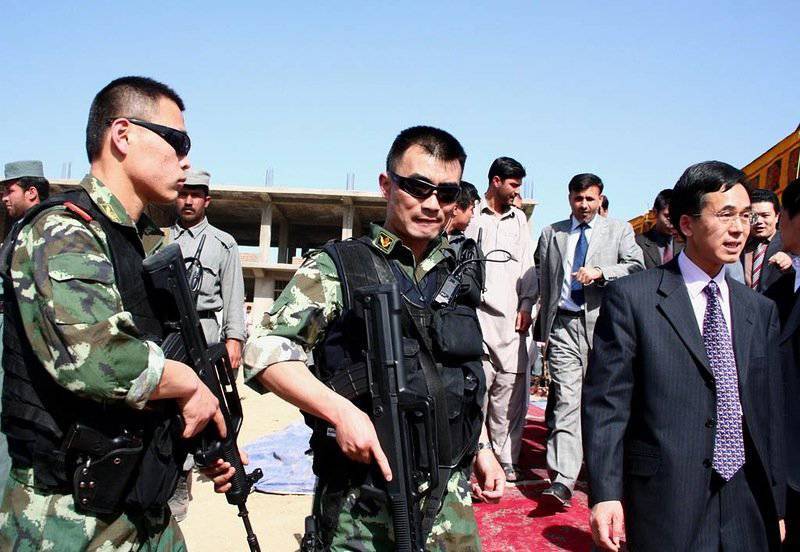 At present, China has a difficult situation where 16% of young specialists with higher education (age from 21 to 25 years) cannot find a job, which forces many to seek the use of their forces outside their own country. Domestic companies are not able to provide the labor market with enough jobs for people with higher education. It did not even help the Chinese authorities to accept graduates of higher educational institutions for temporary positions in state institutions. Thus, at present, around 16, thousands of leading Chinese companies and 5 million citizens of the Middle Kingdom work outside of China. About 300 thousand Chinese work in the overseas offices of state-owned companies.
This situation has arisen due to a sharp increase in the number of students in the Middle Kingdom - during the last 10 years, the number of students in universities has increased fourfold. Already in 2013, 7 million graduates from Chinese colleges and universities will enter the labor market! The country's economy is not able to provide them with work. Experts believe that in order to get out of this situation, economic growth of at least 8% per year is necessary, otherwise China will face mass unemployment. But according to the available information, the growth of the Chinese economy in 2013 was very slow, at most 7,5%.
Chinese companies are forced to look for contracts abroad and in this they managed to achieve significant success - in 2013, Chinese firms (according to Xinhua news agency) concluded 80% of contracts from the total number of new global transactions. Only in the first quarter of this year, contracts were concluded for 170 projects, the amounts for each of which exceed $ 50 million, and the total volume of transactions exceeded $ 33 billion. In 80% of these works, Chinese companies are either general contractors or work according to the principle of key". Also important is the fact that 52 Chinese firms are on the list of the two hundred largest international contractors.
It must be said that, like everyone else, working abroad, Chinese workers and specialists are at great risk. Over the past eight years, over 50 Chinese citizens have died in foreign countries. It is not possible to accurately indicate the number of Chinese missing, beaten, robbed, or abducted outside the territory of the Middle Kingdom. Chinese workers died in Afghanistan and Pakistan - 14 people, Ethiopia - 8 killed Chinese oil workers, Sudan - 8 abducted and 5 people died, Burma - 4 workers died, Chinese fishermen died. Repeatedly, the Chinese authorities had to urgently evacuate their citizens from the territory of foreign states. For example, in 13, 2011 thousands of Chinese workers were urgently removed from Libya and Egypt. In addition, there is no security system for 50 million Chinese tourists who annually visit other countries of the world. And every year the number of traveling and working Chinese overseas increases significantly.
The growing economy of China requires an increase in sales markets for products, works and services, as well as obtaining the necessary natural resources. And this can be achieved through entry into foreign markets. Thus, there was an urgent need to ensure the safety of not only Chinese specialists, workers located outside of their own country, but also commercial facilities, transport routes, and Chinese investments.
We note that at present in China there is actually no structure that would assume the responsibility to protect the Chinese presence in foreign countries. It is no secret, of course, that the Chinese are studying the experience of foreign commercial PMCs, such as, for example, Academi (formerly Blackwater). And they are close to start issuing licenses to domestic private military companies to enter the world security and military services market.
So, world media in 2004 year, voiced the proposal of one of the Chinese security companies, to protect important people of Chinese business abroad. It was assumed that the guard would be carried out by bodyguards who had previously served in special military and police units in China. In 2007, the Middle Kingdom began to operate a consular protection bureau, whose duty was to protect Chinese diplomats abroad. This unit had the authority to protect the embassies, evacuating employees in the event of an attack. However, it must be said that the officers of this guard did not have
weapons
.
In 2009, it became necessary to guard copper mines in Afghanistan owned by Chinese companies, but the Chinese authorities didn't go further than the discussion of sending police forces to protect the interests of domestic companies.
At present, Chinese PMCs in Sudan are protected by deposits owned by Chinese entrepreneurs. This grouping consists of 40 thousands of fighters dressed in military uniform without insignia. But formally, these militaries do not belong to the Chinese army, but are employees of a private organization. The greatest resonance and publicity about the actions of Chinese military companies turned out in 2012, when employees of one of the Chinese PMCs, together with their Sudanese colleagues, participated in the operation to free Chinese 29 workers captured in Sudan. However, the operation was not very successful, as a result one of the hostages was killed. The catalyst for the formation and development of Chinese PMCs was the abduction of 25 Chinese workers in Egypt in the same 2012 year.
Note that Africa is the most promising territory for Chinese companies. Only in Angola there are about 200 thousand Chinese workers, in Nigeria 50 thousand, Sudan - 25 thousand, in Congo - 10 thousand. In Africa, 800 companies of the Middle Kingdom operate and one million Chinese live. To maintain its commercial position on the black continent, China has invested significant sums in funds to support Chinese savings in Africa.
In addition, China became part of the UN peacekeeping forces on the African continent, thereby ensuring its near-war security presence in Africa. As they say - a precedent has been created.
Another region of the world is actively being developed by Chinese companies - this is South America. Thousands of Chinese workers and companies have developed turbulent activity in Latin America. In terms of security, these countries are clearly not prosperous.
According to media research, the informal PMCs - Shandong Huawei Security Group has received the greatest popularity in China today. The company recruits former military, special forces, police, security guards of Chinese embassies, specialists in the protection of airlines. The main springboard for the work of this PMCs were oil-producing Chinese companies in Iraq and Afghanistan - such as, for example, China National Petroleum Corporation, mining companies, construction and transport companies. China hopes that it will manage to preserve the occupied niche in the economy of these countries even after the Coalition forces leave the region. So, only in Pakistan, more than 10 thousands of Chinese workers have already found work.
Shandong Huawei Security Group has already managed to establish mutually beneficial cooperation with Australian, Taiwanese, Indian security companies.
Another notable Beijing PMC - Alfa-Angel (Beijing Co), created by an Israeli, specializes in training employees of Chinese companies to ensure the safety of working Chinese in the Middle East.
Another PMC Beijing General Security Service, despite the fact that the existing good experience with foreign customers in China, is in no hurry to go to the international level. This is due to shortcomings in domestic regulatory legislation and the lack of the necessary level of preparedness of Chinese PMC fighters in order to create international PMC competition in the security and military services market. So, according to experts, Chinese PMCs do not have the necessary experience in hot spots, which is also inferior to private Western military security companies. However, despite these shortcomings, some Chinese PMCs still work abroad, without advertising their work for legal and political reasons.
In recent years, sea pirates have intensified. And each captain of a Chinese ship, going on a long voyage, would have liked to board a reliable armed guard. Fighters of the Chinese Navy is clearly not enough to ensure the safety of Chinese sea transport. It should be noted that the problem is very acute - for several years only Somali pirates captured about a dozen Chinese ships. Well-trained Chinese marine PMCs could solve the security problem for ships flying the Chinese flag.
The advantages of using Chinese PMCs by the Celestial companies are that their services are inexpensive, the fighters speak their native language, and most importantly - they own. Chinese companies know that local guards abroad will surrender them at the first danger, while their own will take measures to protect the interests of their compatriots. The danger is also the fact that in all foreign countries, residents are not satisfied with the growing number of Chinese living in their state. And it is unlikely that existing and international PMCs will welcome a new competitor in the military and security services market, especially from China. The most influential of them - the British, American and South African PMCs will take all measures to discredit the Chinese competitors.
At the same time, the Chinese authorities fear that some unsuccessful operation of the Chinese private special forces conducted on the territory of another state could harm the position of "political non-interference", which the government of the Middle Kingdom adheres to. However, there is another side to the issue of using Chinese PMCs in foreign countries - it is easier for Chinese authorities to engage in PMC operations that are not formally subordinate to the leadership of the Middle Kingdom, and this will avoid diplomatic complications, aggravating anti-Chinese sentiments and international scandals.
Based on the foregoing, the experts conclude that the creation of the Chinese PMCs is already decided. And their appearance on the world market of military and security services is only a matter of time.
Materials used:
http://www.inosmi.ru/op_ed/20130716/210995365.html
http://conjuncture.ru/vpk_17-07-2013/
http://modern-warfare.livejournal.com/1118700.html