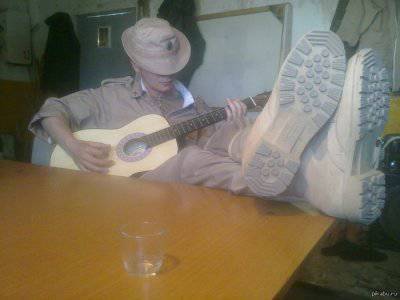 Army traditions in Russia have been cultivated for centuries. About what traditions correspond to different types and types of troops can be found on the website
http://soldafon.net
. Here are collected materials that relate to life in the army and its features.
Anyone who has been written to associate his life with an army can tell his
stories
about how his army service went. After the passage of military service, former soldiers try to remember only good things from army days. That's the way human memory is. And what good can be in the army? - Asks a person far from her. And many people who served him will be ready to answer.
An army is a lifetime, compressed to the time frame of service. The army is a real cultural stratum, the originality of which not everyone will have in mind. It has its own laws and orders that may seem unnatural to the uninitiated, but the initiates will say that an army without unnatural will no longer be the army that has existed for centuries in Russia. After a significant reduction in service time for conscripts, many traditions were lost. New traditions, new laws and rules are coming.
Today, the army will no longer meet "elephants" and "scoops" from which the "grandfathers" and "demobels" once grew up. The short term eliminates this unique hierarchy, through which every fighter called up for 2 and more than a year of military service passed. The tradition of army initiation from one hierarchical status to another also came under great question, as the hierarchical layers themselves changed.
Most of those who served in the Soviet (Russian) army of the pre-reform period nostalgic about their service and the traditions that were associated with it. There are those who declare their desire to be back in the army, but only for the amount of time that he would have defined for himself. The army appears in dreams and makes you relive the moments of real happiness, when, after the ministerial order, you could find yourself outside the gates of your unit and head home - to those who love you and wait. This army nostalgia is a unique phenomenon that can unite millions of Russian men who have gone through the school of courage.