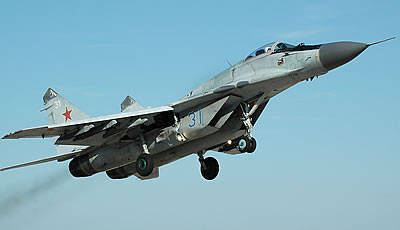 Next year, it is planned to resume work on the modernization of MiG-29 fighters for the Belarusian air force, said the deputy chief engineer of 558
aviation
repair plant »Alexander Vorobey.
"It is planned that in the 2014 year the Ministry of Defense of the Republic of Belarus will order the modernization of the MiG-29. Belarus has no opportunity to buy new fighters. Earlier, four fighters were upgraded, which are in service with the Belarusian Air Force, "said Sparrow. He noted that the MiG-29 fighters for foreign air forces are also being upgraded at the plant. "Modernization of the MiG-29 is made in the process of overhaul, as the plane understands and easier to upgrade," - said the deputy chief engineer 558 ARZ. According to him, during the modernization, the on-board locator is refined: a "bypass channel" is being installed, which allows the fighter to not only "work" through the air, but also to detect and destroy ground targets. "In addition, improvements are being made to the management system
weapons
(LMS) and minimally improved cockpit with the installation of one multifunctional indicator, which displays navigation information and data of the LMS, "added Sparrow. According to him, at present, ten Su-27 fighters for the Air Force of Belarus and for foreign customers have also been upgraded.
Read more: http://vpk-news.ru/news/17474