From a high-ranking source in the Indian Navy, which has connections at Russian shipbuilding and ship repair enterprises in Severodvinsk, our blog learned that China is offering Bangladesh to acquire two large diesel-electric submarines of the Russian-built project 636 from the PLA Navy. According to preliminary information, we are talking about submarines with Chinese onboard numbers "374" and "375" (factory numbers 01701 and 01702), built on the Northern Machine-Building Enterprise in Severodvinsk under the 2002 contract for the construction of eight submarines for China 636 project. Under this contract, five boats were built for the People's Republic of China at the Admiralty Shipyards in St. Petersburg, one at the Red Sormovo plant in Nizhny Novgorod, and two at the Sevmash. Both Severodvinsk boats were commissioned by the PLA Navy in December 2005 of the year and delivered to China in the summer of 2006 of the year. Why China chose for the proposal of Bangladesh boats of Severodvinsk built is unclear.
According to an Indian source, the Russian representatives and the administration of Sevmash and CS Zvyozdochka are aware of these intentions of the Chinese, but cannot in any way prevent them, although it is obvious that the Chinese side has no rights to sell Russian-built submarines parties, as well as the right to carry out and repair and maintenance of these boats from a third party.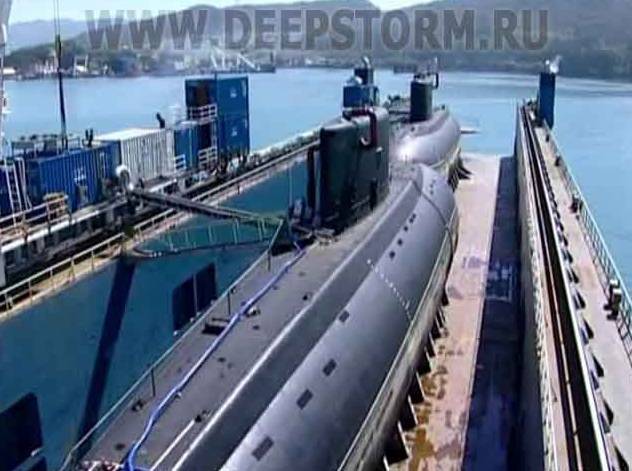 Transported to China on the transport vessel Eide Transporter, the diesel-electric submarines of the 636 project with the serial numbers 01701 and 01702 built for the PLA Navy at the Northern Machine-Building Enterprise in Severodvinsk. June 2006 of the year (c) shot from the presentation of the company Eide Marine Services AS / www.deepstorm.ru
Also, an Indian source said that the Indian Navy made a decision in principle to carry out second medium repairs of four of its diesel-electric submarines of the 877EKM (08773) project, which had previously undergone the first repair in Russia. At the same time, only two boats will undergo medium repairs at JSC CS Zvezdochka in Severodvinsk, and the Indian side intends to carry out repairs on two other boats on its own. It should be noted that the Indian Navy has not yet performed the first average repairs on its three boats of the 877EKM project, so there is reason to believe that the epic with the repair of Indian boats will stretch for a long time.
In addition, an Indian source reported that, due to the recent loss of the Sindhurakshak submarine of the 08773 project, the Indian Navy leadership decided to force the long-lasting tender to buy or build six non-nuclear submarines under the 75I program, which was stuck in the initial stages. harmonization of requirements. A request for the provision of technical information (RFI) to companies participating in the tender should be sent out by the end of this year.