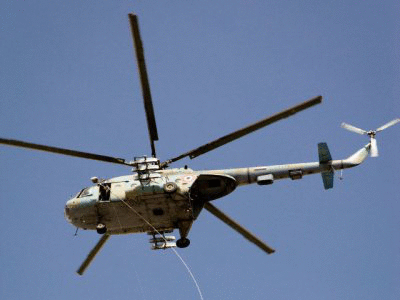 Syria admitted that its military helicopter violated Turkish airspace.
A statement by a spokesman for the SAR Armed Forces said that the pilot of the helicopter "followed the group of terrorists who had infiltrated into the border area of ​​Yunisiya (Lattakia Province), and by mistake slightly dived into Turkish airspace," ITAR-TASS reports.
"The helicopter did not perform combat missions and, having received an order from the center, immediately turned back, but was shot down over a Syrian territory by a rocket fired by a Turkish aircraft," the communiqué states.
The Syrian command regards the reaction of the Turkish side to the incident as "evidence of the desire of the government of Tayyip Erdogan to aggravate the situation on the border of the two countries."
According to the Deputy Prime Minister of Turkey, Bulent Arinc, the rotary-winged aircraft violated the border, invading Turkish airspace to a depth of 2 km.
The Syrian pilots, according to Ankara, "did not respond to the warning, and their helicopter was shot down by a rocket from a plane that took off from the air force base in Malatia."