The fact that social networks are super popular today, no one will argue. At the same time, every person who registers in a certain social network tries to achieve his goals. Someone is talking to friends, someone is looking for useful files for himself, someone is following the path of self-promotion, someone is trying to combine. Publications on social networks are being discussed, they are trying to follow the personal and public life of politicians with their help: Medvedev posted a photo with autumn landscapes - the prime minister is sad, Kadyrov has posted a photo with a golden gun - this is definitely not sad ...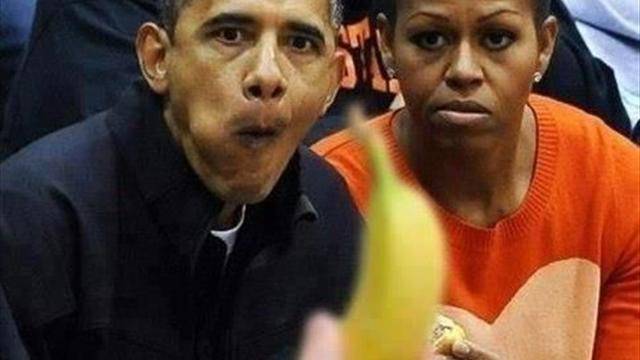 And there are some politicians who simply remind of themselves through social networks, whether they wish it or not ... The cohort of such politicians was recently joined by Irina Rodnina, whom millions of people know as a remarkable figure skater, and far not millions know as a State Duma deputy from the faction "United Russia". It is not clear for what reasons, Irina Konstantinovna decided, using the opportunity of one of the microblogging services, to submit to her subscribers a photo collage, which depicted the American presidential couple, and in front of this same couple - an outstretched hand with a banana. Oh dear, what started here! .. Rodnina's microblogging, which apparently realized that with her own joke was clearly overdone, was literally attacked by representatives of the so-called hyper-liberal public, who declared the deputy in racial intolerance and disrespect for the country in which once earned money. Rodnina quickly removed the publication, but then she said that we have freedom of speech, and if this freedom is not liked by someone, then this is his problem.
Freedom of speech is freedom! For your own complexes and answer!
Generally,
история
really ticklish. On the one hand, Irina Rodnina is an ordinary person who has the right to publish everything that is not prohibited by law on the web. She, thank God, did not post pictures of child porn, suicide or drug use by anyone. And laid out the fact that many readers of her microblog caused some associations. Too associative thinking of these gentlemen is a fact.
But on the other hand, Irina Konstantinovna is, after all, a politician of the federal scale - a deputy of the Russian parliament, with whom there is a somewhat different demand, let's say. Did she have the right to publish this caused a noise collage. From a legal point of view - quite, from a moral point of view - nevertheless, it was necessary to think better of the consequences for it, first of all, as for a politician. Well, by and large, I went too far, with whom it does not happen - she tweeted too much ... She understands this very well. From the hyperliberals, who only give a similar reason, received the first number ... And the American embassy, ​​which also saw the "association" in the collage, decided to comment on Rodnina's publication. For this, apparently, they searched for suitable words for a long time, and, in the end, decided to use the third US President Jefferson's statement replicated today (especially from the LGBT camp):
Intolerance is a disease born of ignorance.
Of course, to support the publication of Irina Rodnina from a moral point of view is somehow strange, but at the same time I want to clarify the data on the presence of moral features among foreign politicians, including the presence of morality and tolerance of Thomas Jefferson himself.
So, today, citing Mr. Jefferson from his father for no reason, he inherited several plantations, which employed a considerable number of African slaves. From one of his slaves, Thomas Jefferson had children born out of wedlock and, apparently, urged his wife to be tolerant of his affection ... At the same time, Jefferson, to put it mildly, was in no hurry to give all his slaves freedom ... population of America. Entire nations from their lands forcibly moved to places that soon became known as reservations. Therefore, who, if not Jefferson, could be judged that this intolerance was a disease ... And who, if not the representatives of the American Embassy, ​​today quote slave owner Jefferson ...
What can we say about the statements of Western politicians of different years about our general secretaries, presidents and other heads of state.
Margaret Thatcher (1979 year) on Brezhnev:
"Brezhnev can stretch one more winter, but not two ..."
Philip Graham (US Senator) (1995 year) about Yeltsin:
"Drunk-opportunist."
Robert Menendez (US Senator) (our day) about Putin's article:
"I almost didn't vomit from what I read ..."
John McCain (US Senator) (2011) to Putin:
"Dear Vlad, the Arab Spring will soon reach your area."
And after all, none of the above gentlemen thought about apologizing.
And here, you see, they were offended at Rodnina because she uploaded the American graphic concoction about the star-striped national leader to the network. And in Russia, many people have a short memory! .. Apparently, some people forgot how in the early 90's our American, German and other "friends" came to the ruins of the USSR and were thrown straight from the scenes and onboard cars during concerts and bravura rallies in support of democracy in the crowd of onlookers and spectators of alluvial chewing gum, bananas, imported chocolate bars and other things unseen - for fun. And at the bottom of the stage - it's almost a fight! People (especially children) crawled on the wet asphalt and collected. But before them, no one has yet apologized ... Of course, it is not necessary to be like these jokers, "donors", but it is also not easy to forget about this.