A new character has appeared in the media: a girl named Elizabeth O'Bagy (Elizabeth O'Bagy), 26 years old, Ph.D., a respected and authoritative expert on Syria. Despite her youth, Elizabeth is well versed in the Syrian conflict, knows for sure that the war was unleashed by Assad, and not at all by hired elements and Al-Qaeda. As an expert, O'Beigi is so good that both John, Kerry and McCain both refer to her opinion. And not somewhere they link, but directly in the US Senate.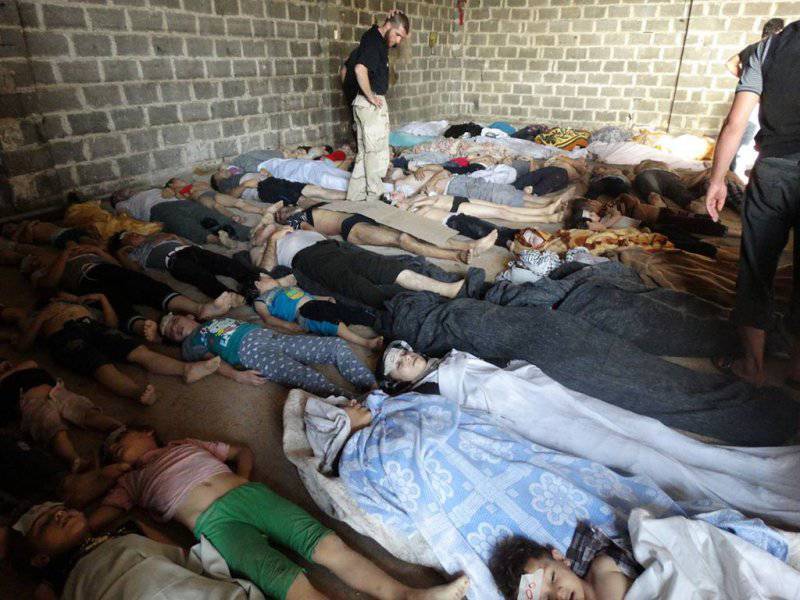 But what a bad luck: the other day it turned out that young Elizabeth is not only not an expert on Syria, but not even a doctor.
According to the resource
Pravda.ru
, O'Beigi was fired - immediately after it became clear that her doctoral degree was a lie. This was written by the newspaper "Politico".
The institution in which she worked from September 2012 of the year until her dismissal made a corresponding statement: "The Institute for Military Studies (ISW) found out that O'Beigi never actually awarded a degree at Georgetown University."
However, the forgery of a scientific degree is not yet being discussed. In an interview with "Politico", she said that she had defended her thesis and was awaiting confirmation from the university.
It is interesting here another.
As you know, Comrade Snowden, the famous NSA whistleblower, also composed fables about his education. But his goal was clear (he himself did not hide it): to penetrate the holy of holies and then report on what he saw and heard to society. More precisely, the whole world.
Where did this adventurer want to go?
On TV. Not otherwise, she built a political career. Moreover, since her opinion was found authoritative even by such pillars of the US political establishment, as Secretary of State Kerry and Senator McCain, she had every chance to break through to the very Olympus "analysts", and from there all the roads were open. The main thing is to give the "right" opinion, which in a moment will be picked up by those who need such experts as a traveler in the desert.
And it cannot be said that the Institute for Military Studies, following the disclosure, completely rejected all the opinions of O'Beigi. ISW founder Kimberly Kagan told Politico that this was "a very sad situation," but she assured the reporter that she was ready to subscribe to O'Beyghi's comment on Syria: "Everything was thoroughly checked, all her materials are trustworthy." .
Now it is in some sense difficult to refute: after all, the statements of the "expert" were consecrated by two John. Okay, McCain, but - Kerry!
Channel
"RT"
, referring to The Huffington Post, notes that, having appeared on American TV, E. O'Beigi presented herself as an expert on Syria. Her credibility jumped as soon as McCain and Kerry began to refer to her work during a congressional discussion on the possibility of military intervention in Syria.
The trouble is that statements in the United States alone are not enough. The other day, Joe Biden discovered Neanderthals in the US, but we call for an objective assessment of the situation: a reasonable person is still found in the States.
Charles Lister, lead analyst at IHS Jane's Terrorism & Insurgency Center, criticized Elizabeth's imposter's work via Twitter. And he was not the only one who took up criticism.
While Mr. Kerry was telling the Congress about O'Beyghi's experience, journalist Janine Giovanni suggested that the young researcher exaggerated her Syrian experience:
"Everyone who works in Syria as correspondents or researchers are incredibly cautious people. We try to protect each other. Many were shocked when the 26-year-old Ph.D., the so-called expert on Syria, who, as it turned out, had never been to Syria and about whom no one had ever heard, appeared on CNN and other channels. "
Channel
CNN
reports that O'Beigi worked at the Institute of Military Studies as a senior analyst for a year. And earlier she worked here for several months as an intern. The above-mentioned K. Kagan called her an exceptional researcher, and noted that she was "happy and proud" of her achievements, and promoted her in the service.
The 30 of August in the Wall Street Journal published a review of O'Beigha, the same one that Kerry subsequently referred to and John McCain. According to the material, "extremists" and "moderates" in Syria exercise control over various areas of the country, and checkpoints are often set up only to differentiate influence. In addition, there are areas in Syria that are moderately controlled by moderate rebels. About this O'Beigi herself told CNN in an interview. Both Kerry and McCain agreed with the conclusions of the "expert," and McCain even called her review "important."
At first, the Wall Street Journal recognized O'Beygi only as a "senior analyst" from the institute, but later added an explanation that she belongs to the Syrian Emergency Task Force ("Syrian Emergency Group"), a non-profit organization that supports free Democratic Syria and based in Washington. (Here, let's add on our own where the dog is buried. NPO!).
O'Beigi herself tweeted that she never tried to hide her ties with the opposition and rebel commanders. These ties ensure her safety in Syria. September 7 Elizabeth wrote: "I am not trying to deceive America in this."
As for education, O'Beigi received a Master of Arts degree from Arabic Studies at Georgetown University in May 2013. O'Beigi now claims that she completed her Ph.D. thesis in late August.
CNN's editorial also notes that O'Beigi has appeared on several TV channels, including Fox, BBC, CNN and PBS. After exposing a fake doctor, they no longer let me go to CNN.
Channel
Fox
also renounced the "expert" in Syria. Here they indicate that O'Beigi is an analyst who is not just loyal to the Syrian opposition, but also once sponsored for a group of extremist militants, on whose website anti-American images can be found - for example, with burning Capitol.
It is clear that now the analyst has been ordered on Fox too.
Daniel Greenfield (
"Frontpage Mag"
) points out that the "Syrian Emergency Group", with which O'Beigi is associated, is an Islamist organization that is pushing American intervention in Syria today. The girl selling the product under the name "Sunni Islamist rebel agenda," perfectly suited the "Group" - until her career collapsed overnight.
And now the "Group" needs someone else who would go to CNN and explain to the public that the majority of the rebels are such moderate freedom fighters.
Stephen Al (
"Examiner"
) bluntly writes that the Syrian Emergency Group is in favor of al-Qaida.
In the Western media, you can also stumble upon the statement that, they say, two naive - one senator and the other state executive of the highest echelon - turned out to be simple, believing O'Beighi's impostor. This is as ridiculous as, for example, belief in the statement that the Earth is flat and stands on whales and a tortoise. Another thing is that young Elizabeth was at the right time in the right place. Do not let her lie with a doctoral degree, she would probably have played the role of a button that would trigger the flywheel of the war in Syria.
As for the chemical attack in Syria, which could turn out to be a supply for US intervention, then, as noted by Dmitry Kiselyov and Anastasia Popova (
"Vesti"
), lawyers, journalists and eyewitnesses tried to separate the truth from lies at a conference on chemical weapons at the UN Geneva Office.
"I watched about two hundred videos from the site, I know Arabic, I understand the accent and I can determine exactly where they are made. I have access to witnesses and victims. On the basis of all this, I can say that I have great doubts that this is not fake or falsification, "said Mother Superior Agnes of St. Jacob in Syria, an eyewitness to the events.
It is also curious that Fahed Awad, the spokesman for the Al-Farouq Brigade (the one whose leader ate the organs of the dead Syrian soldier), acted as the affected residents of Guta. Facebook has another victim - a member of the Syrian National Council abroad (Turkey). What did this man do in Guta? Finally, another victim in the video pretends to be a doctor from Idlib. Why, just this "doctor" in the photos on Facebook ... tortures hostages.
Captive supporters of Bashar al-Assad, who were sentenced to execution, were among those killed in Gut.
As for the opposition insurgents themselves, in a recent interview with the Associated Press, they admitted that chemical
weapon
in Gutu they were brought from Saudi Arabia, and twelve people from the detachment were poisoned during transportation.
Not surprisingly, the members of this opposition, we add, are opposed to international control over chemical weapons in Syria. This is all the same as if the owner of production decided to suddenly abandon its own means of production. And, again, it is not surprising that Bashar Asad is in favor of such control.
But the trouble is that Kerry and McCain are quite sufficient statements of some young art expert like Liz O'Beigi ...
Observed and translated by Oleg Chuvakin
- especially for topwar.ru