A further development of the 155-mm howitzer family of Soltam Systems (now part of Elbit Systems) was the 155-mm ATHOS 2052 autonomous towed howitzer (the last two digits of 52 indicate the barrel length in gauges). The ATHOS 2052 howitzer represents a new generation of autonomous, towed artillery. It is designed to support artillery fire from closed firing positions of maneuverable forces of the battalion and divisional levels.
ATHOS 2052 is mounted on a towed carriage, provided its delivery to the battlefield. In the area of ​​deployment, the howitzer can maneuver independently using its diesel engine and special hydraulic wheel drives. The hydraulic system allows you to easily deploy a howitzer using hydraulic jacks and auxiliary wheels. It is equipped with a loader ammunition. Within a few minutes ATHOS 2052 is able to independently leave its position and be deployed in a new position a few hundred meters from the previous one. To control the howitzer, a calculation from 4-x to 6-man is necessary. When deploying a howitzer is not used physical force.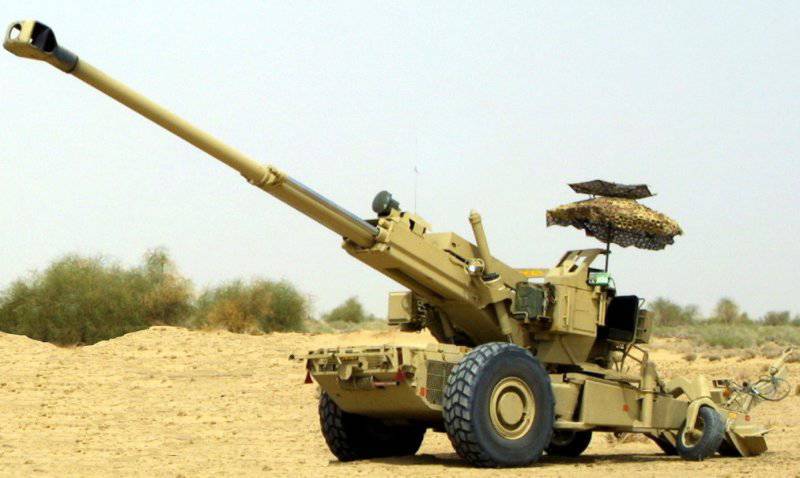 Using an 155-mm caliber barrel and an 52 caliber length allows you to achieve maximum firing range in 41 km using standard NATO ammunition, including ERFB / BB projectiles weighing 48 kg with 11 charge or modular charges. The howitzer is equipped with autonomous navigation and positioning systems, a ballistic computer and modern digital communication equipment, which allows to obtain target coordinates and provide accurate fire support. The howitzer is capable of receiving digital data on target designation directly from advanced observers or from systems for remote detection of targets such as UAVs and, accordingly, prepare itself for firing. Hydraulic drives are used for vertical guidance of guns and traverse, and they can be completely subordinate to the computer for automatic aiming howitzers.
Two 12-and volt batteries provide the power needed to power various electronic devices, and also allow the use of an electro-hydraulic pump for silent operation. During operation of a diesel engine, power is supplied from its generator, and the batteries are also charged.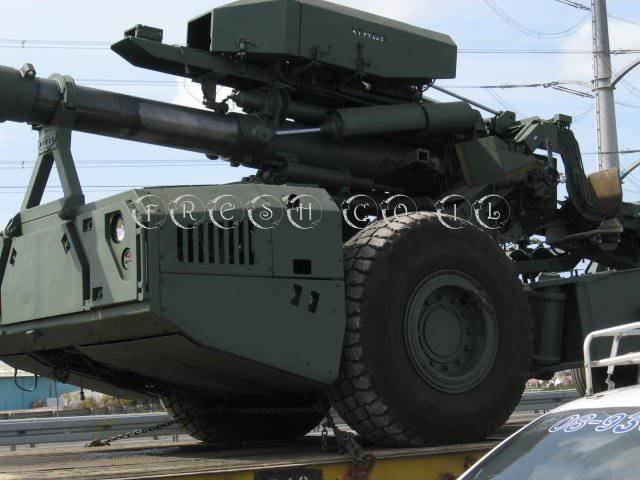 ATHOS 2052 is equipped with an automatic aiming system integrated with a fully computerized system that provides automatic control, accurate navigation and targeting.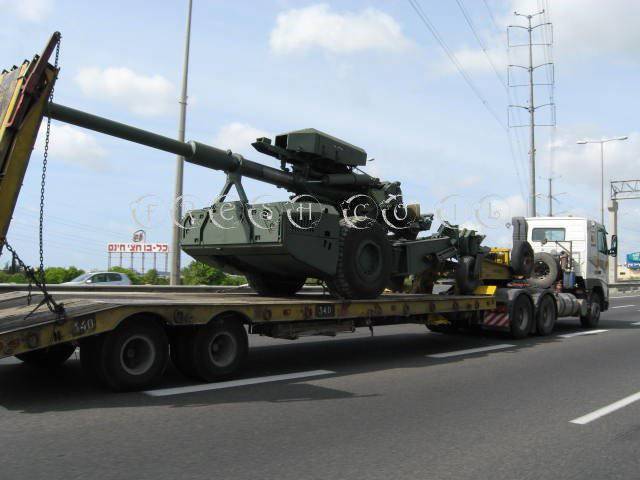 ATHOS 2052 standard equipment includes a hydraulic generator, a GPS receiver and an onboard fire control computer. To determine the initial velocity of the projectile on the barrel can be installed radar transmitting data to the fire control system. The weight of the ATHOS 2052 is reported to be around 13000 kg.
The ATHOS 2052 howitzer successfully completed a series of desert and mining tests in India in 2003. In parallel with it (2002-2007). The Indian Army conducted comparative tests of the FH-155BO52L77 BAE Systems / SWS Defense 5-mm / 52 towed howitzer. Despite the attempts of the French and Singapore manufacturers Nexter Systems and ST Kinetics, respectively, India did not even include them in the list of subjects. At the end of 2002, India was leaning toward purchasing a FH-77BO5L52 towed howitzer, and in November 2004 made its final choice in favor of FH-77BO5L52 based on a number of parameters including performance and reliability (the amount of paint falling off the trunk during continuous ). However, as a result, the Indian Ministry of Defense refused to buy this howitzer and demanded additional tests with the participation of ST Kinetics.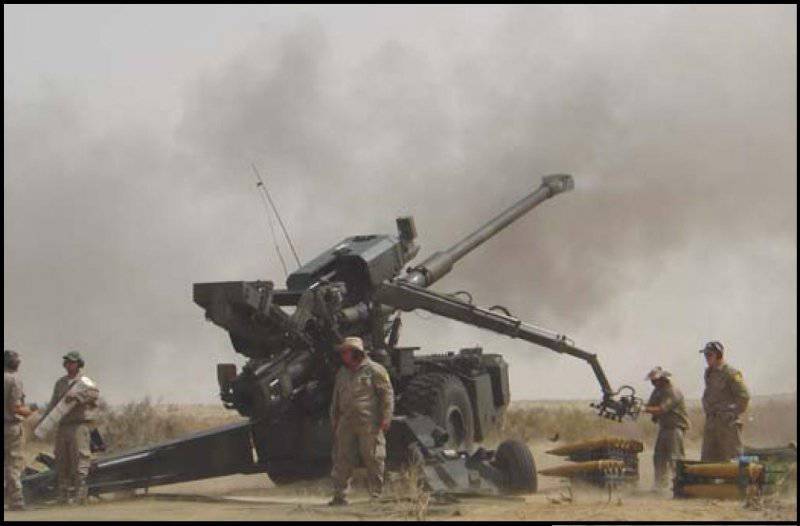 In February 2013 of the year, Elbit Systems announced the creation of a joint venture with the Indian company Bharat Forge Limited (part of the private Indian concern Kalyani Group). The purpose of the joint venture was to manufacture artillery systems based on the Soltam Israeli 155-mm howitzers, as well as other artillery systems for the Indian armed forces. However, in September 2013 of the year, the Indian Council for the Promotion of Foreign Investment did not issue a permit to establish a joint venture. The reasons for this refusal are not reported, however, as a rule, such refusals are related to the lack of transparency in the structure of new joint ventures (list of foreign shareholders, management, etc.)
In addition to the 155 mm / 52 configuration available on the market, the ATHOS 2052 howitzer is also available in other configurations, 155-mm / 39 and 155-m / 45 calibers. To date, it is reported on the further development of the howitzer and its preparation for small-scale production.