Putin's article has become one of the main themes in the American blogosphere, triggering a storm of emotions among ordinary American Internet users. Of course, on the NY Times website, it became the most widely read and distributed number material.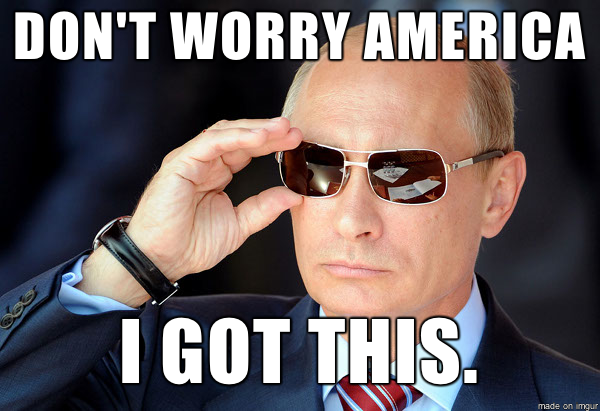 However, I was interested to know what exactly Americans think about Putin's article. In the comments on the NY Times website, opinions vary widely, but the regulars of the Matryoshka tavern from Brighton Beach, who sincerely hate everything connected with the corrupt dictatorial communist Putin regime, and our smaller brothers who do not burn with special love for Russia, demonstrate phenomenal activity there. from some Baltic and Eastern European countries. A similar situation in the comments on Reddit, but there are much more positive feedback.
So how do you know the opinion of ordinary Americans who are not participating in the daily troll battles on the forums? That's right, where these very ordinary Americans live. On facebook. Fortunately, this incredibly curve social network has finally launched, albeit a familiar curve, but some kind of keyword search. Unfortunately, the search gives only new (sic!) Messages, but after sitting for a couple of hours watching American comments, I can say with confidence that the overwhelming majority (80-90%) of American users support the position of Russia and Vladimir Putin regarding the US participation in Syrian conflict. Moreover, many people have changed their attitude towards Russia for the better precisely because of it.
I have long been watching the attitude towards Russia in the United States, and I can say that this is perhaps Russia's largest international success in terms of improving its image among Americans.
In order not to be unfounded, I cite some of the comments I have met, especially for the distrustful, with reference to the original post. I translated them into Russian together with @AndreyZalgo (friends it), so I apologize in advance for possible minor inaccuracies, they do not change the meaning.
"A phrase I didn't think I would ever say: I agree with Putin's article almost completely."
https://www.facebook.com/eric.vanderheiden/posts/10151941807908825
"What a brilliant letter. Most likely, it is not written by Putin personally, but still very strong."
https://www.facebook.com/spongeboblegendpants/posts/10153229312370257
"Putin urges the United States not to launch a military strike on Syria, arguing that" military intervention in the internal conflicts of other states is becoming commonplace for the United States. "Sadly, this is complete truth."
https://www.facebook.com/dylan.feldman.925/posts/10152202087359517
"It's cool that in 2013, an essay could become so big
news
. Not a tweet, but an essay. Good work, Putin. "
https://www.facebook.com/thomas.bright.378537/posts/163945803799884
"It's funny that Putin is seeking more peace talks than the so-called leaders of the free world. Does anyone remember the" Left "claims to" cowboy diplomacy "?
https://www.facebook.com/griffithbk/posts/636347893071444
"Putin is so passively aggressive. Well, at least not as spineless as Obama."
https://www.facebook.com/oscar.delgado.7106670/posts/546710092068571
"Putin looks like a good guy, and our president looks like a fool!"
https://www.facebook.com/tearoy.simmons/posts/10201329958203437
"It's funny to understand that Putin is doing more to protect America than our own government. I take off my hat to you, Putin."
https://www.facebook.com/adam.sierz/posts/10201931408590264
"This is how Putin put an end to the Obama war. Putin, who is a former employee of the KGB, stopped the Nobel Peace Prize laureate from the start of the war, in which thousands would have died. Amusing
история
, is not it".
https://www.facebook.com/joshua.tackett.7798/posts/10201912807412859
"Wow. The more I read and hear about Putin, the more I am impressed."
https://www.facebook.com/joyce.harris.35/posts/10201096769838636
"Vladimir Putin showed himself to be the leader of the free world and the defender of the rule of law. Barack Obama has shown himself to be the leader of a lawless, unscrupulous criminal government that tortures lies through his teeth and builds schemes to destroy millions of people."
https://www.facebook.com/john.sutherland.549/posts/10201482930211695
"Something is very wrong in that I have to take one side on the issue against the US president. While reading this article I kept in mind Putin's actions in Georgia in 2008 (which proves that he himself is not a saint in matters of international diplomacy), everything he wrote in this article is pure truth. "
https://www.facebook.com/caleb.covington.583/posts/698532480161780
"Please read and spread! You may think about Putin as you please, but read what he says in his open letter to the Americans."
https://www.facebook.com/hanuman108/posts/10151852321829323
"While Putin's doubts about gays to me, Russia is protecting Snowden and is now settling the issue with Syria ... I'm struck by the new identity of Russia that is now emerging. My children at school talk about Russia like a cold war in the yard. All they know is Hollywood and James Bond. "
https://www.facebook.com/busytown/posts/10151883728552904
"This is the week when Putin has a higher approval rating than Obama."
https://www.facebook.com/bmmayer/posts/10200985225927953
"Hmm, you know who I really believe? A guy with pure intentions and a clear understanding of morality. Anyone who really cares about the welfare of the States. Vladimir Putin!"
https://www.facebook.com/stephen.witmer.1/posts/628494002561
"So, in one corner we have Obama, the campaign organizer, and in the other, the former KGB chief Putin. Does anyone have any doubts as to who will win this clash of political will and strategy? A hint: this is not Obama."
https://www.facebook.com/PickleFarmer/posts/10151841046294231
"I fully support President Putin's candidacy for the Nobel Peace Prize this year for his tireless attempts to prevent one nation of villains from starting an absolutely unprovoked war."
https://www.facebook.com/jordan9485/posts/10202156705458656
"A good message written by Putin. My frightened view on the Russian authorities changed a bit."
https://www.facebook.com/katie.clouse1/posts/607942736736
"You know what? In many ways, his statement reflects the opinion of the silent majority in the United States. It is incredible that it comes from Russia. Obama and the Republicans should stop and think about the way they lead us in the name of democracy."
https://www.facebook.com/jdbenish/posts/3537283647472
"Putin is right - we are not" exceptional. "It is just propaganda promoted by Obama that separates us from the peoples of the rest of the world. We must realize that we are all interconnected and united."
https://www.facebook.com/debralynnjohnson/posts/10151832413737179
"How can you argue with this logic? I ask Obama to take his Nobel Prize and give it to Putin."
https://www.facebook.com/bill.flynn.397/posts/10202029808376744
"Putin wrote very well. I usually hate to post all sorts of political things, but I think these words express many of my thoughts. The last sentence is: We are different, but when we ask the Lord to bless us, we must not forget that God created us equal. " This is definitely not an American war. "
https://www.facebook.com/s.brenner.a.t/posts/10201011179060617
"Simply brilliant. Both in terms of the elegance of word selection, and in terms of the diplomatic move. Say what you want about Putin, but in the chess game of international politics he destroys Obama."
https://www.facebook.com/phillip.nathaniel.taylor/posts/540497076005589
"I listen to the news and all I have to do is hang myself. Vladimir Putin offers solutions not to drag American soldiers into Syria. While on the other side of the table, Obama and John Kerry are foaming to start throwing bombs and as soon as possible to start a war! I swear, I probably live in an alternative universe! Is Vladimir Putin a new American hero? "
https://www.facebook.com/bikerdude3000/posts/718947618132298
Michael Moore also said: "Wow. What a wonderful editorial column for Vladimir Putin in today's NY Times. He writes about our love for democracy, equality and God."
https://www.facebook.com/mmflint/posts/10151584373351857
But there are also negative opinions, of course. Here are some of them:
"Vladimir Putin is a communist and always will be, and our president allows him to behave this way, it pisses me off. If you think this is cool, then you are too young or have never read history."
https://www.facebook.com/carol.lowery/posts/10151586581531927
"Now President Putin writes editorial articles in the New York Times ?? The most ridiculous thing is that the opponents of the military invasion now know that they quoted Russian propaganda for two weeks. In this regard, Obama behaved incorrectly. He had to include full Bush against these guys. Now we have to listen to lectures from the former KGB leader. Bad week for the Empire ... "
https://www.facebook.com/AndrewTheIV/posts/617647231590410
"Putin giving a lecture to Obama is like Edgar Hoover giving a lecture to Martin Luther King."
https://www.facebook.com/david.lyons.9469/posts/679374772074099
"It's very interesting to me how this American free press is so free that a dictator (Putin) from a communist country (Russia) can calmly criticize America and its leaders, but if a Russian citizen would do the same in his country against the Russian government, would have been arrested, and all the employees of the newspaper would have lost their jobs and were put in jail. Manipulate your own country, Putin! "
https://www.facebook.com/AndrewJohnMeyerAnson/posts/10101420889293468
"Putin is completely wrong. We are exceptional! Lord, bless America!"
https://www.facebook.com/captain.busy/posts/10202375011118617
Well, Senator McCain distinguished himself, where without him:
Translation: "Putin's editorial in the NYT is an insult to the intelligence of every American."
However, Vladimir Putin's article could hardly offend Senator John McCain even in theory.