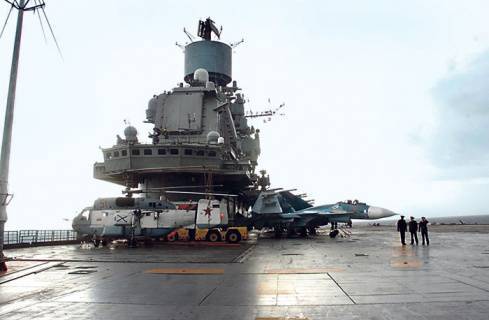 In the next five years, the heavy aircraft carrier cruiser (TAVKR) "Admiral
Fleet
Soviet Union Kuznetsov "will undergo overhaul and deep modernization at the shipbuilding company" Sevmash ". The agency Interfax-AVN, which informed about this, specified that the ship will enter the plant in the first half of next year. Five years after the start of work, he must return to the Navy with a qualitatively updated. It is noted that the contract between the USC and the Ministry of Defense for the repair and modernization of the aircraft-carrying cruiser has not yet been concluded. TAVKR "Kuznetsov" is at the service of the enterprise.
Meanwhile, the need for speedy repair and modernization of the cruiser was announced last year. Experts claimed that even the power plant would be completely replaced on it. However, the only aircraft carrier in Russia received more and more new tasks, and the start of repairs was periodically postponed. Currently, the cruiser performs combat training missions in the Barents Sea. In October, deck aircraft will begin flying from his side
aviation
Su-33.
It is noteworthy that the news of the upcoming production of Kuznetsov for a five-year repair coincided with the announcement of the final refusal of the Russian Federation to use the NITKA complex located in Crimea. Moscow officially informed the Ukrainian side that, starting from 2014, it no longer plans to train deck aviation pilots at this specialized training ground. It would seem that such a decision is in conflict with the intention to soon put the aircraft carrying cruiser into the factory. Where to train sea pilots? But not so long ago, Admiral Viktor Chirkov, Commander-in-Chief of the Russian Navy, told reporters about the final construction of the Russian NITKA complex in Yeisk (Krasnodar Territory). In July, MiG-XNUMKUB planes made training flights that simulated an approach to the aircraft deck of this range. It is expected that the simulator in Eisk will begin to fully function at the turn of 29 – 2013. And it seems that it will be so.