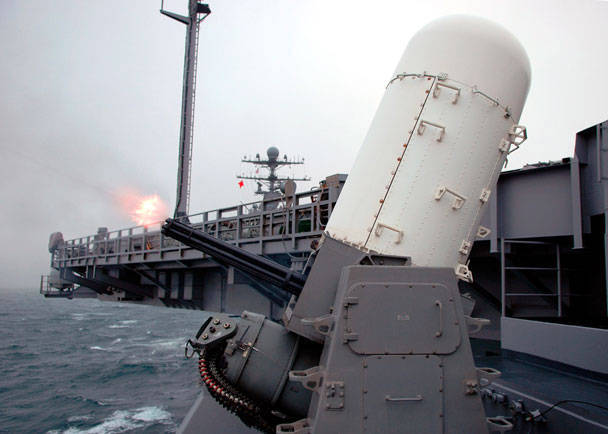 The US Navy will improve the ship's defense system at the last line of the Phalanx.
The contract for the modernization of the system "Falanx" Mk15 CIWS (Close-In Weapon System) worth 136,24 million dollars was received by the developer of the system company "Raytheon" (Tucson, Arizona). The defense system at the last turn of the CIWS is designed to destroy low-flying or high-flying high-speed maneuvering anti-ship missiles (CRP), overcoming other ship defense echelons. The CIWS system is an integral component of the shipboard echelon defense and a ship self-defense system.
The issued contract has a number of options, if implemented, the total value of the contract will be 231 million dollars. The implementation of the contract will ensure the procurement of the upgraded system of the Phalanx of the US Navy (80 percent), as well as Japan (15 percent), the US Army (4 percent) and Pakistan (1 percent) under the program of foreign military assistance to foreign countries (FMS).
All work under the contract is scheduled to be completed by September 2017.
As reported by Raytheon, within the framework of the contract worth 136,2 million, the modernization will be carried out with the production and repair of 19 anti-aircraft artillery systems (ZAK) Phalanx and manufactured 4 defense system from SeaRam anti-missile defense system (SeaRAM).
Contract on 2014 FG An option is provided for the cost of 94,8 million dollars for the supply of additional 12 ZALKS "Phalanx" and 4 systems "Sea Ram".
Ship Falacs is a fast-firing 20-mm artillery complex with an automated radar, which automatically detects, accompanies and destroys anti-ship missiles, which have overcome other defense echelons. To date, 890 has been built by Falans, which are delivered to 25 countries of the world.
The C-Ram complex was created on the basis of the ZALK Falans sensors, the "1B block" and, instead of the automatic 20-mm cannon, has the 11 anti-aircraft Ram-guided missiles. The Sea Ram complex is installed on board the new warships of the coastal zone Independence (LCS 2) and Coronado (LCS 4).