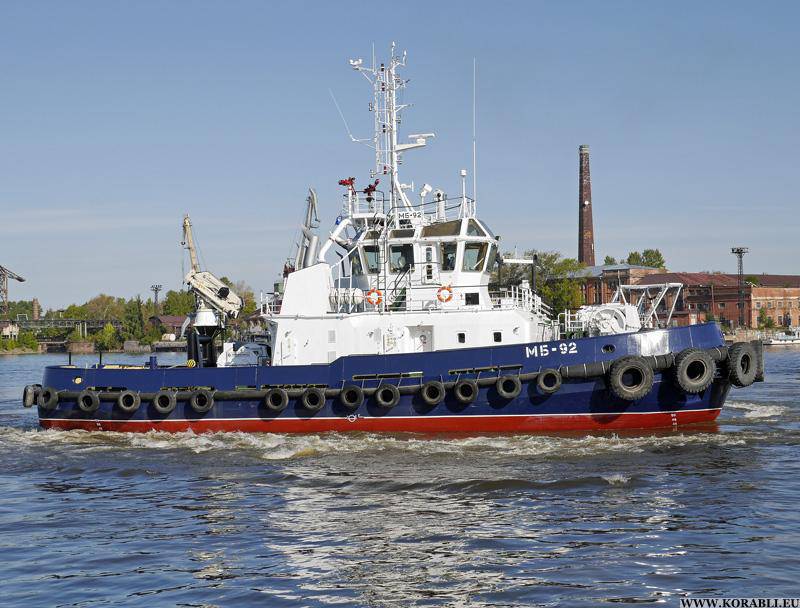 The State Admissions Committee has signed the Acceptance Act of the tug MB-92 (p. No. 503) of the project PE-65.
This is the first in a series of four tugs of the project PE-65, being built by the Pella shipyard for the needs of the Russian Navy. Previously, the tug has successfully passed state tests. Currently, the manufacturer is preparing to transport the vessel to its home base - the Pacific Fleet of the Russian Federation.
Technical parameters of the tug MB-92:
maximum length - 34,4 m;
maximum width - 12,1 m;
draft - 4,4 m;
speed - 13,5 nodes;
pull force on hooks - 63 tons;
class symbol - KM Arc4 R1 Aut1 FF3WS EscortTug for PC classification;
propulsive complex - US 255 FP VRK of Rolls-Royce company, VFSH in the nozzle;
power - 2х1864 kW, 1600 rpm, Cat 3516B;
full-load tug displacement - 860 t.
Deck equipment:
Nasal two-drum anchor-towing-mooring electro-hydraulic winch with escort functions M 140-180-2Т-2В-1С-FEH RED Fluidmecanica with a pulling force 20 t and a holding force of X XUMUM and holding force X 1860 and holding force X XNUMX and holding force X XNUMX and holding force X.NUMX t and holding force X.NUMX.
Stern electro-hydraulic towing winch CHR-20-180-1Т-1С-ЕА RED Fluidmecanica with tractive effort 20 т and holding force of brake 1800 кН;
towing hook traction force 650 kN with quick-release device;
cargo crane Fluidmecanica HLRM 45 / 5 S with a lifting capacity of 19,5 kN on the outreach of the 13,5 boom.
For extinguishing fires, the tow is equipped with an external fire extinguishing system manufactured by FFS (performance 1500 m3 / h, 2 water-borne monitor, water curtain system).
Designation of the vessel project PE-65:
towing vessels and floating structures in the open sea and port waters;
escort operations at speeds up to 10 nodes;
fire fighting on floating and coastal objects;
participation in OSR operations;
search and rescue;
breaking ice up to 0,8 m thick at speeds up to 5 nodes.