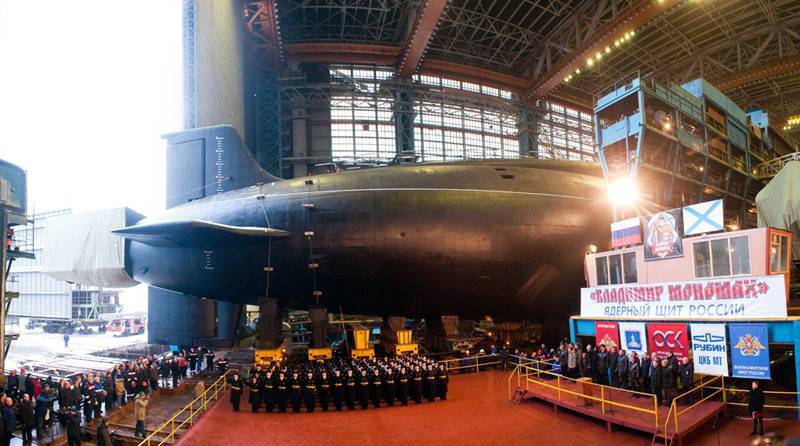 The Borey project rocket carrier Vladimir Monomakh went to the White Sea on Thursday to conduct sea trials, a well-known blogger and photographer specializing in the filming of the Navy said.
fleet
Russia, Oleg Kuleshov.
"Two hours ago," Vladimir Monomakh ", accompanied by tugboats, left the territory of Sevmash and headed for the White Sea at the port. This is the first exit of the ship, which is why it is so remarkable, "he wrote in his LiveJournal, accompanying the recording with a photo.
"On board the ship there is a commissioning team of the plant under the leadership of the responsible deliverer Eduard Usov and the crew under the command of Captain First Rank Alexander Nadezhdin. The crew of the missile carrier was formed in the Pacific Fleet, he studied at the naval training center in Obninsk and trained at the head submarine of this project "Yuri Dolgoruky", - Kuleshov quoted.
We note that last week, Defense Minister Sergei Shoigu decided to suspend state tests of the Alexander Nevsky and Vladimir Monomakh nuclear submarines and conduct five additional launches of the Bulava ICBM due to the unsuccessful launch of this type of missile.
The launch of the "Vladimir Monomakh" missile cruiser took place on 19 in March on 2006 in Severodvinsk on the territory of the 55 workshop of the FSUE PO "Northern Machine-Building Enterprise". The missile carrier was taken out of the workshop at the end of December 2012.
Borey-class submarines are designed at the Rubin Central Design Bureau of the Central Design Bureau (General Designer Sergey Kovalev). In their construction, modern advances have been applied, improving the hydrodynamics of the hull and significantly reducing noise. The main armament of warships is the new Bulava missile system.
Each submarine of the 955 project can carry 16 intercontinental ballistic missiles (ICBMs) on solid-fuel P-30 "Bulava" with a range of more than 8 thousand km, equipped with separate head units for individual targeting.
Submarines are equipped with a rescue pop-up camera, designed for the entire crew. The Boreev length is 170 meters, the width is 13,5 meters, the maximum dive depth is 450 meters, the submerged speed is 29 nodes (approximately 54 km / h), the displacement is about 14 thousand 800 tons, the crew is 107 people.