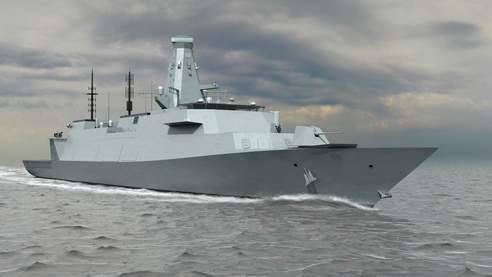 BAE Systems has selected four firms to supply onboard systems for the 26 Type Royal Frigate under development in the UK, reports Defense News 11 in September.
The contractors were Rolls-Royce, MTU, David Brown Gear Systems and Rohde & Schwarz, which were announced on September 11 during the DSEi defense exhibition in London. Rolls-Royce will supply MT30 gas turbines, MTU will be responsible for diesel engines, David Brown Gear Systems for transmissions, Rohde & Schwarz will provide an integrated ship communications system. It is noted that the MT30 is also installed on aircraft carriers of the Queen Elizabeth class with a displacement of 65000 tons. In total, from 30 to 40 companies will participate in the construction and equipment of the lead frigate, their selection will be completed by the end of the year. 70 tenders will be held, suppliers will be finalized in 2014.
A preliminary assessment of the design of the frigate Type 26 was carried out in 2010 year, currently BAE Systems is reworking the design of the frigate, taking into account the comments made. It is planned to build 13 ships to replace frigates Type 23 (starting with 2020 of the year). In this decade, the 26 Type will be the largest project in the UK for a surface war ship along with the Queen Elizabeth class aircraft carriers.
As expected, the construction of new frigates will be conducted until the 2030-ies. Frigates with a displacement of 6000 t will be mainly used to conduct anti-submarine defense.
The most significant change in design will be increased space in the rear part of the helipad. This volume is planned to be used for the placement of various equipment of container type, including for protection against enemy speedboats. Increasing the aft area will allow, if necessary, expand the helicopter hangar and use unmanned aerial vehicles.