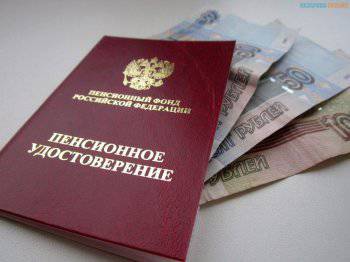 The Russian government consulted and decided that the submitted pension reform formula could not be disapproved. According to the latest data, the formula for the composition of the future pension in Russia takes into account the funded and insurance parts, in addition, it includes a fixed payment. The insurance part of the pension will be formed for each person, based on different pension ratios. The main factor is the length of service. The more work experience a person has, the greater will be the insurance part.
Thanks to a new approach to the accrual of pensions, the state intends to increase revenues to the Pension Fund and generally save. Saving is the main word that is characteristic of the policies practiced by the government today. All save in different ways. Citizens may deny themselves the pleasure of making a trip, or to save
promo code Wildberries
and the government is going to create a formula for future retirement, which will be such that when a person reaches retirement age, there is still an incentive to continue working.
The reason for conducting pension reform with the need to apply a new formula is due to the fact that in Russia in the near future, the number of people of retirement age may exceed the number of working citizens. This is due not only to the demographic pit of the nineties, but also to the fact that the unemployment rate among young people reaches 30% on average in the country. There are regions where the overall unemployment rate exceeds 35-40%. Such a huge level of unemployment today is fixed in the Chechen Republic and neighboring Ingushetia. The situation with unemployment in Kalmykia, Tuva and other regions of the country is not much better.
Studying the situation on the labor market, the government came to the conclusion that it is time to change the pension formula, stimulating a person to continue working after he reaches retirement age. On the one hand, this will reduce the burden on the budget, on the other hand, it will allow you to work as an experienced professional.
This innovation has its disadvantages. Many believe that in this case the road for young people in many areas will simply be closed, and all the more or less acceptable in terms of price and quality of work places will be occupied by people who at this point could have a rest in retirement.
New pension formula should earn from January 2015. This was reported by the Deputy Prime Minister of the Russian government, Olga Golodets.