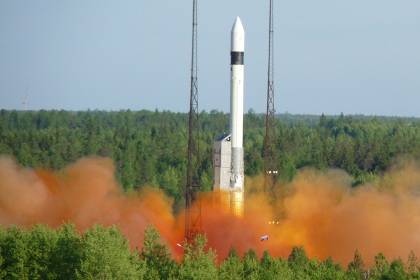 The Rokot light class launch vehicle, launched on Thursday morning from the Plesetsk cosmodrome, launched an orbital unit consisting of three Gonets-M satellites and a Briz-KM razgonik on a suborbital trajectory.
"The satellites together with the upper stage successfully separated from the second stage of the launch vehicle. The process of launching the vehicles to the target orbit has begun," Colonel Alexei Zolotukhin, spokesman for the Russian Defense Ministry's press service and information, told Interfax-AVN.
In about an hour and a half, the orbital block will be launched into a target orbit with an 1,5 altitude of thousands of km, where the three spacecraft will separate from the upper stage for further satellite dilution by points. After this, a maneuver will be carried away into the upper orbit. The mass of the spacecraft unit is 900 kg.
According to the calculations of specialists, the areas of the fall of the first stage and the head fairing of the launch vehicle are in the waters of the Barents Sea, the second stage in the waters of the East Siberian Sea.
Three spacecraft Gonets-M will replenish the orbital constellation of the satellite communication system, which will significantly reduce communication interruptions throughout Russia.