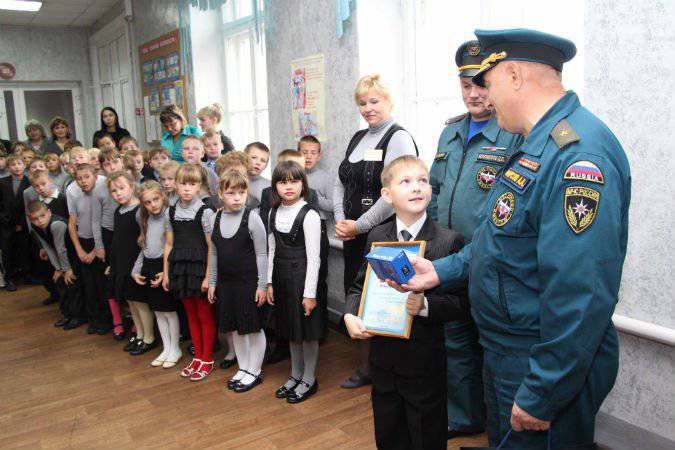 Brave was awarded for the whole school!
Deniska Mamaev from Chernogorsk just 11 years, in fact, quite a kid. 28 August fourth-grader made a truly masculine act: he saved his grandmother from a certain death in a fire. The embarrassed little hero with all his classmates and teachers on the eve was awarded for courage by the head of the Main Directorate of the Ministry of Emergency Situations in Khakassia, Major General Andrei Firsov. The children watched with curiosity as Denis was handed a mobile phone, a soccer ball and a letter of thanks.
Early morning on August 28. The inhabitants of the two-apartment building in Chernogorsk just woke up. Denis, getting up early, spanked into the kitchen, where the grandmother was already bustling around the stove. Few days remained before the beginning of the school year, and the 56-year-old woman wanted to pamper her grandson with a delicious breakfast.
Suddenly, the refrigerator began to smoke and spark. After a second, the poisonous smoke filled the entire kitchen, as if some angry dragon was letting it out of its mouth. Everything happened so fast that neither the woman nor Deniska himself really understood anything. With the speed of lightning, the flames engulfed the refrigerator and appliances, which the kitchenette was lined with in abundance, and then the fire began to devour the furniture.
An elderly woman began to faint from the smoke. When he saw that his grandmother was very bad, Denis moistened the gauze lying in the kitchen with water and made a kind of masks with which he closed his mouth and nose to himself and the woman. Then the smart kid brought the woman to the balcony and locked himself with her, closing the door tightly.
- A call to the dispatcher's console arrived at 8.29 in the morning, after 4 minutes, two fire brigades arrived at the site. At that time, there was smoke from the window of the apartment on the ground floor, the fire was in the kitchen. Smoke at the entrance was insignificant, and the evacuation of residents was not required. After 20 minutes, the fire was extinguished, - the press service of the State Ministry of Emergency Situations in Khakassia reports.
Firefighters say that it was precisely the wit and courage of the child that became a ticket to a new life for a grandmother. In addition, the boy, closing the door to the balcony, did not let the fire spread to the other rooms of the apartment.