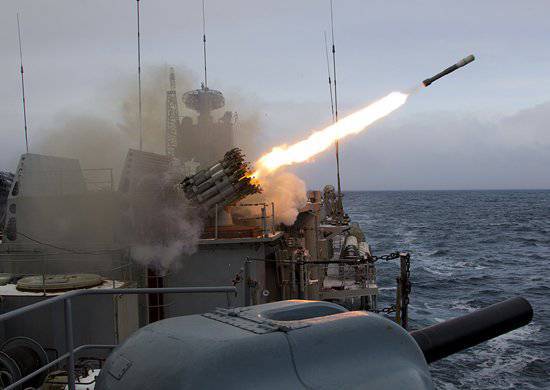 The Russian fleet, which yesterday started military exercises off the coast of Syria, working out the interception of cruise missiles on the characteristics similar to the type of American missiles "Tomahawk". It is reported by the American portal United States Marine Corps.
According to the source referenced by the authors, Russian defiantly carried out military exercises and were part of the negotiations on the open radio frequencies, showing that they do not pose any difficulty to destroy American missiles.
Meanwhile, no official information about the type of exercises Russian naval command is not available.
Recall that the U.S. fears that Russia will transfer all the information about the Syrian situation at sea and in the air, which greatly complicate the U.S. aggression against Syria.
A few days ago, the "killer of aircraft carriers" the Moscow missile cruiser will approach the Syrian coast, except for it, the Black Sea patrol ship will approach the Syrian coast in the near future
fleet
"Smart." On September 29, two more Black Sea Fleet ships will arrive in the Syrian coast: the Ivanovets missile boat and the Shtil small missile ship. On Friday, a detachment of ships, including the BDK Novocherkassk (Black Sea Fleet) and Minsk (Baltic Fleet), as well as the reconnaissance ship Priazovye (Black Sea Fleet), passed the Dardanelles and entered the command of the Mediterranean squadron, reports RIA
News
.
The Russian fleet in any case, regardless of the setting will scan the sea and airspace in the area of ​​deployment of the fleet. However, as already flashed information in the media, Russia, in theory, can transmit this information Syrian air defenses.
Syria is armed with the latest Russian air defense systems "Pantsir-С1 ″, which are capable of destroying American cruise missiles of the type" Tomahawk ". ZRPK "Carapace" was just (and so far, apparently) intended mainly to combat flying Tomahawk type cruise missiles and low-flying (maneuvering) enemy targets, which for some reason broke through the air defense barrier. Tests of the "Carapace" showed that the complex is capable of shooting down low-flying missiles, including at a record low altitude of 15 meters.