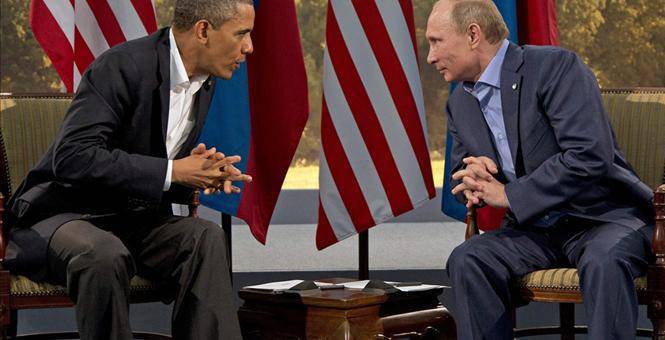 Russian President Vladimir Putin is very concerned not only about who you would think about — the contractor of the National Security Agency, Edward Snowden, who at once was "turned into a defiant" and an asylum seeker in Russia, but also, to a large extent, many other things , for example, last year's almost 300 million-dollar government spending on foreign audiovisual multimedia service Russia Today (RT), which was created specifically to feed the Kremlin's global audiences with a "spoon" uw. And the reports obtained by [us] show that this is only the very top of a huge iceberg, treacherously hidden under the surface of the water.
You may ask - why the authoritarian ruler, the owner of the "iron hand" will care about what the masses think outside of his own country? Well, how can I tell you, if Russia can convince you, a citizen of a western country, that you should focus on criticizing your own government, then you will be much less inclined to criticize it [the governments] geopolitical competitors. Democracy's greatest strengths - freedom of speech and freedom of the opposition - are also its weaknesses, which a competitor is willing to exploit and use for subversion, he is ready to use them as a means to divide and conquer, as a means of gaining competitive advantage. In Russia itself, and still, all attempts to defend freedom of speech and to oppose the authorities mean for citizens the risk of being imprisoned or killed.
And double standards don't end there. Putin is cracking down on non-governmental organizations, raiding the offices of those who receive foreign funding, regarding them as leading the subversive activities of foreign agents whose sole purpose is to undermine his power. And in the meantime, he is infiltrating his agents into the American media and political institutions.
Putin uses his propaganda apparatus to constantly chastise Western countries for interfering in Syria, Cyprus and other countries where Russia previously had unlimited influence. The text is always the same: the United States and its allies do not keep their hands to themselves, they do not do their job, while Russia is engaged in its own business.
Well, except when it's not her business.
There are three types of intelligence operations: open, hidden and covert. "Open" is when a bridge is simply blown up. "Hidden" is when a bridge is blown up and traces are tangled. "Secret" is when the bridge at the right moment falls apart due to, it seems, an unfortunate accident. Former KGB chief Putin prefers the last two.
Here you have a Russian operation, which falls into the category of "hidden":
Reports show that from 2008 to 2010 a year, Putin, trying to infiltrate into the political structures of America and its media, spent considerable sums - approximately 6.8 million dollars, on payments to only two US firms. This does not include the amounts spent by various Russian, state-controlled, transnational corporations, or enterprises that also followed the instructions of the Kremlin. The reports of the Sunlight Foundation's Foreign Lobbying Influence Tracker (an organization dedicated to tracking foreign lobbying and its influence) show that the Kremlin has made great efforts to hire three American lobbies and PR companies to secure favorable publications in such American media giants as CNBC .com, Politico, Huffington Post, Wall Street Journal and Washington Post. The documents show that, at least in one case, the lobbyists were tasked to attract journalists "for the presentation of Russia". The reports also show that one of the firms, on behalf of the Kremlin, conducted an intensive correspondence with the former CNN TV presenter Larry King regarding an exclusive interview with Vladimir Putin.
For such things, the Kremlin has a head of public relations services - Dmitry Peskov. And Larry King is now hosting a TV show on Russia Today.
In other cases, according to the reports of the lobby companies, there was a "multiple exchange of letters" between the producers of the "Future Cities" program (CNN) and a PR firm that received large sums of money to "unleash" the reputation of the client country.
As much as Putin claims, he hates foreign NGOs, as much he seems to favor groups that represent Russia at the forefront - in Washington, and that interact with the Brookings Institution, the RAND Corporation, the German Marshall Foundation, the Center for European Strategic Analysis , The Heritage Foundation, and take part in events organized by the Kato Institute.
PR and lobby firms were also hired to be a "screen" to observe the advancement of the interests of the Kremlin and interact with the political apparatus of Washington. Reports show that they covertly "kept abreast" of former Secretary of State Condoleezza Rice, including monitoring her testimony before the Committee on appropriations for foreign operations of Congress. Also, in connection with the Russian-Georgian conflict, the members of the Foreign Affairs Committee were the objects of attention and impact.
Of course, there is nothing wrong with such a small diplomacy, except for the fact that Russia already has ambassadors and embassies, full of diplomats whose work this is exactly what should be. And it is quite reasonable to assume that it is much easier for an American company representing Russians to deal with their compatriots within the Washington ring road than to someone from another country who lacks connections and whose agenda is much more obvious.
But! If the Kremlin is going to play that game when it has its lobbies and PR groups in America that follow its instructions, then it should stop shouting about "American influence!"
This article is another reminder to the American public of the unpleasant need to critically evaluate everything that she sees or hears.