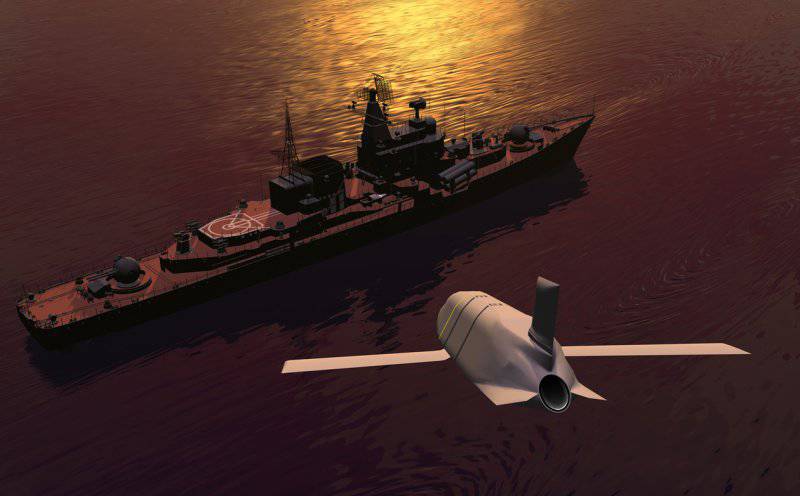 A successful flight test of a long-range anti-ship missile LRASM (Long Range Anti-Ship Missile) prototype missile has been conducted in the United States, ARMS-TASS reports with reference to the Defense Advanced Research Projects Agency's DARPA.
The need to create a new anti-ship missile system is due to the fact that the missiles in the US Navy's arsenal do not have sufficient flight range and are vulnerable to the breakthrough of the modern layered shipboard defense system.
The new LRASM anti-ship missile system is being developed by the DARPA and the United States Navy's research and development department based on an extended-range air-to-air missile launched at JASSM-ER (joint air-to-surface stand-off missile, extended range). PKP LARSM is equipped with armor-piercing or high-explosive warheads, is an autonomous all-weather
weapons
which can be applied at any time of the day.
Despite the fact that the LRASM ASM is created on the basis of the JASSM-ER rocket airframe, additional sensors and on-board systems are installed on it, which ensure its secrecy and durability for subsonic anti-ship weapons. In particular, the rocket has a multimode homing head (GOS), a data transmission line, and an improved digital noise-protected satellite navigation system for detecting and destroying high-priority targets in the ship's order.
One of the significant improvements of the new weapon is the ability to receive or update target designation data in flight. Unlike the JASSM rocket, used in the autonomous mode, using the "shot-and-forget" principle, new technologies ensure the launch of an anti-ship rocket and the correction of its flight.
DARPA conducted a demonstration flight test of a new missile to test its flight performance and on-board equipment in free flight. In addition, the rocket, equipped with an inert warhead, also found and hit the uninhabited floating mobile target MST (Mobile Ship Target) with a length of 80 meters.
The test was conducted by the 337-th flight test squadron of the US Air Force, based on the Air Force Base Dyes (Texas) with the use of a B-1 bomber as the carrier of the missile. The missile was launched from an aircraft over the water area of ​​the Point Mugu (California) sea test site. Initially, the rocket flew along a pre-programmed trajectory, and for about half the flight distance to the target, it switched to autonomous guidance, during which it independently discovered a moving surface target and struck it.
During the flight, the subsonic rocket was accompanied by an F / A-18 fighter from the 31 th flight test squadron in China Lake (California).
The main contractor for the LRASM weapon complex is Lockheed Martin Missiles and Fire Control (LMMFC). The BAE Systems Information and Electronic Systems Integration Division (BAE Systems' Information and Electronic Systems Integration division) is the lead contractor for the onboard sensors of the new rocket.