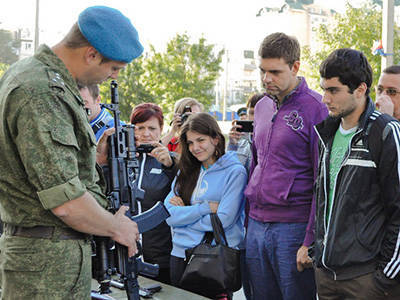 For the first time on the basis of the 7 Guards Airborne Assault Division (Mountain) of the Airborne Forces deployed in the Southern Military District on the territory of the Krasnodar Territory, the Bastion Training Courses (hereinafter referred to) - media) and employees of information structures of law enforcement agencies to work in crisis situations.
12 media representatives and employees of information structures from the Republics of Adygea, Kalmykia, North Ossetia (Alania), Chechen and Chuvash Republics, Krasnodar and Stavropol Territories, Astrakhan, Volgograd, Voronezh, Ivanovo, Rostov and Sverdlovsk Regions, Moscow as well as Abkhazia, the Pridnestrovian Moldavian Republic and Ukraine.
During the opening ceremony of the Courses during the raising of the State Flag of the Russian Federation and the flag of the Airborne Forces, servicemen and media representatives performed the Russian National Anthem and laid a garland on the monument to the soldiers of the soldiers who had died.
The command of the military unit and the teaching staff wished the participants success in their studies, and the paratroopers demonstrated skills in hand-to-hand combat.
The commander of the assault division of the guard, Colonel Valery Solodchuk, a representative of the Federal Agency for Press and Mass Communications Gennady Zabotkin, the first secretary of the Moscow Union of Journalists, the National Anti-Terrorism Committee, the Ministry of Internal Affairs, the Ministry of Emergency Situations and Ministry of Foreign Affairs of the Russian Federation.
Before leaving for the classes provided by the Course Plan, the participants visited the exhibition where they familiarized themselves with the property, food ration, equipment, equipment, shooting
weapons
and grenade launchers, which are in service in the airborne assault division.
The concept of interdepartmental training of specialists working in areas of military conflict in covering counter-terrorism, peacekeeping, humanitarian operations, as well as riots and natural disasters was developed by the Ministry of Defense of Russia, the Moscow Union of Journalists, the Federal Agency for Press and Mass Communications and the Military Press Association.
These courses are held from 2006 year. During this time, 512 people received training - correspondents, cameramen, video engineers, and representatives of the information services of the authorities and security agencies.
Weekly practical training courses "Bastion" held in the Krasnodar Territory will end on September 13 2013.