The world Internet is discussing with interest the video filmed last year in Ohio, but which has gained popularity only in the last few weeks. The video shows an unknown tank of a rather original design transported by rail. According to many, this car is the prototype of the new American
tank
M1A3, although there is no less popular version, that this is just the scenery for the Hollywood movie "Transformers 3".
If this is really a new tank of the US Army, then its design is noticeably different from all armored vehicles known up to this point. First of all, noticeably elongated tower with a hatch on the rear wall is striking. It is possible that this was done because of the presence of an automatic loader in the tank, and the hatch serves for loading ammunition, or throwing out the spent cartridges. Based on the video, it is impossible to say anything about the caliber of a tank gun, however, even with the naked eye it is clear that it is more than a third longer than the M1A2 Abrams.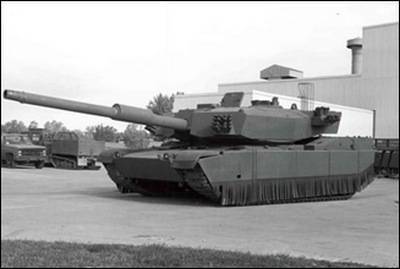 The prototype of the American tank CATT - development 80-ies
Perhaps this armored vehicle is the heir to the development of the 80-ies of the CATTB tank, at least outwardly both cars are very similar. CATTB also installed an automatic loader and a powerful 140-mm gun, which is almost as good as the 155-mm howitzers. By the way, if there was a need to reduce the caliber of the gun, then it changed within an hour, by simply replacing the barrel, with the standard one for 120-mm tanks.
In the 80s of the Americans working on CATTB, the Soviet leadership was very worried, because in fact we had nothing to oppose against such a powerful armored vehicle. If we consider that over time, the United States could have further improved this tank, then we can only imagine the faces of the leaders of our Defense Ministry at the sight of this video.
However, perhaps not everything is so bad, and this tank is nothing but a decoration for a new Hollywood film. This version is supported by the fact that the Pentagon would hardly have decided to openly transport its new top-secret development by rail, and also on a painted graffiti composition. But so far there are no official statements, neither from the leadership of the Pentagon, nor from the creators of "Transformers 3", and it remains only to guess what is really captured in this video.