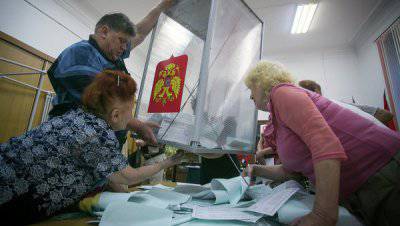 The past single voting day in Russia revealed a strange situation. More and more parties want to break into the power Olympus, but at the same time fewer and less Russians visit polling stations. Today, there are more than fifty parties and political associations that have declared themselves ready to take part in political struggle. The number of parties in Russia after the law on the liberalization of the political system, which states that if a group of people from 500 number wants to create a party and acts within the framework of legal norms, then there are no obstacles.
After such a law, Russia again smelled something from the beginning of 90, when there were so many parties that it was simply impossible to track their political life. Today in Russia, in addition to well-known parliamentary parties, there are such parties as the Alliance of Greens, the Cities of Russia, Smart Russia, the Party of Taxpayers of the Russian Federation, the Party against All, and a number of others. At the end of 2012, the parties "iPhones Lovers" and "Russia Digital" were going to register, but for some reason the Ministry of Justice did not register these parties. Apparently, in vain, because now for the repair of smartphones and
replace glass iphone xnumx Price
would be significantly different, since the process itself would be completely ranked as a political one. But, joking aside.
Returning to the voter turnout at one or another local election, we can talk about the tendency of its decline. For example, no more than 26% of voters took part in the election of the mayor of the capital. In Krasnoyarsk, only 18,6% of voters came to the polls. This is a kind of anti-record for 18-year-old
history
elections Krasnoyarsk City Council. At the same time, education, health care and military personnel, as always, make a significant contribution to the turnout. Given the turnout, we can say that more than 80% of Krasnoyarsk simply ignored the local elections.
In the Moscow region, where the head of the region was elected, the turnout was a little over 38%. This result can be called impressive in the current election period.
In the Republic of Adygea, only every fourth local resident has the right to vote.
The largest number of voters last Sunday came to the polling stations in Chukotka. Here, the regional electoral commission recorded a turnout of almost 58% of the total number of voters in the region.
The progress of the voting could be monitored over the Internet using smartphones and personal computers.