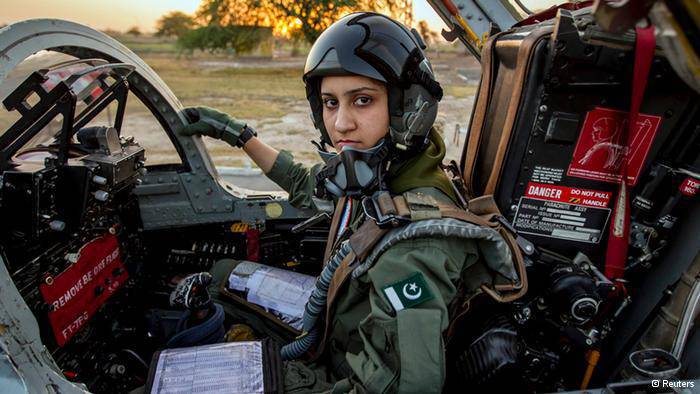 26-year-old Ayesha Farooq (Ayesha Farooq) is the first female fighter pilot of the Pakistan Air Force. In an interview with DW, she tells how difficult it was to follow the path of mastering this profession which was considered to be originally male.
- What inspired you to choose such a profession?
- When I was a child, I really liked the uniform. This was my initial inspiration. Years later, I got the opportunity to join the Air Force.
- Was it difficult to realize the dream?
- That was not easy. I think the first step is always the most difficult. There were people in my country who thought that this was not a woman's business. I had to prove that my gender is not an obstacle for the fighter pilot profession. When I entered the Air Force, I had to prove to men that I was well versed in weapons and aircraft. When you are the only woman in the unit, all eyes are on you.
At first, everyone thought that I would not be able to realize my childhood dream. But I was ready to fight. My father died when I was three years old. Mother raised us in very difficult conditions. But this does not mean that my male colleagues put sticks in my wheels, on the contrary, the Pakistan Air Force is an excellent institution. My colleagues never gave in to me just because I was a woman, all my actions and achievements were evaluated objectively.
- How was the military training?
- It was very hard. At first, several people in the unit believed that I had nothing to do with this business. But their skepticism only stirred me up; I was becoming more and more determined. A fighter pilot is not an office job, you have to go through a lot of difficulties. We get up at 4 in the morning, and sometimes go to bed at midnight. In addition, there are night flights, etc. Even when we do not fly, we must keep ourselves in good physical and intellectual form.
- What was your first solo flight?
- It was the most memorable day in my life. It was a dream come true. It is simply impossible to describe what I was experiencing at that moment when the plane itself took off, as it were, but it was under my control.
- Are there still Pakistani girls who, like you, want to serve in the Air Force?
"I get calls from 10 to 12 every day from young girls who ask me how to join the Air Force. I feel even happier if the mothers of the girls call me and say that they would like their daughters to become fighter pilots.