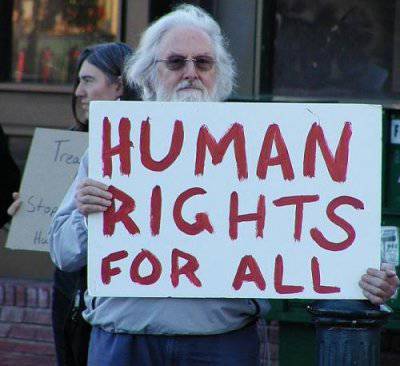 In recent years, many have the feeling that human rights are generally a phantom. Something like a big-budget film industry produced in a particular country for specific purposes. And not at all a universal principle.
For example, Saudi Arabia is the main ally of the United States in its Middle Eastern region. More importantly even Israel. Since the United States is the main champion of human rights, their ally with human rights should be fine.
"Every adult resident of the kingdom must have a guardian - a close male relative. Without the consent of the guardians, women in Saudi Arabia are deprived of the opportunity to travel, obtain licenses to conduct business, work, study at a college or university. Without the permission of a husband or guardian, women are not provided with medical assistance. "
It is well known that Saudi Arabia has no complaints about this from the American rights advocacy media. Apparently, the Saudi Arabian women, according to the American government, have enough rights. In addition, every year they are also added: from 2011, women can even participate in municipal elections, and from this year they can even ride a bicycle. However, so far only in a special cycling suit, which coincides, however, with the only allowable for women.
Well, and so on. If there is an absolute monarchy in the country (as in Saudi Arabia), then it is still sufficiently democratic so that there are no complaints about it. In contrast to those countries where there is a republic, but with an inappropriate president for the United States.
If in a country religion by law dictates to the whole society how to act in all cases of life, then the existence of allied relations with the USA excuses this country. If the country is not an American ally, even the protest of a particular group of believers against something they don't like automatically becomes an accusation for the whole country. And the existence of a state religion can not even be discussed - it is immediately allowed to bomb and occupy such.
If there were arrested people in the country who caused riots or even started military actions, then it should be checked whether the country is an ally of the United States. If not, then these people are freedom fighters, totalitarian repressed by totalitarian power. If it is, it's quite the opposite. Suddenly they become terrorists, and they can be completely destroyed without trial. Well, if this country is the United States themselves, then it can even send its troops to foreign territory, catch anyone there, take it out of the country, put it in prison and torture it, simply because it didn't like it. All this, no, no, is not a violation of rights.
Or, in Russia, people of non-traditional sexual orientation have exactly the same rights as all citizens. However, the United States, pro-American countries and the pro-American press accuse Russia of "discriminating against gays" on the grounds that this minority is not allowed to reshape the same rights for all of them for their personal interests. In Saudi Arabia, gay is simply obliged to be executed for being gay. Equal rights are not even discussed: they proved homosexuality - ax-noggin, that's all. However, this does not cause any objections to the holders of a controlling package of human rights. It does not cause objections to Saudi and similar attitude towards women, atheists, and simply to non-Muslims.
Feel the difference: the refusal to alter the laws common to all polls for the interests of a small part of the population is portrayed as a greater sin than the actual segregation plus the death penalty for this very "small part of the population" for its belonging to this part.
This kind of hypocrisy has been characteristic of the West for many centuries. It is part of the policy.
Equal rights of men and women in our country were formalized in 1918, although in fact they existed almost immediately after the October revolution. At the same time, the equality of all races and nationalities was consolidated. In the United States, only voting rights were issued to women in 1920, which was not even about full equality. France gave voting rights to women in 1944. Switzerland - in 1971. It became possible to speak about 70 – 80-s only about the progress towards full equality in most European countries. At the same time, racial segregation existed in the USA.
Did this prevent pro-American propaganda from considering the USSR as the main violator of human rights all over the world? Not at all. Facts to the side are cold war. Which continues to this day, despite the fact that the USSR is no more.
No matter how well human rights are respected in the country - especially against the background of the United States and its allies - this still does not save the country from the charges, because the goal is to accuse, not to achieve the observance of any rights. The ruling circles of the United States, generally speaking, are not at all concerned about the rights of everyone there. They are only interested in their personal economic condition and ways to multiply it, including using the political levers available to them. Exactly that's why human rights do not interest the press subordinate to the aforesaid circles. She enjoys "rights" simply as a lever to shovel objectionable countries or those who are at the moment the turn to be robbed, and nothing more.
And now, attention, the main question.
Does all of the above mean that human rights do not exist? And we ourselves must forgive our power for all violations of rights only on the grounds that the concept of "rights" is used by Western propaganda hostile to us?
Not. We just do not have to use someone else's term package and make excuses to its authors. Firstly, it is impossible - they will still be blamed. Secondly, doublethink cannot be encouraged. And thirdly, it is important, why should they dictate to us what to do?
We only have to send any pro-Western propagandist broadcasting human rights with reference to the so-called civilized world to Saudi Arabia as a forest. Let Israel achieve the abolition of national discrimination. Let him take over US citizens in the US, demand the closure of Guantanamo and the ban on humanitarian bombings. These are all objectively greater human rights violations than the little things sucked from the finger to which they cling to us, from China, from Syria (before the war, of course, there is no war without crime) and from a number of other countries.
And we, yes, also have problems in the area of ​​the observance of rights, but obviously not in the areas that they are trying to tutor us.
Why do these "fighters for human rights" never insist on the speedy protection of workers' rights? Where, where, but it is here that we have, that many others have the main chaos. Surely they do not fight against him just because the second side is just those very global groups whose interests the overwhelming majority of fighters for rights are serving?
In fact, they can only fight for the "safe" rights for their employers - not suggesting to their own population that, in order to protect their rights, it would be necessary for them to press this whole layer. These bankers, big business and so on.
But - and this is very convenient - their forces created the opinion that experts personally are experts on all human rights issues. And therefore only they have the right to determine where rights are violated, and where they are observed. The above examples already show the real value of their expert opinion, but even without these examples, judgments about the rights of people can hardly be considered a monopoly of near-government circles of several Western countries.
Even if they had not stained themselves by such a provocative, cynical double-mindedness, then even human rights would remain a concept equally belonging to all the people of the planet. That is, we too. And in our understanding, the priority of each of the rights is somewhat different from what they are trying to impose on us.
A person has the right to life, which he cannot be deprived of in any economic interest.
A person has the right to health. Everyone, not just someone who for some reason is able to pay for insurance.
A person has the right to active participation in the life and development of society, which is impossible without education - which means that it must be provided to everyone, not just a narrow group of children from wealthy families and a slightly wider group of valuable employees of large corporations.
A person has the right to freedom. And by the way, the right to disagree with someone is also a part of freedom. The so-called "political correctness" violates this right.
A person has the right to honor and dignity. Even if, within the framework of the current political situation, it is advantageous to deprive him of this right by, for example, pouring
stories
his country scum.
These rights are basic. To achieve compliance with them should be in the first place. And if this is exactly what most human rights defenders will do, then after a while they may be believed that they are protecting human rights, and not any particular elite of a particular country.