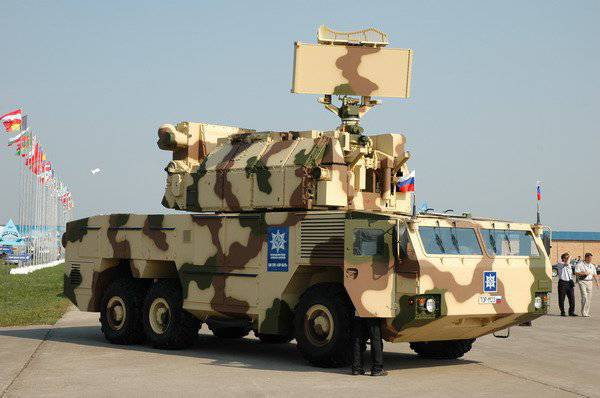 Izhevsk Electromechanical Plant "Kupol" hopes to win in the Indian tender for the supply of 52 air defense complexes of short range.
This was announced by ITAR-TASS by the general director of the company Sergey Vasilyev. According to him, the Indian side has made a request for proposals in the framework of the planned tender for the supply of short-range air defense systems. Rosoboronexport decided to submit to this tender two Russian systems - the Tor-MXNUME anti-aircraft missile system developed by the Almaz-Antey Air Defense Concern and the Pantsir-C2 anti-aircraft missile system (EPRP) developed by the Instrument Design Bureau ".
Under the tender, the Indian side plans to acquire air defense systems to form two regiments - the entire 52 unit, not counting special support vehicles.
The Kupol has already adapted the Tor-МХNUMXКМ autonomous combat module of the short-range air defense system to the possible demands of the Indian side by placing it on the wheeled chassis of the Indian company Tata Motors. In this configuration, an autonomous combat module was presented at the MAKS-2 cabin.
Now firing tests of the module will be conducted at one of the Russian landfills. A sea-based version is also being developed.
The Tor-М2КМ air defense missile system is designed to provide air defense of the most important state and military facilities and protect them from cruise, anti-radar and other guided missiles, airplanes, helicopters, unmanned aerial vehicles (UAVs), guided and planning air bombs at any time of the day, any meteorological conditions, as well as in a difficult jamming environment.
An autonomous combat module is an all-weather, autonomous means with sufficient firepower and noise immunity, short response time from the moment a target is detected before launching an anti-aircraft guided missile (SAM), short alert time, high probability of hitting air targets in a wide range of altitudes and speeds flight in the affected area. As a backup channel for tracking targets, the ZRK has an optical-electronic reticle.
As explained by the specialists of the Kupol plant, the independent combat module of the air defense missile system can be installed on the basis of a car chassis, trailer, semi-trailer or other platforms of suitable capacity of Russian and foreign production, on a railway platform and on ships. It is also possible to use the Tor-2MKM air defense missile system in a stationary version.