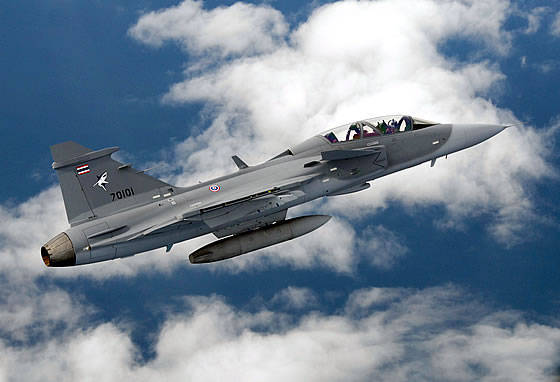 Sweden has completed the delivery to the Thai Air Force of multi-purpose fighters JAS-39C / D "Gripen" manufactured by "Saab" (Saab).
According to Janes Defense Weekly, citing information from the Swedish Defense Export Promotion Agency (FXM), the last three aircraft performed a ferry flight from Sweden and landed at the Surat Thani airbase 4 in September.
As TSAMTO previously reported, the Thai government approved the acquisition of a single air defense system in October, including the JAS-2007 Gripen fighter jets and two Saab-12 airplanes equipped with the Eriai system in October.
The total cost of purchasing aircraft related equipment and services is estimated at 34,4 billion baht (1,1 billion dollars). The acquisition procedure was divided into two stages.
According to the contract signed with Saab in February 2008, at the first stage, the Thai Air Force acquired 6 airplanes Gripen, JAS-39 airplanes, Eriay Saab-340 airplanes, Saab-340 transport aircraft, and management and control, auxiliary equipment and services. The cost of this piece of equipment amounted to 19 billion baht (531 million dollars). The delivery of the aircraft under this contract was completed in February 2011.
Agreement on the supply of 6 additional JAS-39 Gripen fighters, an AWACS system based on the Saab-340 aircraft, as well as
aviation
anti-ship missiles RB-15F Sweden and Thailand signed on November 23, 2010. By agreement of the parties, the full cost of the purchase is not disclosed. According to media reports, it is about $ 541 million.
The first batch of three fighters JAS-39 "Gripen" was transferred to the Thai Air Force in April 2013 year.
JAS-39 "Gripen" are designed to replace the outdated F-5E "Tiger-2" fighter in the Thai Air Force.
In addition to Thailand, the fighter JAS-39 "Gripen" are in service with the Air Force in Sweden, South Africa, the Czech Republic and Hungary. The aircraft proposed by Malaysia. Switzerland chose Gripen-E to replace the F-5 Tiger-2.