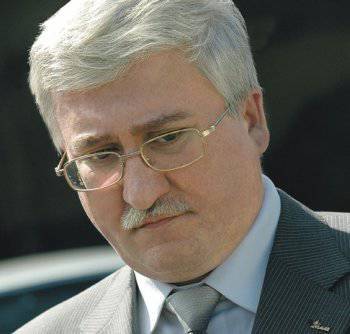 September 9 Chairman of the Presidium of the Independent Expert Council on the problems of aerospace defense, full member of the Academy of Military Sciences of the Russian Federation, Doctor of Technical Sciences Igor Raufovich Ashurbeyli marks 50 years!
This is a worthy age when it is possible to sum up some results, but also to outline new goals and ways to achieve them most effectively.
As for what has already been done, the results are visual and impressive. In time, assessing the promise of automating the management of technical systems, creating new information technologies, the young scientist organized and led several research and production teams engaged, as they say now, in IT technologies. The experience of managing these research teams was especially useful in the turning point of the 90 for our state.
In conditions when the state was destroying the economy and industry, when goals were lost for many people and the prospects of being became obscure, there were still people who, as they say in the military environment, were able to quickly and without fuss take their place in the ranks.
This man was Igor Ashurbeyli. NPO Almaz became its "place in the ranks". Starting with proposals for cooperation in the joint implementation of previously obtained results, Ashurbeyli then headed the Almaz Scientific and Production Association named after A.A. Raspletin and brought him to the fore. Behind these few lines is a tremendous work on the organization of scientific research, development, production and testing of the latest types of weapons in the field of aerospace defense. All over the world they know what C-300 is. Now this name in terms of repeatability in the information space becomes comparable with the well-known "AK-47". Already at the hearing of the system "C-400" and "C-500", which have no equal in the world yet. Under the leadership of Igor Ashurbeyli, the Concept for the creation of a unified anti-aircraft missile system was developed.
weapons
The fifth generation anti-missile defense system, approved by decisions of the Military-Industrial Commission under the Russian government, has been conceived and implemented many breakthrough ideas, which are still too early to talk about, but I think they will all be implemented.
On behalf of the veterans of the Great Patriotic War, the entire large team of scientists of the Academy of Military Sciences, I congratulate Igor Raufovich on a significant date and wish him good health, new successes in all endeavors in strengthening the country's defense, as well as personal happiness and well-being!