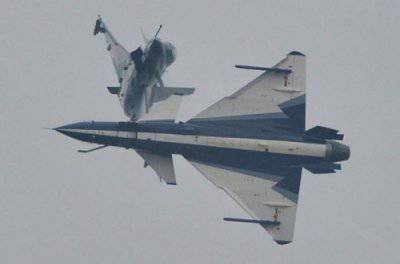 After performing the demonstration flights at the Moscow Aerospace Exhibition MAKS-2013, the commander of the Chinese aerobatic team "1 August", flight director Colonel Zhao Kanpin gave an interview, mil.news.sina.com.cn. reported today.
- Welcome to Moscow! Are there any differences between how you fly at home and here?
- For professional pilots, there is no difference where to perform. But to represent your country in another country, of course, imposes some requirements. I am happy that we share the sky with skillful Russian aerobatic teams. Nevertheless, I consider gaining recognition from colleagues and foreign audiences a great success. We felt the cordial attitude of the spectators of the air show, they are well versed in demonstration flights.
- Is there a difference between your aerobatics and aerobatics of Russian groups?
- Aerobatic teams demonstrate the capabilities of their aircraft. In the world, only three groups fly on fourth-generation fighter jets - we, the Russian Vityazi and Swifts. Last year, I watched live Vityazi flights at the Zhuhai air show, their highest art of pilotage is really shocking.
Russian groups demonstrate the power of their air force, their pilotage is really first-class. They fly at high speeds, flying and restructuring in the air at a high level.
- When did you learn that you will perform at MAKS-2013? How long have you been preparing for this event?
- We learned about this shortly before we received official notification from our highest authorities about inviting us to the Russian exhibition. But before that, we had been training intensively before.
- In the Moscow sky you showed three flight programs. By what criteria did you select them? What is the most difficult figure to perform?
- Many people ask about it. For performances abroad, we have prepared programs of medium complexity, but with a multiplicative effect, so that the audience will perceive them well.
- 30 and 31 August you showed other programs, what did you start from?
- This two-day program is designed for a wide audience, since these days the doors of the air show were open to all. It was a gloomy weather, especially 31, but we showed all the 21 figures we planned for the demonstration.
- Is piloting your demonstration machines different from piloting combat J-10? What are the requirements for future pilots?
- The flight characteristics of the aircraft are almost the same, as we chose the cars from the PLA Air Force combat units. For enrollment in our aerobatic team, a candidate pilot must have a minimum of 800 flying hours on fighters, including at least 200 hours on J-10, up to 35 years.
In addition, I hope that in the future even more young pilots will want to become members of our group, our piloting experience will be useful for front-line units.
- What is the role of aerobatic training in air combat?
- Pilot aerobatic team controls the aircraft at the limit modes. For example, we can fly at the height of the entire 1 meter from ground level, which is not recommended in combat units. But the presence of such skills does not hurt in battle. The level of falling is a separate conversation. The pilots of our group should have even greater trust in each other than between husband and wife, because sometimes we do tricks with the divergence of airplanes, when the distance between them is no more than one meter, the speed is 800-850 km / h. This is a very difficult and dangerous maneuver. For example, if you drive a car at a speed of about 100 km / h, the oncoming car passes from you at a distance of about two meters, and even then you will feel a slight deviation of the car along the course of the resulting turbulence flow between yours and someone else's. What then to say about piloting fighters on a collision course and the level of trust between the pilots?
- How much time does it take to master aerobatics?
- There is a saying - "in any case, details determine success and failure." This primarily refers to aerobatics. It is necessary to carefully check the technical condition of the aircraft, take into account the weather conditions, always be prepared for emergency situations. The pilot must have excellent health, quick response, at the same time be calm and reasonable, not lost in difficult situations. To become a highly skilled pilot you need at least 10 years.