Despite the fact that the political decision to send ships apparently was taken a long time ago, it is only now becoming known about it from unofficial sources. So the Chinese military blog, which specializes in articles on military equipment of the United States, Russia and China, reported that several Chinese ships are already approaching the shores of Syria, citing their sources in the PLA.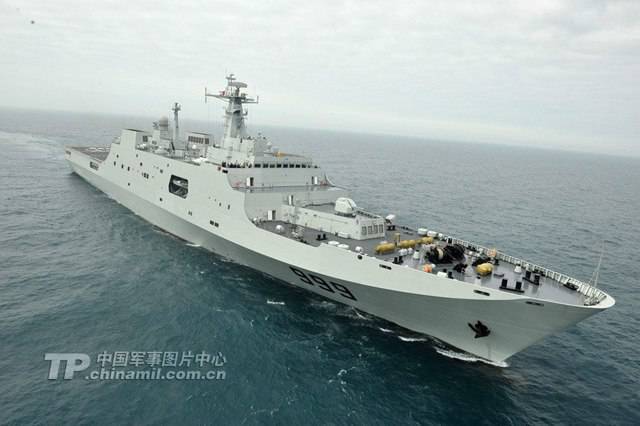 At the same time, the authors openly admit that the ships will not participate in any way in a potential conflict, but only observe the actions of NATO and Russian ships.
What kind of ships were sent to the shores of Syria is unknown. Meanwhile, on the social network Vkontakte, with reference to a confidential source, information appeared that the Chinese ship of the Jinggangshan project was seen while passing the Red Sea towards the Suez Canal.
"2 hours ago, this pepelats passed us in the direction of the Suez Canal. The board number is 999. The speed of 14 nodes, judging therefore, has specific instructions to be at a certain point. We are now in the Red Sea somewhere in the center, "the author wrote.
According to the boarding number, it was later possible to find out that this is the Chinese universal landing ship-dock Jinggangshan, which can carry an air-cushion landing craft on board, or other large cargoes.
Recall that according to a number of sources in Syria, there may be Chinese counterparts of the C-300 systems. Meanwhile, no one has officially confirmed this information, and the Chinese landing ships were not seen in the ports of Syria.