Rebels and locals in Guta accuse Saudi Prince Bandar bin Sultan of providing chemical
weapons
rebel group linked to al-Qaeda.
Dale Hawlak and Yahiya Ababne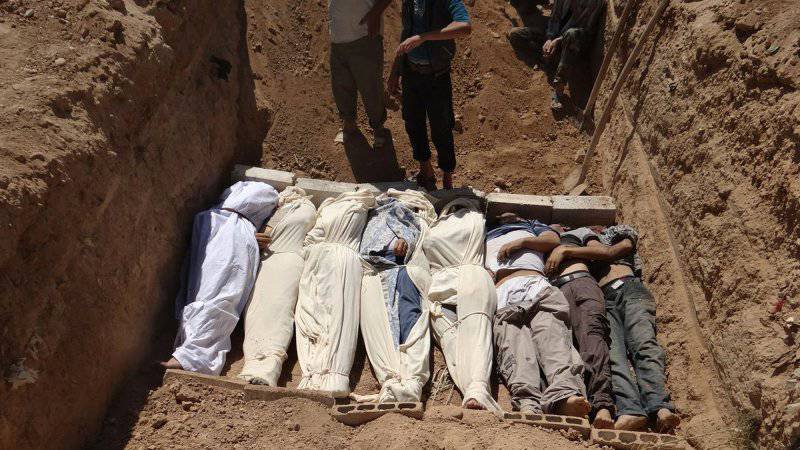 This photo, provided by the Shaam News Network on Thursday, 22 in August 2013, allegedly shows the legend of several bodies on the outskirts of Damascus, Syria, during a funeral on Wednesday, 21 in August, 2013, after allegations of chemical weapons attacks. reportedly led to the death of the 355 man. (AP Photo / Shaam News Network)
This article was written by Dale Hawlak, working for Mint Press News (as well as for the Associated Press), in collaboration with Yahiya Ababna.
Guta, Syria. While the military intervention machine led by the United States is gaining momentum after a chemical attack last week, the United States and its allies may have been targeting the wrong culprit.
Conversations with people in Damascus and Guta, a suburb of the Syrian capital, where the humanitarian organization Doctors Without Borders said that at least 355 people died last week from what they consider to be a neurotoxic substance, apparently, point to the same thing.
The United States, Britain and France, as well as the League of Arab States, accused the regime of Syrian President Bashar al-Assad of attacking chemical weapons, which for the most part affected civilians. US warships in the Mediterranean must launch military strikes against Syria as a punishment for this large-scale chemical attack. The United States and others are not interested in examining any evidence to the contrary - US Secretary of State John Kerry said on Monday that Assad's fault was "the conclusion ... already obvious to the whole world."
However, from numerous conversations with doctors, residents of Guta, rebel fighters and their families, a different picture emerges. Many believe that some of the rebels received chemical weapons through the head of Saudi intelligence, Prince Bandar bin Sultan, and are responsible for conducting a deadly gas attack.
"My son came to me two weeks ago and asked how I think these are the weapons that he was asked to transport," said Abu Abdel-Moneim, the rebel's father who fought to overthrow Assad, and who lives in Guta.
Abdel-Moneim said that his son and 12 of other rebels were killed near the tunnel that was used to store weapons provided by the Saudi fighter known as Abu Ayisha, who led the fighting battalion. The father described the weapon as having a "tube-like structure", while other types of weapons looked like a "huge gas cylinder".
Guta residents said that the rebels used mosques and private houses to sleep in them, while keeping their weapons in the tunnels.
Abdel-Moneim said his son and others died during a chemical attack. On the same day, the militant group Jabhat al-Nusra, associated with al-Qaeda, announced that it was similarly attacking the civilian population in the center of the Assad regime in Lattakia on the west coast of Syria as alleged retaliation.
"They did not tell us what kind of weapon it was or how to use it," one female fighter named "K" complained. "We did not know that it was a chemical weapon. We could not imagine that it was a chemical weapon."
"When a Saudi prince Bandar gives such weapons to people, he should give it to those who know how to handle and use it," she warned. She, like other Syrians, does not want to use her full name for fear of punishment.
A well-known rebel in Guta called "J" agrees with this. "The militants of Jabhat al-Nusra do not cooperate with other rebels, with the exception of local battles. They do not share secret information. They just used ordinary rebels to transport and use these substances," he said.
"We were very interested in what kind of weapons they were. But, unfortunately, some fighters handled weapons incorrectly and explosions occurred," said "J".
Doctors treating the victims of chemical weapons attacks warned reporters to be cautious when asking who is responsible for the deadly attack.
The humanitarian organization Doctors Without Borders added that doctors who helped 3600 patients also reported similar symptoms in themselves, including foam from the mouth, breathing problems, convulsions, and vision problems. The organization was unable to verify this information independently.
More than a dozen rebels surveyed reported that their salary comes from the Saudi government.
The role of the Saudis
In a recent article for Business Insider, journalist Jeffrey Ingersol emphasized the role of Saudi Prince Bandar in a two-and-a-half-year civil war in Syria. Many observers believe that Bandar, with his close ties with Washington, is at the center of energetic actions pushing the United States to war against Assad.
Ingersol referred to an article in the British Daily Telegraph about secret Russian-Saudi talks that claimed that Bandar had offered cheap oil to Russian President Vladimir Putin in exchange for refusing Al-Assad's support.
"Prince Bandar promised to preserve the Russian naval base in Syria if the Assad regime is overthrown, but he also hinted at the Chechen terrorist attacks during the Winter Olympics in Russia in Sochi, if there is no agreement," wrote Ingersol.
"I can give you guarantees about protecting the Winter Olympics next year. Chechen groups that threaten the safety of games are controlled by us," Bandar allegedly told Russians.
"Along with Saudi officials, the United States allegedly approved the holding of these talks by the head of Saudi intelligence with Russia, which is not surprising," wrote Ingersol.
"Bandar was educated in America, both military and university, he was an extremely influential Saudi ambassador to the United States, and the CIA absolutely loves this guy," he added.
According to the British newspaper Independent, it was Prince Bandar's intelligence service that first brought to the attention of the Western allies the allegations of the use of the sarin poisonous substance by the regime in February.
The Wall Street Journal recently reported that the CIA realized that Saudi Arabia was "serious" about overthrowing Assad when the Saudi king put Prince Bandar at the head of these efforts.
"They thought that Prince Bandar, a veteran of the diplomatic intrigues of Washington and the Arab world, could do what the CIA failed: planes full of money and weapons and, as one American diplomat put it, wasta is an Arabic word meaning covert strong influence" - wrote the newspaper.
Bandar has been promoting Saudi Arabia's main foreign policy goal, the Wall Street Journal said, to defeat Assad and his allies Iran and Hezbollah.
To this end, Bandar was processing Washington to support the rebel armament and training program at the proposed military base in Jordan.
The newspaper reports that he met with "alarmed Jordanians on the issue of such a base":
His meetings in Amman with Jordanian King Abdullah sometimes lasted eight hours. "The king was joking:" Oh, does Bandar come again? Let's free up two days to meet, "said a person who was aware of these meetings.
Jordan's financial dependence on Saudi Arabia may have become a great lever of pressure for the Saudis. The operations center in Jordan began operations in the summer of 2012, including the airfield and weapons depots. Saudi AK-47 and ammunition arrived there, the Wall Street Journal reported, citing Arab officials.
Although Saudi Arabia officially claims that it supports more moderate rebels, the newspaper said that "funds and weapons are sent to outside radicals just to counteract the influence of competing Islamists supported by Qatar."
Interrogated rebels said that al-Qaida militants fighting in Syria called Prince Bandar al-Habib or "well-wisher."
Peter Oborn in the Daily Telegraph on Thursday warned against Washington's desire to punish the Assad regime with so-called "limited" attacks, which are not intended to overthrow the Syrian leader, but to reduce his ability to use chemical weapons:
Think about the following: the only beneficiaries of the atrocity were the rebels, who had previously lost the war, and who now persuaded Britain and America to intervene on their side. Although there is no particular doubt that chemical weapons were used, there are doubts as to who applied them.
It is important to remember that Assad was accused earlier of using poison gas against civilians. But in that case, Carla del Ponte, the UN Commissioner for Syria, came to the conclusion that the rebels were probably responsible for this, and not Assad.
Some information in this article could not be verified independently. Mint Press News will continue to provide further information and updates.
Dale Hawlak is a Middle East correspondent for Mint Press News and the Associated Press. Hawlak worked in Amman, Jordan, for the Associated Press for two decades. As a Middle Eastern affairs expert, Hawlak currently covers the Levant region in the Middle East for the AP, National Public Radio and Mint Press News, giving presentations on topics such as politics, social issues and economic trends. Dale holds a Masters in Middle Eastern Studies from the University of Chicago. You can contact her at [email protected]

Yahiya Ababne is a Jordanian freelance journalist and is currently working on a master's degree in journalism. He covers events in Jordan, Lebanon, Saudi Arabia, Russia and Libya. His articles have been published in Amman Net, Saraya News, Gerasa News and other publications.